Health Science (BS)
Why study Health Science?
Are you concerned for the well-being and health of others? Do you want a broad-based undergraduate degree that can give you a wide variety of career options in the fast-growing health care industry? If you answered yes to these questions, then majoring in Health Science could be for you. Studying Health Science is rewarding for students with a passion for both science and service. It can lead to a well-paying job right out of school and also prepare you for graduate or professional school programs in the medical field.
Why study Health Science at AU?
The Bachelor of Science in Health Science major at AU provides highly motivated students with foundational knowledge to practice in the ever changing world of health care. The Health Science major is designed to empower you to not only become a health care practitioner, but to transform the health care industry. The curriculum will prepare you to become a culturally competent, interdisciplinary, evidence-based practitioner.
As a Health Science major, you may choose to take courses in a pre-medical professional program to prepare yourself for a graduate school in health care. The pre-med programs available include:
Chiropractic
Dentistry
Medicine
Occupational therapy
Optometry
Pharmacy
Physician's assistant
Podiatry
The Health Science major will also prepare you for advanced graduate degrees in public and community health, health care administration, and other medical programs.
You will explore the world of health care through applied coursework in epidemiology, health care systems, and evidence-based practice. If you enroll in a pre-professional program, you will experience laboratory courses in biology, chemistry, and physics.
You will receive one-on-one guidance from both a student success advisor and a faculty mentor. Together you will develop an individualized study plan, and you will receive frequent monitoring and feedback on your progress. AU faculty are connected to students and passionate about teaching. Because they have the same students through multiple courses from the first year through graduation, AU professors are poised to provide support where and when you need it.
If you are interested in pursuing a career in veterinarian sciences, you would major in Human-Animal Studies and select the Pre-Veterinary Medicine program.
A clinical or field experience or internship in one of the health care professions is highly recommended for all health science students. Students can also apply for a year-long research program at AU. A cohort of up to 10 students leads a research project while instructors help design and carry out experiments. At the end of the year, students present their research findings at AU's undergraduate research symposium.
The health care field is the largest source of jobs in the U.S. and ranks among the fastest-growing professions.
U.S. Bureau of Labor Statistics
In Our Own Words: Assistant Professor of Biology Chih-Chiun (C.J.) Chen on why now is the time to pursue a health care career
It is a great time for a young student to join the health care profession. The field is growing much faster than other professions. And there are so many different types of health care jobs available. AU professors work individually with each student to help them discover the health care career that is best for them.
$68,190
2019 ANNUAL MEDIAN SALARY FOR A HEALTH CARE PRACTITIONER
4%
2019-2029 PROJECTED JOB GROWTH RATE
Source: U.S. Bureau of Labor Statistics
Curriculum Highlights
Culturally competent health care
Epidemiology
Evidence-based health care
Health care ethics
Health care systems, informatics, and biostatistics
Human anatomy and physiology
Student Organizations
AU Science Organization
Healthcare Professionals of the Future
Americans rank medical professions among the highest in honesty and ethics.
Gallup Poll 2020
Career Possibilities
Biotechnology research
Community health
Diagnostic testing
Health care administration
Health care interpreter services
Health informatics
Public health
Therapeutic support
Career options with additional education
Chiropractor
Dentist
Epidemiologist
Occupational therapist
Optometrist
Pharmacist
Physician
Podiatry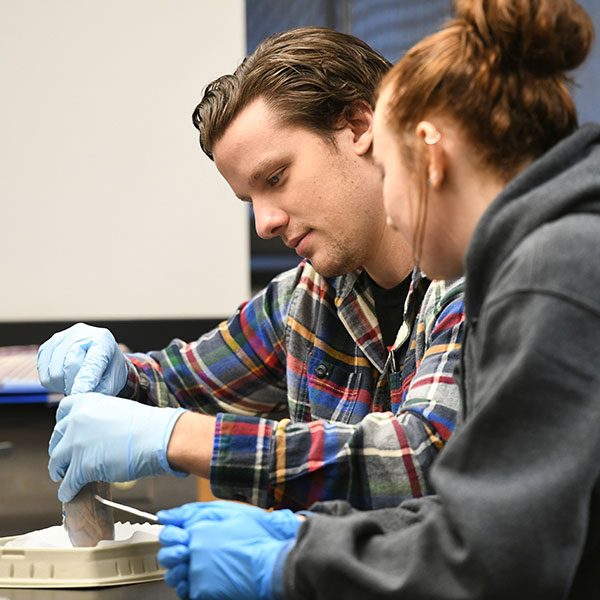 Experiential learning
You will have an opportunity to have an internship, clinical, or field experience in one of the health care professions. You will get hands-on experience with advanced tools and technologies, including synthetic cadaver arm models and methods for exploring best practices in the medical fields. You will learn the most useful and practical laboratory research skills so you are well prepared for your future. AU advisors work with you to find internships in the health care field so you can experience your targeted profession firsthand.
Internship sites
All-Brite Family Dental
Edward Hospital
Fermilab Natural Areas
Kane County Health Department
Morris Hospital
SciTech Hands On Museum
Valley View Dental
Advanced degree programs
AU graduates pursue advanced degrees in the health sciences fields at these graduate schools:
Brown University
Colorado State University
Idaho College of Osteopathic Medicine
Illinois College of Optometry
Indiana University
Miami Dade College
Midwestern University
National University of Health Sciences
North Dakota State University
University of Illinois
University of Iowa, College of Pharmacy
University of Maryland
University of Michigan
University of Wisconsin
Wayne State University