AU partners with Rush University to give qualified students a path to medical school
November 22, 2021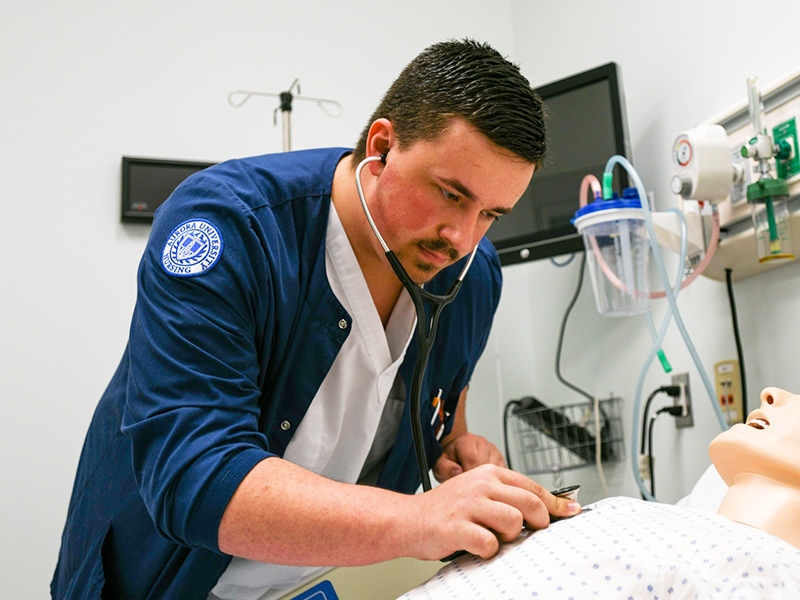 Aurora University students eager to go to medical school have a path to Rush University's medical college under a new agreement between the two institutions.
AU has partnered with Rush University to offer up to three AU students each year a guaranteed interview through Rush Medical College's Doctor of Medicine (MD) Early Decision Program for students who meet the entrance requirements. Rush, based in Chicago, receives more than 7,000 applications each year and interviews about 5 percent of applicants.
As part of the agreement, Rush will also send its doctors and professors to AU's campus each semester to educate students about the rigors of medical school, the expectations for a successful medical school applicant, and the interview process. In addition, Rush will provide AU students summer research opportunities and volunteer opportunities at Rush and its partner organizations.
"We are excited to collaborate with Rush in this effort to prepare students to be leaders in the medical field and bring positive changes to the healthcare industry," said Sarah Radtke, dean of AU's School of Health Science. "AU and Rush are both committed to high-quality healthcare education that will help our students excel."
Dr. Dayle V. Davenport, assistant professor at Rush Medical College's Department of Emergency Medicine and assistant dean, diversity and inclusion, added: "We are excited about this partnership between Rush Medical College and Aurora University to develop, recruit, and matriculate individuals who will become vital members of the medical community as students, practitioners, educators and researchers who will serve the needs of a diverse and changing population."
Aurora University, based in Aurora, Illinois, is a four-year university with a longstanding tradition and strong foundation in the helping and healing professions, including preparing students for advanced study in the medical professions. Founded in 1893 as a seminary college, AU is proud to be a private university with a public mission.
Rush Medical College offers medical students a supportive environment where they can gain in-depth clinical experience from renowned practitioner-teachers. Founded in 1837, Rush has an acclaimed history as one of the first medical colleges in the Midwest and continues to make contributions to medical science and education through research and clinical trials.