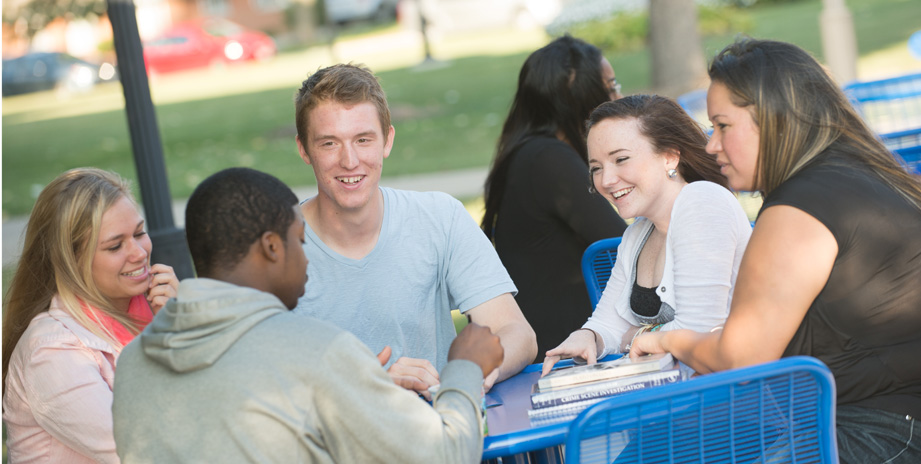 Campus Life
Campus life at Aurora University is, in a word, transforming. AU is committed to creating a culture on campus where you feel included, involved and connected. You can listen to bands on the grassy Quad at the center of campus. Participate in tug-o-war during Bragging Rights Week. Sing your heart out on Karaoke Night. Work out at the fitness center in Jenks Hall.
Need a little advise on how to immerse yourself in campus life or life in general? Visit the Student Activities Office.
Organizations
Through our more than 60 musical, literary, religious, social and service organizations, you'll find an outlet for your energy and talents.
Athletics
If you love sports, AU is the place to be — whether you're participating or cheering from the stands. AU boasts 24 NCAA Division III athletic teams who have a tradition of winning (in fact, AU has snagged 103 conference championships and 59 appearances in national tournaments since 1982).
Intramurals
Maybe your competitive days are behind you — but you still love to play. When you join one of AU's intramural competitions, you'll be able to fuel your athletic passions (and truth be told, it can be pretty competitive after all). From badminton to volleyball, you'll find your favorite activity — or develop a new interest. Either way, you'll have plenty of fun (and exercise)!
Leadership Opportunities
If leadership is more your style, consider the Aurora University Student Association, the university's student governing body. Explore leadership and service opportunities at the Wackerlin Center for Faith and Action. Or become a resident assistant, peer advisor or part of the Activities Programming Board. AU has dozens of opportunities, all aimed at helping you develop your leadership abilities.
George Williams College Campus
At George Williams College, you can enjoy a myriad of recreational activities. Relax on the marina. Stick around and enjoy the Music by the Lake summer music festival staged each summer near the lakeshore. Take in the living museum at Beasley Campus Center. With its location, nestled along the banks of Geneva Lake, you'll feel an immediate connection to this breathtaking campus.