Human-Animal Studies (BS)
Why major in Human-Animal Studies?
Human-Animal Studies is an interdisciplinary field that explores the interaction of animals within human culture, history, and society. The Human-Animal Studies major prepares you with the academic foundation and hands-on skills needed to enter a variety of expanding animal-related fields, including animal control, shelter or rescue management, zoo keeping, forensic investigations, or animal-assisted therapy. It will equip you with the skills employers value most: communicating your ideas, analyzing a problem, and working with others to find a solution.
Why major in Human-Animal Studies at AU?
Aurora University is one of the few universities in the nation that offers a Bachelor of Science in Human-Animal Studies degree. Our program begins with coursework that examines animal care, the science behind animal-assisted therapy, and the human role as caretakers to animals and the environment. You will also be introduced to the foundational principles of both statistics and psychology. After completing the core courses for the major, you will choose one of two tracks: Animal Assisted Therapy or Welfare and Bonding.
Animal Assisted Therapy track: You will take courses in areas such as therapeutic recreation and special education, psychology, and animal-assisted therapy. You will also complete an internship at an agency utilizing animal-assisted therapy interventions.
Welfare and Bonding track: You will take courses in animals in public policy, forensic investigations involving animals, and study the behavior, training, and rehabilitation of animals. You will also complete an internship in your specific area of interest.
Thanks to a flexible curriculum, you can also expand your career opportunities with a double major in Business Administration, Criminal Justice, Parks and Recreation Leadership, Social Work, or Therapeutic Recreation, among many others. Even with a second major, you'll still be able to graduate in four years.
AU has a strong track record of success in preparing students to gain acceptance to veterinary school. If you are interested in a career as a veterinarian, you can follow the pre-vet track at AU. Your professors will work closely with you to make sure you take the courses you need to succeed.
The Human-Animal Studies major not only helped me to get a job that I love as a program director at a therapeutic horse farm, but it turned the struggles I faced in school into an eagerness to achieve my goals. Jamie Stolp '20
332,700
animal care and service workers in the U.S. in 2020
33%
2020-2030 projected job growth rate
Source: U.S. Bureau of Labor Statistics
Clearly, animals know more than we think, and think a great deal more than we know. Animal research scientist Irene M. Pepperberg
Curriculum Highlights
Animal-assisted therapy

Animal disease prevention
Animal science
Animal welfare

Forensic investigations involving animals

Training and rehabilitation of animals
Campus Opportunities
Aurora Criminal Justice Association
Aurora University Students' Association
Social Work Association
Unleashed Human-Animal Studies Club
The Human-Animal Studies program helped me solidify that my passion lies in working with animals. Through my internship at Phillips Park Zoo, I was able to make connections that will help me further my future career. Kara McCleary '20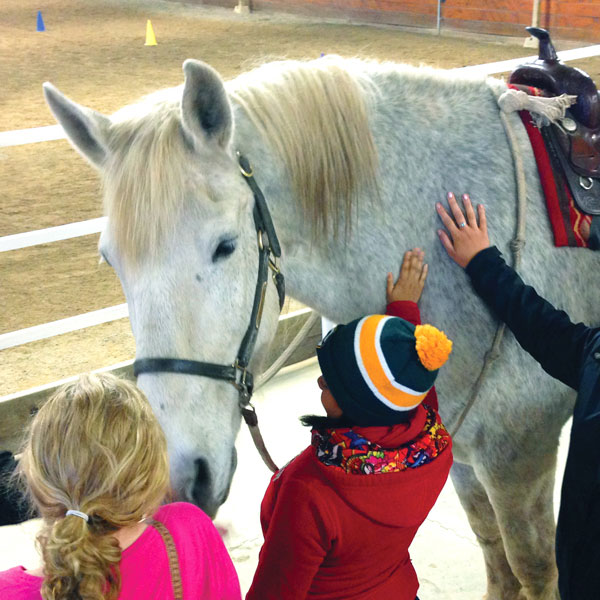 Experiential learning
Animals and the deep bonds they have with humans are at the center of the program. You will experience hands-on learning with an internship in your field of study. The internship opportunities will prepare you for graduate study or for a career in animal-assisted therapy, animal control, shelter or rescue management, and more. A team of students participates in the national Animal Welfare Assessment Contest each year.
Career possibilities
Animal-assisted therapist
Animal behaviorist
Animal control warden
Animal photographer
Animal rehabilitation specialist
Animal trainer
Animal welfare inspector
Humane education
K-9 police officer
Lab animal technician
Naturalist
Shelter manager
Veterinarian
Veterinary assistant
Wildlife rehabilitator
Where our graduates work and intern
Anderson Animal Shelter
Az Acres Riding
Brookfield Zoo
Chicago Equine Medical Center
Cosley Park Zoo
DuPage County Animal Services
Field of Dreams Horse Rescue and Adoption
Fox Chase Farms
Fox Valley Wildlife Center
Horse Works Wyoming
HorsePower Therapeutic Riding
It's a Pittie Rescue
Kane County Animal Control
Mainstay Therapeutic Farm
Naperville Humane Society
Phillips Park Zoo
Reef Plus
Strides in Motion

Variety of area vet practices

Wag 'N Paddle
Willowbrook Wildlife Center