Parks and Recreation Leadership (BS)
Why study Parks and Recreation Leadership?
If you instinctively understand that play is good for your health, love the outdoors, and want to make your community a better place, you should consider a career in Parks and Recreation Leadership. You will learn how to design and lead activities to help people stay active—all while having fun.
The recreation field is growing as more organizations emphasize the importance of lifelong well-being. Activities such as swimming, hiking, golfing, and playing board games help people relieve stress and learn valuable skills. The field also offers a wide range of career opportunities at corporations, local park districts, youth groups, hospitals, retirement homes, tourism companies, amusement parks, cruise ships, sports firms, and state and national parks.
Why study Parks and Recreation Leadership at AU?
Aurora University's Parks and Recreation Leadership program prepares students to help individuals, families, and communities get the most out of their leisure time. We help students explore opportunities to work in a wide range of roles and settings, and then guide them as they focus on acquiring the knowledge and skills needed to meet their individual career goals. Students and faculty work together to foster a culture ideal for training parks and recreation leaders. As a student, you will gain the knowledge and skills you need to promote wellness, serve the greater good, and make a positive difference in the world. You will learn by doing, facing real-life challenges. In the classroom and through campus activities, you will plan, organize, and facilitate recreation and leisure service programs that improve the quality of life for others.
You will learn from AU professors as they plan volunteer opportunities and design outdoor education programs that connect students with the local community. All students complete a semester-long internship that is tailored to their individual career goals. You may find yourself in the Florida Keys working to restore coral reefs or in southern Wisconsin helping to build portions of the 1,110-mile long Ice Age National Scenic Trail. 
You can expand your career opportunities with a double major in other areas, such as History or Sport Management. Even with a second major, you'll still be able to graduate in four years.

$79,540
2022 annual median salary for parks and recreation planners
4%
2022-2032 projected job growth rate
Source: National Recreation and Park Association, U.S. Bureau of Labor Statistics

Curriculum Highlights
Business skills – budgeting, planning, marketing
Diversity and inclusion
Leadership
Outdoor education
Outdoor skills
Recreation program design
Campus Opportunities
Regularly scheduled professional networking sessions with respected leaders in the field of parks and recreation leadership
Play lies at the core of creativity and innovation. Dr. Stuart Brown, Founder, National Institute for Play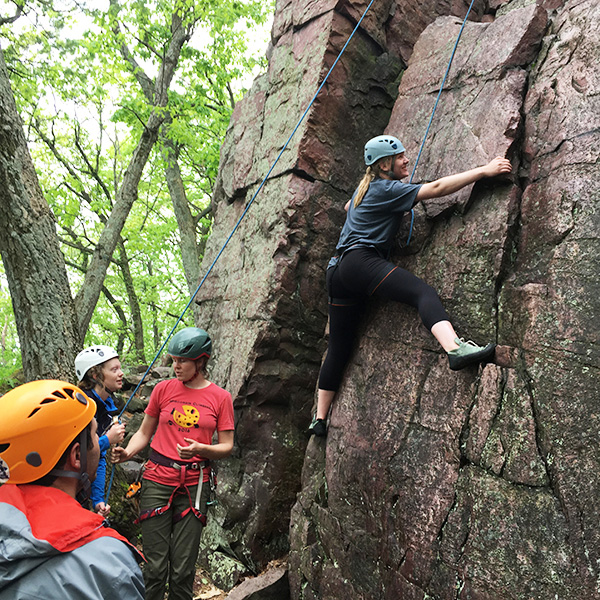 Experiential learning
The Parks and Recreation Leadership program at Aurora University provides an opportunity for students to learn by doing through meaningful experiential activities designed to enhance classroom content. Students will plan, implement, and evaluate recreation and leisure service programs that improve the quality of life for others. Through internships with local, regional, and national organizations, including local park and recreation departments, students learn what it means to be change-makers and connect with the local community.
Career possibilities
After-school program director
Aquatics director
Campus recreation coordinator
Community sports manager
Cultural arts director
Health and wellness instructor
Outdoor educator
Park and resource management
Parks and recreation manager
Program administrator
Recreation leader
State and national park ambassador
Summer camp director
Tourism development and management
Volunteer coordinator
Youth and teen program coordinator
Where our students intern and graduates work
Arlington Heights Park District

Blackberry Farm of Fox Valley Park District

Glacier National Park

Healthy Oceans Coalition

Mount Rushmore National Memorial

Outdoor Wisconsin Leadership School

Veterans Park District

Waukegan Park District

Wheaton Park District

Wisconsin Historical Society

YMCA

York Center Park District