Sport Management (BA)
Why study Sport Management?
The business of sports is a dynamic, high-energy field filled with passionate fans and a wide range of job opportunities. Sports management requires a pragmatic disposition and the ability to adapt quickly to changing situations. If you are interested in learning a business skill and applying it to the world of sports, majoring in Sport Management could be for you.
Why study Sport Management at AU?
At Aurora University, you will learn about the sport industry from a business, management, and sociological perspective. Your coursework will prepare you to become a leader in both public and private organizations through a comprehensive program of both theory and application. You will also develop a strong academic core that will prepare you for success in any arena.
Sport Management majors hold a wide variety of jobs in fields such as sales, administration, coaching, facilities management, public relations, sports merchandising, event planning, and sport media. Career settings can range from a professional or college sports team to a local recreational nonprofit or park district.
You can expand your career opportunities with a double major in Business Administration, Marketing, or Parks and Recreation Leadership. And even with a second major, you will still be able to graduate in four years.
You can also earn an advanced degree by adding one year of graduate study beyond your undergraduate degree through AU's accelerated Master of Business Administration Plus One program with a specialization in Sport Management. The MBA Plus One Sport Management track is designed for students who aspire to work in the amateur, collegiate, or professional sport industry. Students begin preparing for their career early in the program by gaining access to professionals in the field through networking and career exploration opportunities, and quickly develop skills in sales, marketing, and administration.

Curriculum Highlights
Communication

Connection to industry professionals in the field

Culminating capstone project

Current trends in the sport industry and society

Early career exploration

Facility management
Human performance
Management
Marketing
Sport law
Campus Opportunities
AU Human Performance Club
Student Athlete Advisory Committee
The program gave me a thorough understanding of the business of sports and provided me with the tools to be successful. Liam Stirtzinger '20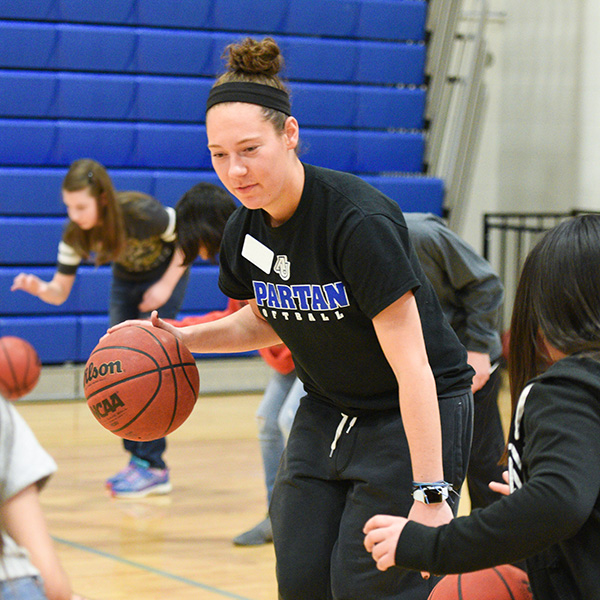 Experiential learning
As a Sport Management major, you will have an internship, allowing you to apply your classroom knowledge to the field and network with potential employers. Internships include youth sports, professional sports, park district programming, and club sports. Aurora University is located only 40 miles away from downtown Chicago, one of the most energetic sports towns in the country. Students have opportunities to visit the city to learn from employees at some of the world's most well-known sports franchises.
Career possibilities
Event coordinator/manager
Intercollegiate sport athletic director
Marketing and public relations manager
Recruiter
Sports analytics specialist
Sports equipment and technology specialist
Sports facility manager
Sport sales manager
Youth sport coach/director
Where our students intern and graduates work
Aurora University
Chicago Bears
Chicago Bulls
Chicago Cubs
Chicago Fire
Chicago Red Stars Professional Women's Soccer
Chicago Steele
Hurricane Junior Golf Tour
Kane County Cougars
Park Districts
Professional Golf Association (PGA)
Purdue University
Supreme Courts Basketball
Waubonsee Community College