Marketing (BS)
Why study Marketing?
Marketing allows you to combine creative energy with business savvy. It is a field focused on understanding people, exploring their purchasing decisions, and influencing their choices. It involves communication, leadership, project management, research, quantitative analysis, and technology. Marketers are always learning. They identify trends. They are driven to understand research and results. They like challenges. Ultimately, Marketing graduates become experts in connecting brands to customers.
The Marketing major is ideal for students who are creative, logical, and analytical thinkers. If you enjoy working in teams to accomplish goals, if you are interested in social media, sales, and advertising, and if you are curious about why consumers behave the way they do, then Marketing is for you.
Why study Marketing at AU?
The Aurora University Marketing program is designed to provide students with a well-rounded experience to succeed in today's high-tech, big-data business environment. As an AU Marketing student, you will develop the integrated marketing communication, management, digital, and research skills to compete in a fast-changing marketplace. You will learn to plan, implement, and measure the results of marketing campaigns using software, web, and social media platforms.
A team of award-winning, dedicated faculty leads the Marketing program at AU. They apply a wealth of business experience to the courses they teach and the organizations they advise. In upper-level Marketing courses, you will apply marketing through certifications and projects. Beyond the classroom, you will put your new skills into action during your professional internship.
Marketing is about spreading ideas, and spreading ideas is the single most important output of our civilization. Seth Godin

Spartan Story: Upon graduation, Hajar Zaki '15, landed a full-time job at a marketing firm where she had interned as an AU student. AU's marketing program gave her the opportunity to network with other marketing professionals and gain insight into their day-to-day work lives.
$141,490
2020 annual median salary for marketing managers
10%
2020-2030 projected job growth rate
Source: U.S. Bureau of Labor Statistics
My professors have taken the time to know me. They have instilled confidence and a strong drive for success in me. I know I wouldn't get these relationships at any other school. Allison Hess '20, Vice President of AU Professional Sales Association
Curriculum Highlights
Analytics
Consumer behavior
Content marketing
Integrated marketing communication
Marketing research
Social media marketing
Campus Opportunities
American Marketing Association Collegiate Chapter
AU Professional Sales Association
Aurora University Entrepreneurship and Innovation Club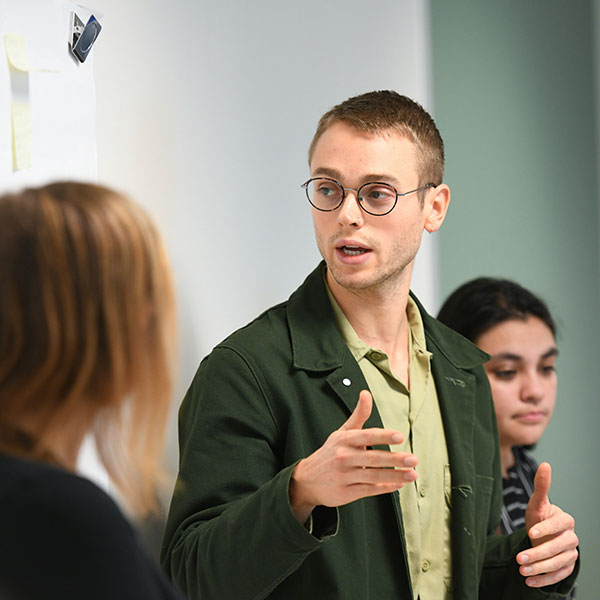 Experiential learning
The AU Marketing program emphasizes hands-on learning. Students become certified in tools including Google Analytics, HubSpot, and Hootsuite. Most Marketing students are involved in the AU chapter of the American Marketing Association, which is active and nationally recognized. Students also complete a required internship.
Career possibilities
Account representative
Buyer
Digital marketing specialist
Fundraiser
Inside/outside sales
International marketer
Marketing researcher
Media buyer/analyst
Merchandising manager
Research analyst
Social media manager
Web content manager
Where our graduates work
CDW
Chicago Cubs
Cintas
Grubhub
Liberty Mutual Insurance
Mars
Nike
Wellspring Communications
Wrigley