Social Work (BSW)
Why earn a bachelor's degree in Social Work?
Do you want to serve populations in need and contribute to improving lives? Majoring in Social Work will prepare you for the important work of empowering individuals, families, and communities. Social workers help people solve and cope with problems. They have a unique combination of intelligence and emotional strength. They care about human dignity and social justice, and work to make the world a better place.
Social work is a challenging, dynamic, high-growth profession. It encompasses a wide range of practices, including child welfare, addiction treatment, mental health, advocacy, aging, family services, education, community organizing, and public policy. For most social workers, a bachelor's degree is the first step on their social work career pathway. Many BSW graduates continue on to earn a master's degree. They may need other credentials as well, such as licensing and certifications, depending on their field.
Why study Social Work at AU?
At Aurora University, our bachelor's degree in social work is recognized among the best in the region. AU has been training social workers since the 1970s. Our social work roots stretch back to a small human services college in Chicago's Hyde Park neighborhood founded during the Great Depression.
In AU's Bachelor of Social Work program, you will acquire the knowledge and skills needed to effect change in your community. Our Social Work program begins with a solid academic core in the liberal arts, where you will hone your organizational and communications skills and lay the foundation for success. Starting in your junior year, you will be immersed in the professional and clinical side of social work, exploring social welfare and social justice issues, as well as strategies for working with diverse populations in need.
You have the option to participate in the following curriculum tracks:
Child Welfare, which focuses on protecting the health and well-being of children; or
Addictions, which will let you help people overcome substance abuse issues.
AU also offers coursework to prepare you for the following certifications:
Certified Alcohol and Drug Counselor (CADC). Upon completion of curriculum track courses and a 500-hour field placement, you will gain 500 to 600 hours of experience working in an approved substance use disorder treatment setting.
Co-Occuring Substance Use and Mental Health Disorder Professional (CODP I). AU is the only university that teaches students all they need to know for the CODP I Board Registration. As an added bonus, the Illinois Certification Board will let you count the program as 500 hours of required work experience.
Child Welfare Employee License (CWEL). Upon graduation, social work majors following the child welfare track receive Child and Adolescent Needs and Strengths (CANS) certification and Child Endangerment Risk Assessment Protocal (CERAP). You will also be eligible to obtain your CWEL upon employment at a child welfare agency.
You can also expand your career opportunities with a double major in Political Science and Public Policy or in Psychology. Even with a second major, you will still be able to graduate in four years.
Upon graduation with you Bachelor of Social Work degree, you can pursue a job in case management in nonprofit organizations, hospitals, or social service agencies. Graduates with the BSW degree are eligible to take the Illinois State Social Work license exam after completing two years of work experience. You can also apply for advanced standing in AU's Master of Social Work degree program, which will allow you take on more supervisory and clinical roles.
Application to BSW Major
The Bachelor of Social Work program requires a special application, which you can complete online. The program takes place on the main campus in Aurora. There is also a program for transfer students at the Woodstock Center in Woodstock, Illinois, and through AU Online. To learn more about the transfer program at Woodstock, fill out this inquiry form.
Accreditation and Licensure
The baccalaureate degree program in Social Work at Aurora University is accredited by the Council on Social Work Education (CSWE). This accreditation enables students to apply for the state licensure exam in Illinois or Wisconsin and to apply for "Advanced Standing" consideration for graduate studies.
How wonderful it is that nobody need wait a single moment to improve the world. Anne Frank


$51,760
2020 annual median salary for social workers
12%
2020-2030 projected job growth rate
Curriculum Highlights
Human behavior
Research
Social welfare policy
Campus Opportunities
AU Against Human Trafficking
Delight Ministries
Psychology Club
Social Work Association
Wackerlin Center for Faith and Action
AU helped me appreciate my natural skill sets and develop my confidence as a social worker. All of my professors demonstrated what it means to be passionate, knowledgeable, and conscientious. Amanda Neill BSW '20
Career possibilities
Addictions treatment counselor
After school program facilitator
Case worker
Child welfare/children's services worker
Criminal justice/corrections specialist
Health care social worker
Mental health or crisis response intake worker
Policy advocate
Policy and planning specialist
Prisons and correctional facilities social worker
Probation officer
Research analyst
Youth mentor
Career options with additional education or experience
Executive director of a social service agency
Forensic social worker
Hospice social worker
International social worker
Mental health social worker
Occupational social worker
Policy analyst
Private practice therapist
Program manager
School social worker
Substance abuse counselor
In Our Own Words: Dean of the College of Education and Social Work Brenda Barnwell on why demand for social workers is soaring
Corporations, school districts, and other organizations are finding ways to help alleviate higher levels of stress and anxiety by hiring social workers to make a difference. At AU, your professors will help you choose the track that is right for you so you are ready to start work when you graduate.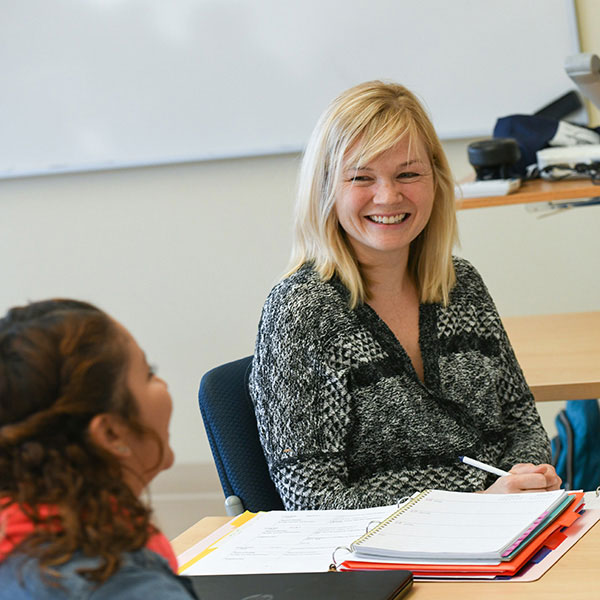 Experiential learning
Field placements in social service agencies working with individuals, families, and groups are an integral part of the learning experience. A 450-hour internship in a social service agency, coordinated by our faculty and staff, prepares you for your career by letting you work with people and groups. You will be required to complete one field placement during fall and spring semesters consecutively of your senior or final year of studies. Students actively work for social justice through the Social Work Association, a student-led club. And many courses include role playing, simulations, and guest speakers.
Internships sites
Association for Individual Development
Breaking Free
Communities In Schools
Gateway
Hesed House
Jennings Terrace
Senior Services Association
State Representative's office
West Aurora High School
World Relief
Where our graduates work
Adolescent Growth
Family Shelter Service
Gateway Foundation
Joliet Area Community Hospice
Little Friends Inc.
Lutheran Social Services
Miller Rehabilitation Center
Mooseheart
Northern Illinois Academy
Northwestern Medicine
Parker Nursing and Rehab
Phoenix Health Program
Pioneer Center for Human Services
Stepping Stone Treatment Center
YMCA