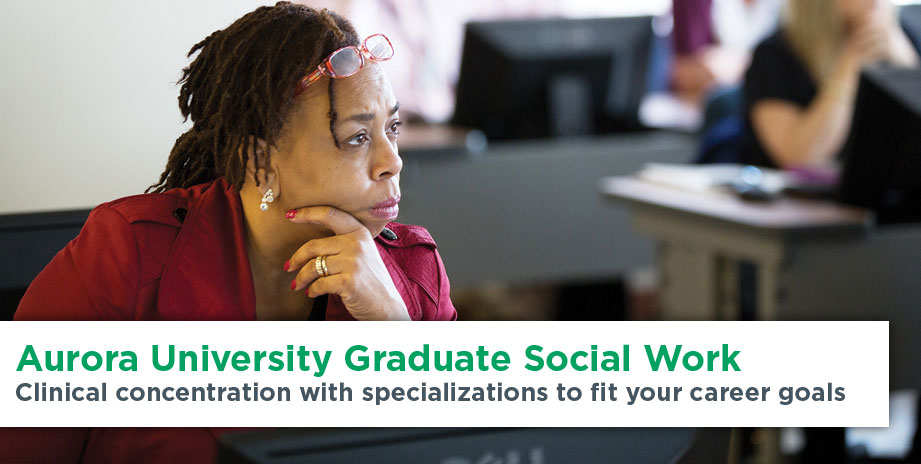 In the Master of Social Work program, you will gain a strong base in generalist clinical social work practice as well as specialized study. Our programs are flexible, with full- and part-time programs and courses offered in the day, evening and weekends. Our faculty are dedicated to helping you find your place within the social work profession, and we offer a variety of specializations that strengthen your knowledge in the areas of the field that interest you.
Learning Community

In the graduate program, you'll benefit from professors who both practice and teach, small class sizes and group learning experiences. Above all, you'll become a part of a close-knit group of faculty and peers who are committed to professional success and empowering clients to make positive changes in their lives.
Clinical Practice
Embedded in the academic program is 1,050 hours of field instruction, which will allow you to put the theories you learn in the classroom into practice in real-world situations. You will work with highly qualified preceptors, who are experienced practitioners as well as educators. In the MSW program, you will complete 60 hours of study, including
30 semester hours of foundation social work courses, which include 15 clock hours per week of field instruction (450 hours total)
30 hours in clinical concentration courses, which include approximately 20 clock hours per week of field instruction (600 hours total)
Licensed Social Worker Exam Pass Rates (2014)
| | | |
| --- | --- | --- |
|   | National Results | Aurora Results |
| First-Time Exam Takers | 82% | 85% |
| Repeat Exam Takers | 33% | 50% |
| Total Exam Results | 71% | 80% |
Certified Alcohol and Drug Counselors Exam Pass Rates (2015)
| | | |
| --- | --- | --- |
|   | State of Illinois Results | Aurora Results |
| Total Exam Results | 75% | 100% |
Specializations
You may choose to customize your learning experiences, with specializations designed to fit your interests and career goals. Specializations include:

Addictions
Prepares you to work with substance-abusing individuals and their families within a primary substance abuse treatment setting. The coursework focuses on various aspects of substance abuse, challenging some of your own biases regarding this population, and learning specific clinical skills to help the various sub-populations of addictions. Within the clinical concentration, you complete a field internship at an approved addictions site. Upon successful completion of this specialization, you will be eligible to take the Illinois state CADC examination.
Child welfare
Focuses on coursework to address issues surrounding families facing turmoil and struggles, protecting children from abuse and finding permanent placements for those who cannot safely return to their homes. Internship experiences include positions in case management, shelter care services, criminal justice, substance abuse agencies and therapeutic foster care services. Within either the clinical practice or leadership and community practice concentrations, you will complete three electives and a child-welfare-specific internship.
Faith-Based
This unique non-sectarian specialization prepares students to work effectively as faith-based agents of change within a variety of faith-based social work settings, recognizing the importance that the role of faith serves.
Forensic Social Work
Prepares students to use legal expertise to work in the social work field. The National Organization of

Forensic

Social Work defines

forensic

social work as the "application of social work principles to questions and issues relating to law and legal systems." The specialization focuses on educating students in

forensic

social work practice and theory, challenging some of their own biases regarding this population and learning specific clinical skills to help the various subpopulations of

forensic

s.
Gerontology
Focuses on the rapidly growing and ever-changing field of gerontology, and the myriad roles for social workers in this field. In this specialization, you will learn to assess and treat older adults in a variety of service agencies, such as assisted-living facilities, nursing homes, hospice, hospital and senior living homes.
Health Care
Exposes you to the rapidly growing and ever changing field of health care in the United States, and the myriad roles of social workers in light of health care reform. The specialization provides a basic understanding of the medical field and its terminology, the complexities of brief and chronic illness and respective treatments, ethical considerations, insurance issues and public policy. Upon completion, you will be able to recognize present health disparities and work toward the equitable and fair provision of services to all populations.
Leadership Administration
Prepares students to work in business management and administration in the fields of social work and human services, with coursework through the Master of Business Administration program. Students can earn a certificate in leadership for the not-for-profit sector by taking specific courses within the concentration.
School Social Work (PEL:SSW)

Prepares you to work in public school settings. The program is approved by the Illinois State Board of Education, and you will be eligible to apply for an Illinois Professional Educator License with School Social Work endorsement upon completion of the specialization.
Resources
Please see the MSW Student Handbook for complete program details and more information.
Disposition Policy (PDF)
Disposition Form for Students (PDF)
Council on Social Work Education (CSWE) Assessment Data and Communication
The School of Social Work (SSW) at Aurora University is a combined (BSW and MSW) program accredited by Council on Social Work Education originating at George Williams College in Downers Grove, Illinois before going to Aurora University campus in 1987. The SSW programs have continually been reaffirmed by CSWE through its required eight-year cycle. Please click on the links below to view the 2016 Self Study and the official letter of reaffirmation from 2009. Please refer to Standard section 4.0 beginning on page 210, which details assessment work of both the BSW and MSW programs according to the 2001 EPAS from CSWE.
Self Study Volume I
(PDF)
CSWE Letter of Reaffirmation
(PDF)
Assessment of Student Learning Outcomes
(PDF)