Criminal Justice (BA, Minor)
Why study Criminal Justice?
Careers in Criminal Justice give you the opportunity to make a significant difference in people's lives. By studying Criminal Justice, you develop the skills to improve your community by aiding the victims of crime, counseling and rehabilitating criminals, and directing the progress of a parolee.
One of the main reasons people study Criminal Justice is they have the desire and passion to help others through the use of the legal system. A degree in Criminal Justice will introduce you to the law and can help prepare you for law school and other post-graduate programs.
Why study Criminal Justice at AU?
Aurora University's Criminal Justice program is unique because we serve as a resource for career development and improvement in the quality of life in our communities. We are constantly reviewing our curriculum ideas and enhancing our learning tools to maximize opportunities for our students.
We recognize the diversity of our students and offer them the option of customizing their course selections to specialize in what matters to them.
When you study Criminal Justice at AU, you will learn about the interrelationship of the core components of the entire field from police and courts to corrections. Our degree also covers social policy areas involving homeland security and terrorism.
The Criminal Justice program at AU will provide you with a broad academic experience, so that you are prepared for a variety of careers in law enforcement, corrections, probation, parole, homeland security, military, or federal service. AU faculty teach courses that will build your analytical, critical thinking, research, and writing skills.
Through experiences in the field, our students gain knowledge by working alongside agency employees who generally fall under law enforcement, corrections, court and legal services, investigations, or private security. Many of our students opt to complete internships in a variety of federal, state, and local criminal justice agencies as well as some private sector agencies.
You can expand your career opportunities with a double major in Computer Science, Political Science and Public Policy, or Psychology. Even with a second major, you'll still be able to graduate in four years. If you would like to explore academics beyond your major, you can also minor in Criminal Justice. A secondary area of study allows you to focus on another subject of interest during your college experience.
You can also earn an advanced degree by adding one year of graduate study beyond your undergraduate degree through AU's accelerated Master of Science in Criminal Justice Plus One program. The extra year of study allows you to choose one of two concentrations: Leadership and Administration or Psychology and the Law.
The learning environment at AU expanded my mind and enabled me to become a better police officer. I would not be where I am today had it not been for this institution. Aurora Police Chief Kristen Ziman '03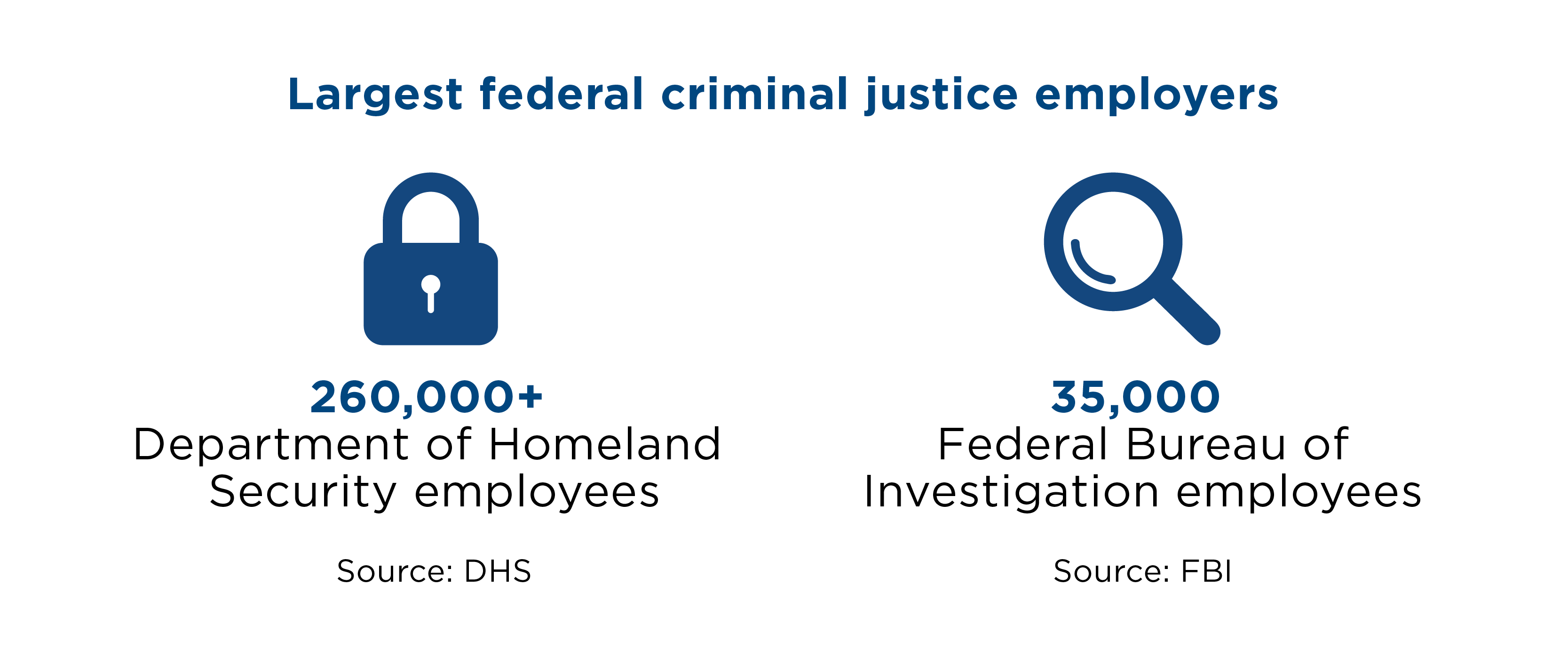 $69,160
2022 annual median salary for police officers and detectives
3%
2022-2032 projected job growth rate
Source: U.S. Bureau of Labor Statistics
Curriculum Highlights
Criminal justice system (police, courts, and corrections)
Criminal investigation, law, and procedure
Criminal profiling
Criminology
Cybercrime
Forensic science
Homeland Security (emergency response to natural and manmade disasters)
Juvenile justice
Organized crime
Security leadership
Serial and mass murder
Special topics (gangs, justice system careers)
Strategic planning and ethics
Campus Opportunities
Aurora Criminal Justice Association (ACJA)
Work in Campus Public Safety
I was taught three major things while attending AU: Go after what you're passionate about, take every opportunity you can, and preserve your integrity. Kelly Dolar, Criminal Justice BA '20, MPA Plus One '21
Experiential learning
All Criminal Justice majors are encouraged to participate in field experiences and job shadowing of justice system practitioners throughout their undergraduate education. In addition, Criminal Justice majors are encouraged to participate in an internship, which may take place at federal, state, and local law enforcement agencies, private security agencies, law offices, probation departments, or organizations centered on victim advocacy and social justice.
Career possibilities
Child and Family Services Investigator 
Community Service Coordinator 
Conservation Officer 
Corporate Security Officer 
Correctional Officer 
Court Security Officer 
Crime Laboratory Scientist (when paired with the sciences)  
Crime Scene Technician 
Criminologist 
Cybercrime Investigator 
Department of Natural Resources Officer 
Federal Law Enforcement Agent (Border Patrol, Customs, ATF, FBI, DEA) 
Homeland Security Professional 
Inspector or Compliance Officer 
Juvenile Justice Specialist
Loss Prevention/Asset Protection Specialist
Park Ranger 
Parole Officer 
Police Officer/Detective 
Private Investigator 
Probation Officer 
Sheriff's Deputy 
Social Services Advocate 
State Trooper 
Transportation Security Officer 
Victim/Witness Advocate
Where our graduates work
Department of Homeland Security
Drug Enforcement Administration
Federal Bureau of Investigation
Illinois Department of Corrections
Illinois State Police
Indiana State Department of Children Services
Kane County Court Services
Kane County Juvenile Justice Center
Numerous local police agencies including:

Aurora Police Department
Bettendorf, Iowa Police Department
Carpentersville Police Department
Chicago Police Department
Crestwood Police Department
DeKalb Police Department
Elgin Police Department
Geneva Police Department
Glen Ellyn Police Department
Kane County Sheriff's Office
Kendall County Sheriff's Office
Los Angeles Police Department
Louis County Police Department
Montgomery Police Department
Morris Police Department
Naperville Police Department
Romeoville Police Department
San Jose Police Department
Wheaton Police Department

Office of the Illinois Attorney General
United States Armed Forces
Wisconsin Community Services