Criminal Justice (MS)
Criminal Justice Plus One Program
The Master of Science in Criminal Justice Plus One program offers a streamlined path to your master's degree through daytime classes held on the main campus. The program is open to students with undergraduate degrees in a wide variety of majors, including cybersecurity, computer science, business administration, psychology, political science, and public policy. It is also ideal for professionals working in the field who want to advance their careers. This immersive program offers insight into the most current topics and challenges facing criminal justice agencies today.
You can choose one of two concentrations: Leadership and Administration or Psychology and the Law. Through full-time studies, you can complete your Criminal Justice degree in one year. The program begins in June and finishes the following May.
Why a Criminal Justice degree at AU?
It will increase your earning potential. U.S. workers holding a master's degree earn 20 percent more in average annual salary than those with a bachelor's degree.*
You will gain the skills you need to succeed. You'll learn to effectively analyze business data to make key management decisions.
It's a great value. AU graduate programs are affordable and have impressive student outcomes.
It will give you professional growth opportunities. You'll participate in a premier internship, portfolio project, or high-impact learning experience, along with networking opportunities with area businesses and organizations.
Athletes can stay on the team. It's a great option for student athletes with a remaining year of athletic eligibility.
It offers a streamlined application process. There is no application fee and no GMAT/GRE required for application to the program.
A laptop is included and there are no textbook costs. The computer will be equipped with all the software you need for the program.
Admission requirements are simple. All that's required is:

A completed graduate application for admission.
A cumulative undergraduate GPA of 3.0 or higher.
*Bureau of Labor Statistics
A master's degree in criminal justice can help a law enforcement officer get promoted, sharpen critical skills for someone in a criminal justice-related field, or serve as an entry point for a competitive job, such as a position at a federal agency. U.S. News and World Report, 2019
Career possibilities
Emergency management official
Federal marshal
Forensic examiner
Intelligence analyst
Investigator
Law enforcement officer
Military officer
Police officer
Probation/parole officer
Sheriff
Special agent at a federal agency
Where our graduates work

AU alumni work in a variety of agencies that provide service to their communities and their country.
Corrections and court services
Emergency management
Federal Bureau of Investigation
Nonprofit agencies
Private sector defense
State and local police departments
U.S. Department of Homeland Security
U.S. Department of Justice
U.S. military
Experiential learning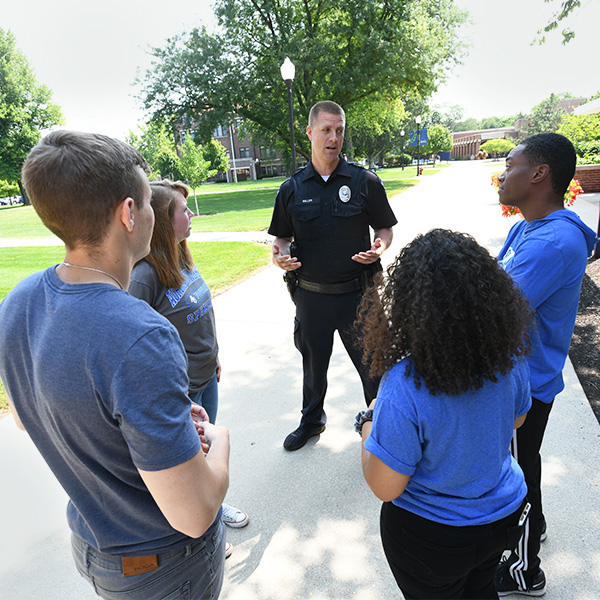 You will complete an internship aligned with your career goals. These internships often take place at federal, state, and local law enforcement agencies, private security agencies, law offices, and probation departments.
Sample Schedule
Plus One students meet as a cohort during summer, fall, and spring semesters.
Schedule: Leadership and Administration
Term
Classes
Summer: 9 semester hours
June–August; 10-week courses
Monday–Thursday, 8 a.m.–Noon

Cyber Security in the Information Age (3)
Public Policy and Analysis (3)
Disaster Preparedness and Emergency Management (3)

Fall: 12 semester hours
August–December; 16-week day courses
Monday–Thursday, 9 a.m.–Noon

Problem Solving – Planning, Analysis, and Assessment (3)
Forensic Genealogy and the Law (3)
Crime Causation Theory (3)
Public Sector Labor Law (3)

Spring: 12 semester hours
January–May; 8-week courses
Saturday, 9 a.m.–Noon

Ethics and Diversity in Criminal Justice Agencies (3)
Criminal Justice Administration and Leadership (3)

January–May; 16-week courses

High Impact Professional Experience (6)
Schedule: Psychology and the Law
Term
Classes
Summer: 9 semester hours
June–August; 10-week day courses
Monday–Thursday, 8 a.m.–Noon

Disaster Preparedness and Emergency Management (3)
Public Policy and Analysis (3)
Advanced Psychopathology (3)

Fall: 12 semester hours
August–December; 16-week day courses
Monday–Thursday, 9 a.m.–Noon

Forensic Genealogy and the Law (3)
Problem Solving – Planning, Analysis, and Assessment (3)
Crime Causation Theory (3)
Trauma and Crisis Intervention (3)

Spring: 12 semester hours
January–May; 8-week courses
Saturday, 9 a.m.–Noon

Ethics and Diversity in Criminal Justice Agencies (3)
Law and Mental Health (3)

January–May; 16-week courses

High Impact Professional Experience (6)