Physician Assistant (Pre)
Why study Pre-Physician Assistant?
Physician assistants (also known as PAs) are medical providers who diagnose illnesses, develop and manage treatment plans, and prescribe medications. PAs have many of the same responsibilities as doctors, although they work under the supervision of a physician or surgeon. PAs practice in every medical field and often serve as a patient's principal health care professional. It is one of the fastest-growing professions in the U.S.
Why study Pre-Physician Assistant at AU?
As a Pre-Physician Assistant student at Aurora University, you will major in Health Science, acquiring the knowledge and skills necessary to be successful in the ever-changing field of health care. You will also enroll in the Pre-Physician Assistant program, which offers a curated collection of prerequisite courses necessary to be accepted into a physician assistant school.
To help you navigate your academic career and prepare for physician assistant school, AU offers one-on-one guidance with our own Pre-Medical Professions Advisor C.J. Chen. A longtime biology professor at AU, Chen is an expert in the application process for health profession schools. Advanced coursework prepares you for either the Graduate Record Exam (GRE) or the Medical College Admission Test (MCAT) examination. Internship opportunities are also available so you can experience, first hand, what it is like to practice as a PA.
At AU, you will also get an opportunity to participate in research, a step that will enhance your PA school application. AU offers students unique opportunities to conduct laboratory research with expert faculty in the field. Developing research experience deepens your understanding of what you learn in the classroom and prepares you with the skills to succeed in PA school.


How much education is required to become a physician assistant?
After you earn your undergraduate degree, you need to attend physician assistant school for two to three years and pass the Physician Assistant National Certifying Examination (PANCE).
Qualified students may benefit from AU's agreement with Midwestern University. Please visit our academic affiliations page to learn more.
Pre-Physician Assistant Curriculum
Anatomy and Physiology I
Anatomy and Physiology II
Biochemistry
General Chemistry I
General Chemistry II
Microbiology
Organic Chemistry I
Psychology
Second English Course
Sociology
Statistics
Campus Opportunities
AU Science Organization
Aurora University HOSA - Future Health Professionals
Mu Sigma Pi: Mind. Body. Spirit.
$126,010
2022 annual median salary for physician assistants
27%
2022-2032 projected job growth rate
Source: U.S. Bureau of Labor Statistics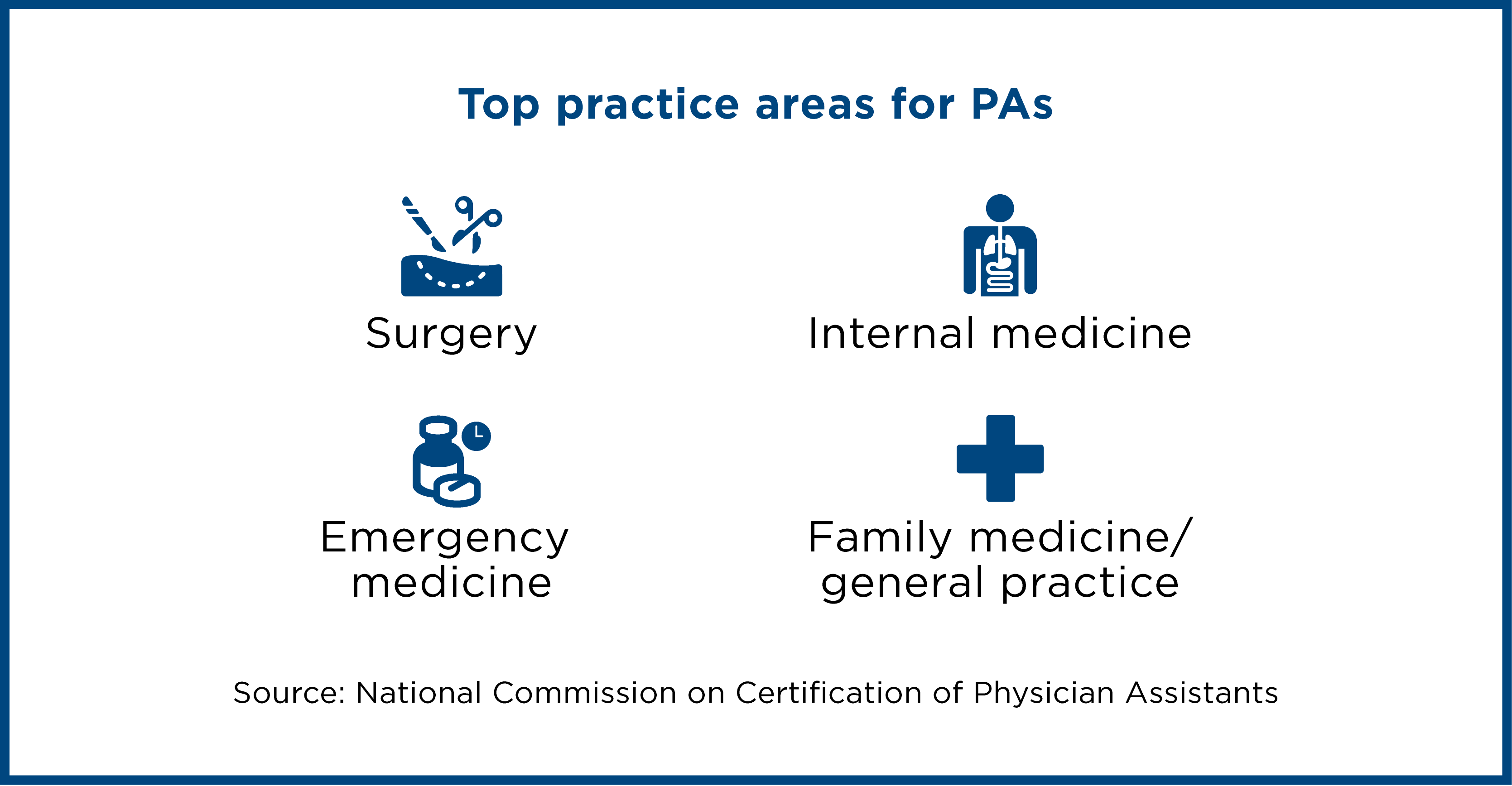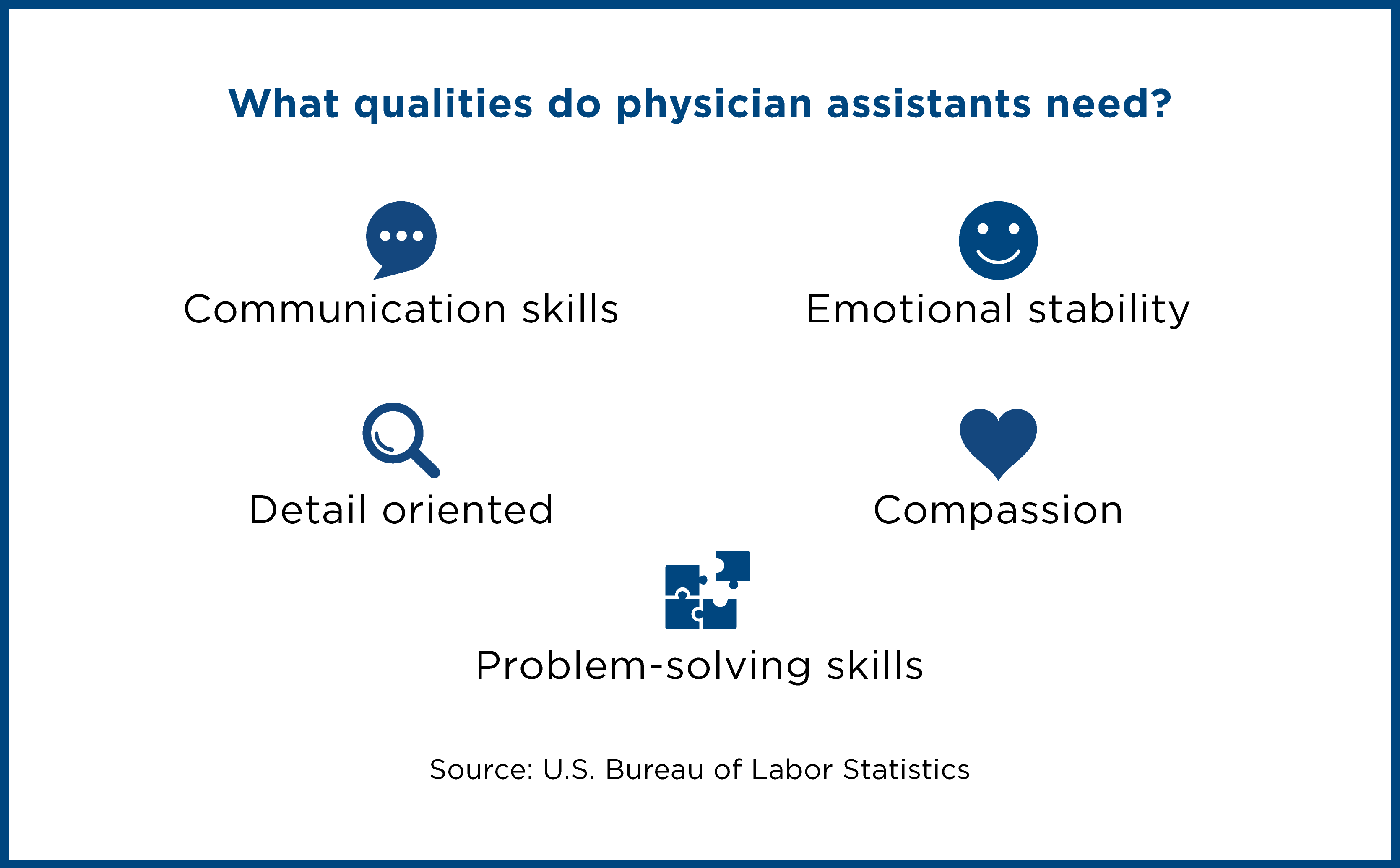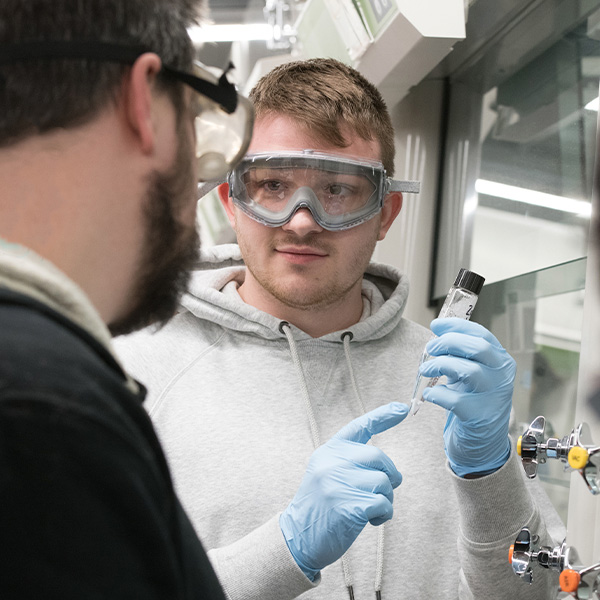 Experiential learning
You will have the opportunity to have an internship, clinical, or field experience at a medical facility or healthcare organization. AU's pre-medical professions advisor will work with you to find internships in your chosen area of interest. You will also have the opportunity to conduct lab research with faculty. And you will get hands-on experience with advanced tools and technologies, including synthetic cadavers known as SynDavers. These synthetic human bodies are made from materials that mimic living tissue and replicate the human anatomy in great detail. This first-hand experience prepares you for success in PA school.
Internship sites
Advocate Medical Group
The Center for Primary Care and Sports Medicine
Edward Hospital
Where AU graduates attend PA school
Dominican University
Miami Dade College
Midwestern University
Northwestern University
University of Charleston