Health Professions (Pre)
Why study a Pre-Health Profession?
If you have a deep interest in science and are passionate about helping people live healthier lives, this is a good time to pursue a career in health and medicine. The healthcare industry makes up 18 percent of the U.S. economy, and it's one of the fastest growing industries in the world.
Why study a Pre-Health Profession at AU?
Aurora University's Pre-Health Profession programs are designed to prepare you for professional school in a wide variety of health fields, including medicine, pharmacy, dentistry, chiropractic, occupational therapy, optometry, podiatry, and veterinary schools.
At AU, a dedicated Pre-Health Profession advisor will guide you on every step of your educational journey. Your advisor will work with you to make sure you choose the appropriate major and complete the required coursework for your chosen career path. You will also receive help demystifying the professional school application process so you can make your best effort applying to medical school, graduate school, or other health profession school.
You will learn about the vast array of jobs in the health field and discover career options you may not have considered or even knew existed when you started your academic journey.
Most students in a Pre-Health Profession program major in Health Science. Depending on your career path, you may also add a second major in Biology or Chemistry. And even with a double major, you'll still be able to graduate in four years.
Small lecture and lab classes are at the foundation of each program. You will get to know your professors, and you will receive first-hand experiences in your chosen profession.
At AU, the Pre-Health Profession programs will equip you with the skills health and medical professional schools value most: communicating your ideas, analyzing a problem, and working with a team to find a solution.
AU also has agreements that allow qualified Pre-Health Profession students to receive academic credit and/or admission benefits with:
Lake Erie College of Osteopathic Medicine
Loyola University
Midwestern University
National University of Health Sciences
Rush University
Southern College of Optometry
University of Illinois College of Medicine Rockford
University of Missouri College of Veterinary Medicine
Please visit our academic affiliations page to learn more.
Wherever the art of medicine is loved, there is also a love of humanity. Hippocrates
5%
2022-2032 projected job growth rate
1.8 million
2022-2032 job openings projected each year
Source: U.S. Bureau of Labor Statistics
Our Pre-Health Profession Programs:
Learn more about the programs preparing you to enter the health professions from Aurora University: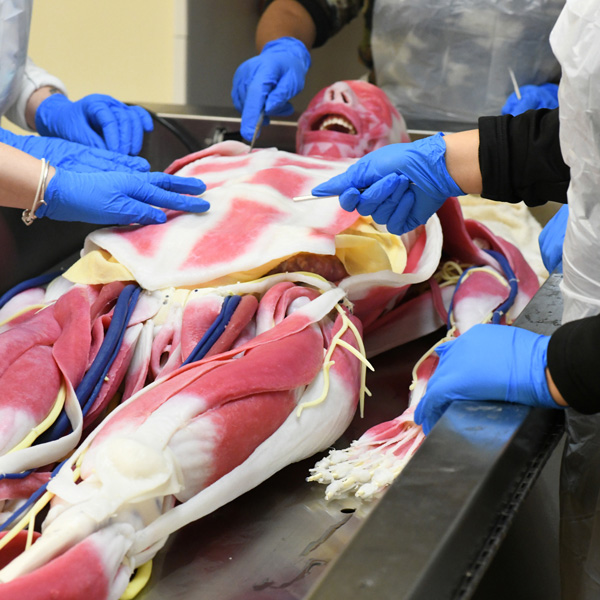 Experiential learning
During class and in the lab, you will get hands-on experience with advanced tools and technologies, including a chance to work on synthetic cadavers known as SynDavers. These synthetic human bodies are made from materials that mimic living tissue and replicate the human anatomy in great detail. This first-hand experience prepares you for future professional medical programs. You will also have an opportunity to participate in an internship, clinical, or field experience at a medical facility or healthcare organization in your chosen health profession.