Medicine (Pre)
Why study Pre-Med?
If you love learning about the human body and have a passion for helping people who are sick, exploring Pre-Med programs in Illinois may be the path for you. The medical field is dynamic and rewarding. It is filled with a wide array of jobs including physicians, physician assistants, research scientists, technicians, medical consultants, and public health officials.
Why study Pre-Med at AU?
As a premed student at Aurora University, you will enroll in the Pre-Medicine program, which offers a curated collection of courses necessary to be accepted into medical school. You will major in Health Science, acquiring the knowledge and skills necessary to be successful in the ever-changing field of health care. You can expand your skill set with a second major in Biology. And even with a double major, you'll still be able to graduate in four years.
To help you navigate the complex application process for medical school, AU offers one-on-one guidance with our own Pre-Medical Professions Advisor C.J. Chen. A longtime biology professor at AU, Chen is an expert in the application process, interview process, the Medical College Admission Test (MCAT) examination, and writing personal statements. He can also give students advice about entrance requirements to specific medical schools. Getting into medical school is highly competitive and requires a lot of time and commitment, but is worth the effort.
At AU, you will also get an opportunity to participate in research, a step that will enhance your medical school application. AU offers students unique opportunities to conduct laboratory research with expert faculty in the field. Developing research experience deepens your understanding of what you learn in the classroom and prepares you with the skills to succeed in medical school.


How much education is required to become a doctor?
After you earn your undergraduate degree, you need to attend medical school for four years, followed by three to eight years of an internship and residency, depending on your area of specialization. You must also pass the U.S. Medical Licensing Exam, which takes place in three parts during your years of medical training.


Will AU help me get into medical school?
AU partners with area medical schools to offer qualified pre-med students a leg up on getting into medical school, including opportunities for early admission, guaranteed interviews, research projects and volunteer experiences.
Rush University Medical College
AU has an agreement with Rush University in Chicago guaranteeing AU pre-med students who want to pursue a Doctor of Medicine (M.D.) and meet the entrance requirements an interview through Rush Medical College's Doctor of Medicine (M.D.) Early Admission program. Rush receives more than 7,000 applications each year and interviews only about 5 percent of applicants.
Rush sends its doctors and professors to AU's campus each semester to educate students about the rigors of medical school, the expectations for a successful medical school applicant, and the interview process. Rush also offers AU students summer research opportunities and volunteer opportunities at Rush and its partner organizations.
Lake Erie College of Osteopathic Medicine (LECOM)
AU pre-med students who want to pursue a Doctor of Osteopathic Medicine (D.O.) degree and meet the admission requirements have the opportunity to attend Lake Erie College of Osteopathic Medicine (LECOM)—the nation's largest medical school and the only osteopathic academic health system in the U.S.
Aurora University's affiliation with LECOM's Early Acceptance Program allows qualified students to be accepted into the D.O. program at LECOM while they are still an undergraduate at AU. Most students will spend four years at AU and four years at LECOM's College of Osteopathic Medicine. Students may apply for early admittance to LECOM's program as a high school senior or an AU freshman or sophomore (having earned less than 65 credit hours).
Students interested in either program should contact AU's Pre-Medical Professions Advisor C.J. Chen.
Pre-Medicine Curriculum
Biochemistry
Biology of Cells
Biology of Organisms
Calculus
General Chemistry I
General Chemistry II
Lifespan Develop Psychology
Microbiology
Organic Chemistry I
Organic Chemistry II
Physics I
Physics II
Campus Opportunities
AU Science Organization
Aurora University HOSA - Future Health Professionals
Mu Sigma Pi: Mind. Body. Spirit.
$208,000+
2020 annual median salary for physicians
3%
2020-2030 projected job growth rate
Source: U.S. Bureau of Labor Statistics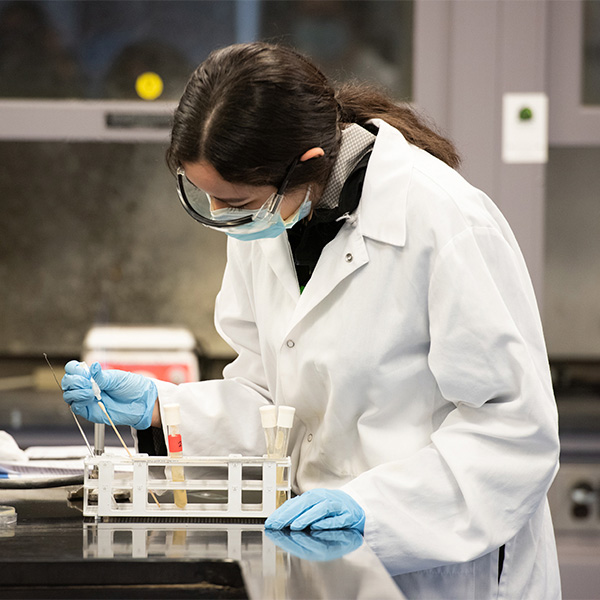 Experiential learning
You will have the opportunity to have an internship, clinical, or field experience at a medical facility. AU's pre-medical professions advisor will work with you to find internships that fit with your chosen area of interest. You will also have the opportunity to conduct lab research with faculty, an important element in your medical school application. And you will get hands-on experience with advanced tools and technologies, including synthetic cadavers known as SynDavers. These synthetic human bodies are made from materials that mimic living tissue and replicate the human anatomy in great detail. This first-hand experience prepares you for medical school.
Internship sites
Advocate Medical Group
Edward Hospital
Morris Hospital
Northwestern Medicine
Where AU graduates attend medical school
Des Moines College of Osteopathic Medicine
Idaho College of Osteopathic Medicine
Lake Erie College of Osteopathic Medicine
Loyola University Stritch School of Medicine
Midwestern University
Ross University School of Medicine
Rush University Medical College
Texas A & M University
University of Illinois
University of Missouri
Wayne State University School of Medicine