How to get into medical school
By Hal Conick | May 03, 2021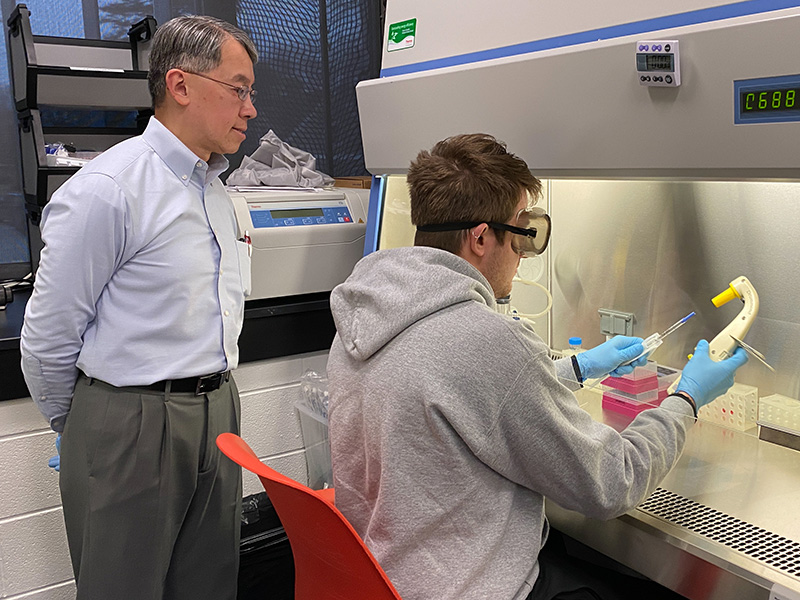 Students interested in medical school must have a plan for success. Getting into medical school is highly competitive. It takes commitment and determination, and requires staying organized and managing your time.
As part of Aurora University's Sundays @ 7 Career Conversations with Alumni, three AU alumni —a family doctor, a surgeon, and a Rush Medical College student— shared their advice on how to get into medical school and succeed as a pre-medicine student.
Here are their top 9 tips:
Master the sciences.

Undergraduates interested in medicine need to master their science classes. While medical schools don't require specific majors, there are many prerequisite courses. At AU, students are encouraged to major in Health Science or double major in Health Science and Biology. AU also has specific Pre-Medicine tracks that help you prepare for medical school and complete the required coursework for your chosen career path.


Demonstrate your passion.

Extracurricular activities will give medical schools the story of you. Try out many different activities. You can work in hospitals, participate in science clubs, or volunteer with people in need, but focus on two or three activities that showcase your passion. At AU, you can engage in laboratory research or an internship to help build your extracurricular experiences.


Develop good study habits.

Undergraduate classes are like taking sips from a bottle of water, while medical school classes are like drinking from a firehose. The books are bigger, the classes move faster, and professors expect you to know even the smallest details. All panelists agreed that you need to be a really strong student to succeed in medical school, and you need to develop an understanding of how you best learn new material. Everyone studies differently. Determine what study habits work for you, develop those habits, and stick with them.


Start preparing for the MCAT as early as possible.

The Medical College Admission Test is a rigorous exam. Use the resources available to you to prepare. At AU, a Pre-Medical Professions Advisor helps students prepare for the MCAT, as well as demystify the medical school application process. AU also provides a Medical School Preparation course in May to assist students in the application process.


Ace the interview.

During interviews with medical schools, you will be asked a lot of questions that may seem random. Schools are using their criteria to get to know you better and evaluate if you will be a good fit. In interviews, keep calm and show that you are sincere, hungry, and smart.


Work hard on your personal statement.

Personal statements on applications are a great opportunity to show who you are. Take time to work on your personal statement to ensure that you stand out. AU's Pre-Medical Professions Advisor is an expert at personal statements for medical school and can assist you on your application.


Consider a gap year.

Some students take a gap year to strengthen their MCAT scores, pay down debt, or get more experiences in the health and medical fields. Each panelist took a gap year and agreed that it gave them time to prepare their medical school application, and it helped them avoid burn out in medical school.


Relax.

Once you have received your acceptance letter, take some downtime. Stay away from the books. Do something fun. Or do nothing at all. It's important to take a break before your medical school journey begins.


Find a good study partner or group.

When you get to medical school, find a study partner or group that will help you understand your weaknesses and push you to keep learning every bit of information.


More about Sundays @ 7 Career Conversations with Alumni
AU's Office of Alumni Relations and the Center for Student Success livestream the Sundays @ 7 Career Conversation with Alumni series at 7 p.m. on various Sunday evenings throughout the year.
The medical school panel, which was moderated by Professor Sarah Radtke, dean of the School of Health Science, took place in March via Zoom.
The panelists were:
Christina (Wooten) Brown '17, health science and biology, who is currently pursuing her medical degree at Rush Medical College in Chicago.
Brian Walker '94, biology, who graduated from Des Moines University College of Osteopathic Medicine and completed his residency at Mayo Clinic. Walker has worked in emergency medicine and currently specializes in family care.
Emanuel Nearing '05, English with a chemistry minor, who completed a fellowship in minimally invasive and bariatric surgery at Gundersen Medical Center in La Crosse, Wisconsin, and residency in general surgery at Virginia Mason Medical Center in Seattle, Washington. Nearing is a surgeon who specializes in minimally invasive foregut, bariatric and general surgery with Schneck Surgical Associates and Schneck Bariatrics.