Job Search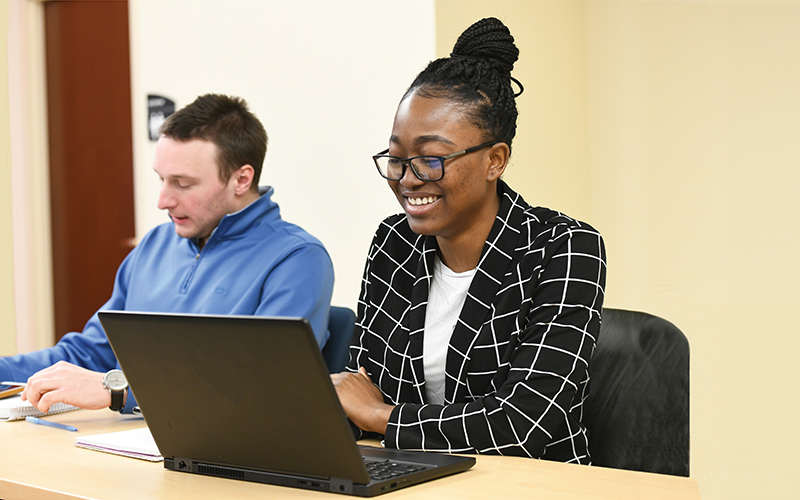 Whether you're looking for your first job—or your 10th—it's important to understand the essential steps to get where you want to go.  Career Services can help you launch a successful job search. To make an appointment, call Career Services at 630-844-5403 or email career@aurora.edu.
To search for full-time and part-time opportunities, visit Handshake, an interactive platform that allows students and recent graduates to search for internships and jobs, as well as connect with employers. Career Services recommends using Handshake since employers work directly with our staff to post internship positions. Click here for a tutorial on how to get started. If you're looking for an on-campus job, contact Student Employment.
Tips for a Successful Job Search
Understand your goals

Understand yourself as a product to sell as well as the market to which you are selling.
Establish a clear goal of the job you want and the kind of work environment in which you flourish.
Create a list of benefits that are important to you, such as time off, pay, work schedule, tuition reimbursement, retirement, insurance, and work assignments.

Target organizations

Create your dream list of the places where you would like to work and begin to research these organizations. Do these companies seem to align with your career goals and values?

Create resume and cover letter

In today's competitive job market, you need to customize both your cover letter and resume for each job opening to which you are applying. Whenever you can, find a name of the person who is conducting the job search and personalize your cover letter.

Take inventory of your social media presence

Ensure your social media presence reflects positively on who you are since your profiles may be the first impression an employer may have on you.

Monitor your name by performing periodic searches for yourself on search engines (e.g., Google, Bing, Yahoo) and social media sites.  

Keep your LinkedIn profile up-to-date with a professional headshot and details that align with your resume.

Check the privacy settings on your Facebook, Instagram, Twitter, and other social media accounts to prevent potential employers from getting a (less-than-flattering) glimpse of your personal life. You may want to consider telling your friends and family not to tag you in photos they post as well. 

Network, network, network

Most jobs are obtained not through applying through published job postings but through networking: talking to people. List all the people you know and begin to let those people know what kind of job you are looking for. The goal is to set up informational interviews (for example, coffee dates) to learn more about your contacts and the companies you're interested in. Most of your job search time should be spent on networking.
When conducting informational interviews, use your list of targeted companies to find information about and connections into these organizations.

Respond to select posted job openings

Responding to posted job openings is an important part of your job search, but don't get bogged down here. Apply only for the positions you're qualified for and truly interested in. Spend approximately 20 percent of your time responding to published job ads.

Interview

Once you land an interview, you'll need to thoroughly prepare by

 

researching the company, practicing your answers to interview questions, and

 

preparing your questions for the company.
You will also want to have your

 

professional attire

 

ready. If you are in need of an outfit for your interview, be sure to check out AU's free professional clothing closet, the

 

Spartan Attic.

Follow up

If you haven't heard back by the time specified by the hiring manager, follow up with them to reiterate your interest and qualifications in the position.

Negotiate

After you get a job offer, you may need to negotiate. Meet with Career Services to learn tips and practice negotiating.