Dress for Success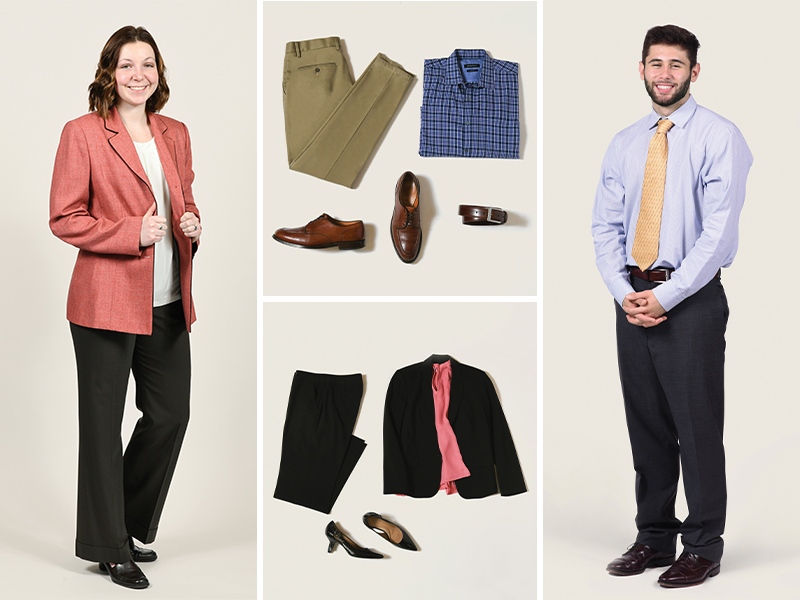 How you dress for an interview is important. People tend to form an opinion of someone within a few seconds, so dress the part and present yourself in the best possible light. 
Tips for Everyone
An interview is not the time to experiment with bold patterns, clashing colors, hats, or dramatic jewelry unless you're applying for a job where your sense of style is a selling point. Try to look as professional as possible.
Be comfortable in what you are wearing. If you feel comfortable, you will appear more confident.
The same goes for shoes. You don't want to find out that your shiny new shoes give you blisters.
Keep your hair controlled and off your face. If it's long or unruly, you might want to tie it back or put it up. Don't fiddle with it during the interview.
Make sure your clothes are cleaned and pressed and that they fit properly.
Hygiene is a must. Shower, wear deodorant, and brush your teeth. Do not overdo cologne/perfume. Smoking lingers, try not to smoke.
Tips for Women
Keep make-up low-key and natural.
Make sure your clothes aren't too revealing. Low-cut tops, cleavage, spaghetti straps, and tops that don't cover your midriff are not recommended. Consider clothes that cover your shoulders, arms, and legs. Sleeveless is not a becoming look for many people, and also unprofessional. Do not wear cocktail attire or party dresses.
If you wear a skirt, it should be knee-length. It's best to wear tights. (You can always go for thin black or neutral-tone tights if the weather is warm.) A smart trouser suit is also acceptable. Stick to dark and neutral colors such as black, navy, or gray.
You can look professional even if you do not have a well-fitting suit. Pair nice slacks with a silk blouse, a fine-gauge wool sweater shell, or a button-down shirt.
Flat shoes or low heels (1 to 2 inches) look professional. Avoid higher or spike heels. You don't want to trip or get sore feet.
Tips for Men
A suit is the rock-solid foundation of your interview outfit. The best colors for an interview suit are black, gray, and navy/ dark blue. Stay on the safe side by wearing a jacket. You can always take it off if you feel it's a bit too formal for the interview.
Choose a lighter-colored plain button-down shirt. The shoes and belt should both be either black or brown.
Choose a tie with a plain or simple pattern. The same rules apply when it comes to socks.
Your hair and face should be well-groomed. The clean-shaven, short-haired look may be your safest bet, but recruiters will not mind facial hair as long as it is neat and clean.
Tip for Finding Professional Attire
Visit the Spartan Attic in the Hill Center for Student Success, which offers free, gently used professional clothing to students.