CPS Student Employment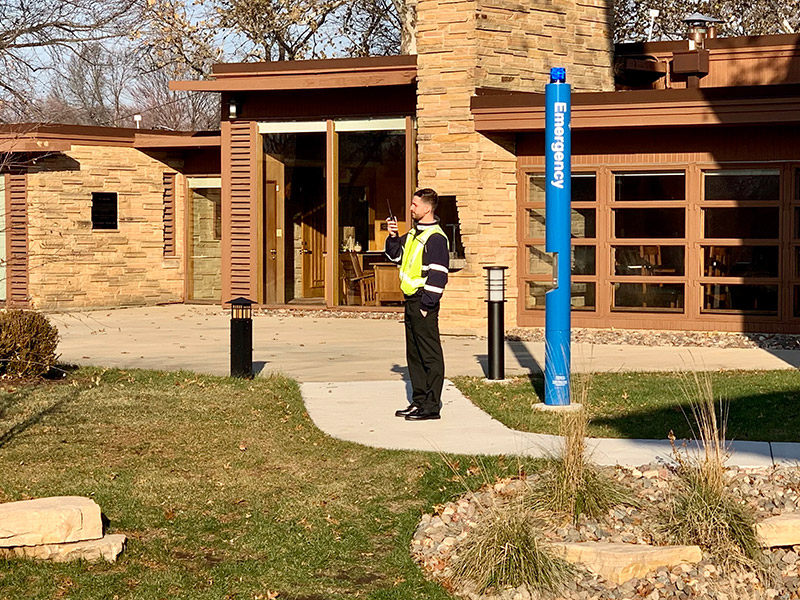 Purpose
Aurora University Campus Public Safety is AU's on-campus police department. Our mission is to provide outstanding police services and promote a safe and secure living and working environment through community education and preparedness. The purpose of all CPS student employment opportunities is to assist CPS in our efforts to build relationships with AU students and keep the campus safe.
Requirements
While different positions may have specific requirements, all CPS student employment opportunities require the ability to work various shifts, respond promptly and calmly to emergencies, work independently with little to no supervision, and communicate effectively with diverse individuals and cultures. Additionally, all student workers must have the capability to work a maximum of 15 hours per week.
Student Worker Position
Responsibilities
Aids stranded motorists by providing a place of shelter during inclement weather.
Directs traffic during special events.
Helps university staff in providing emergency service assistance at traffic accidents such as directing ambulances and other emergency service personnel.
Performs foot patrol of buildings, parking lots, and property. Provides foot escorts on campus as requested.
Remains vigilant while on campus, whether on or off duty, and reports suspicious activity or persons to the full or part-time staff officer.
Assists during emergencies and other events on campus as specifically ordered.
Additional Requirements
Ability to work outdoors in inclement weather.
Student Dispatch Position
Responsibilities
Receives telephone, radio, and walk-in requests for service.
Prioritizes requests, relays information, and dispatches proper police and service personnel.
Provides information to the public and responds to a variety of other tasks as specifically assigned.
Monitors dispatch on local radio frequencies via scanner.
Monitors the weather for severe weather alerts that might affect the campus and notifies the officers on duty of the alert.
Maintains the daily dispatch log.
Communicates with physical properties and residence life as necessary.
Completes the lost and found report logs.
Reviews parking permit applications for accuracy and legibility.
Distributes parking permits to staff, faculty, and resident/commuter students.
Understands and explains the public safety department's policies and procedures as necessary.
CPS Communications and Marketing Intern
Responsibilities
Creates and distributes materials including, but not limited to, newsletters, press releases, flyers, and event recaps.
Takes photographs of CPS-related events and CPS officers at events.
Be present for events to post on social media stories.
Manages existing social media (Facebook and Instagram) by creating engaging content to promote CPS to the student body.
Keeps in contact with students through direct messaging on social media outlets.
Tracks social media data such as likes, follows, and comments to maximize student activity with the accounts.
Creates a content calendar to maintain consistency with social media accounts.
Plans events to assist CPS staff with getting to know the student body.
Performs website audits to determine if any information is outdated.
Creates website mock-ups to share with AU's Communications department.
Uses existing connections to create partnership events with student organizations on campus.
Prepares weekly progress reports on social media and event performance.
Other duties as assigned.
Additional Requirements
Junior or Senior in pursuit of a bachelor's degree in Marketing, Communications, Business Administration, or Graphic Design.
GPA of 3.0 or higher.
An active member of the AU community with connections to students in various clubs and organizations.
Experience using graphic design programs such as Photoshop, Canva, or Illustrator (portfolio submission preferred).
Preferably at least 6 months of experience in social media management or content creation.
Self-starter that takes initiative.
Preferably has served on the executive board of an on-campus organization.
Letter of Recommendation from faculty or staff at AU is encouraged.
Note: The positions listed are not open year-round. All open positions can be found and applied to on Handshake.