Services
Code Blue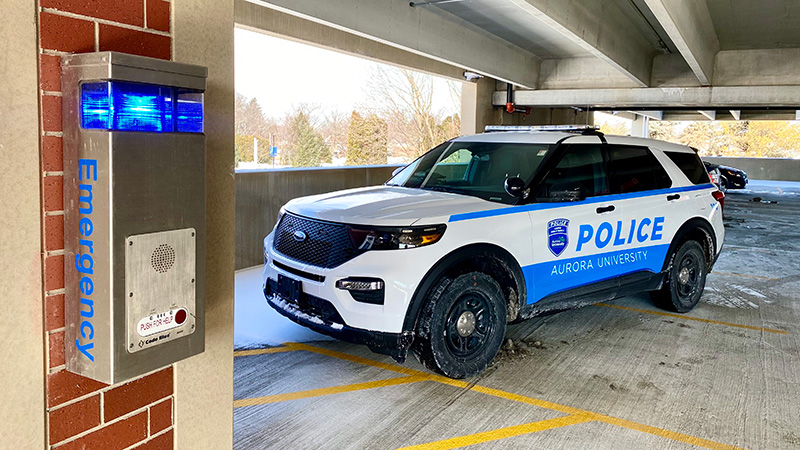 Aurora University's Campus Public Safety department monitors 21 Code Blue emergency call boxes on and around campus. If you are ever feeling unsafe while in the vicinity of one of these call boxes, you are encouraged to activate it by pushing the red button on the call box, which will trigger the blue lights to flash. The call and your location will go directly to Campus Public Safety Dispatch. While there are 11 emergency call boxes on campus, there are also eight in the parking garage, and two at the Spartan Athletic Park.
Fingerprinting
Aurora University Campus Public Safety offers fingerprinting services to AU students, staff, and faculty, who have been asked to do so for employment or identification purposes.
Requirements
A fee of $15 for state checks and $30 for federal checks.
Valid Aurora University ID.
Valid State ID.
An appointment to be made in advance by calling 630-844-6140.
Lost and Found
If you have lost an item on campus, you can report it to Campus Public Safety. The information will be recorded, and you will be contacted if the item is turned in. If you have found an item on campus, please bring it to our office. We will keep it in a locked facility until the owner collects it or we will retain it for up to six months.
Safe Haven
The Campus Public Safety Department of Aurora University is a Safe Haven. In Illinois, a parent who cannot care for their newborn, of up to 30 days old, can legally hand the unharmed newborn to personnel at any hospital, staffed fire or police station, or emergency care facility and walk away, no questions asked. If you wish, you can fill out forms to provide medical information about the newborn to assist healthcare providers in taking care of the baby, however, this is not mandatory. Aurora University Campus Public Safety will make arrangements to transport the infant to the nearest hospital so medical personnel can conduct a physical examination of the newborn infant and provide any needed medical care. The hospital is deemed to have temporary protective custody of the newborn infant until discharged to an adoption agency.
This law was written to provide a safe alternative to abandonment for Illinois parents who feel they cannot cope with a newborn baby. It offers safe havens for newborns, and is:
Private – you may remain anonymous if you choose
Legal – you will not be breaking any laws
Safe – your baby will be given medical care and placed in a good home
Supportive – you will be offered medical care and counseling
Additional information can be found at saveabandonedbabies.org or by calling 1-888-510-2229.
Spartan Patrol
Spartan Patrol is comprised of Campus Public Safety student workers. Spartan Patrol is available to assist students, faculty, and staff in feeling comfortable while at Aurora University by providing Spartan Safety Escorts on, and in, the vicinity of our campus. Spartan Patrol also supplements the efforts of uniformed officers by conducting foot patrol of parking lots and academic buildings. Student work opportunities at CPS can be found at CPS Student Employment.
Spartan Safety Escort
In an effort to provide continual public safety awareness and community support, the Aurora University Campus Public Safety Department will provide Spartan Safety Escorts to students, faculty, and staff. Safety escorts are available 24 hours a day, seven days a week by either a uniformed officer from Campus Public Safety or a Campus Public Safety Student Worker. Spartan Safety Escorts are restricted to the campus property and the city streets in the immediate area surrounding the campus.
Vehicle Lockout
If you have locked your keys in your vehicle, please contact Campus Public Safety Dispatch. Vehicle lockouts are limited by the jurisdiction of Campus Public Safety. A waiver is required to be signed before an officer is able to assist with the lockout. Proof of ownership and insurance must be provided once entry is gained into the vehicle.