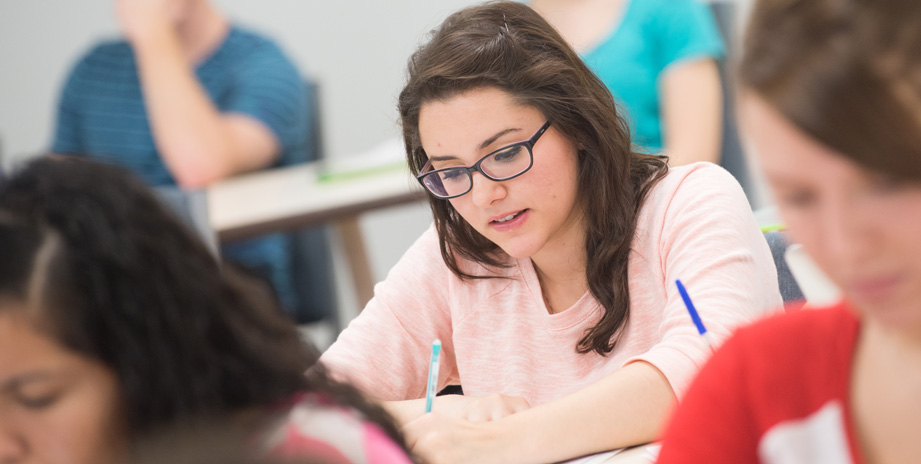 The Bachelor of Arts in English program at AU is designed to provide a strong foundation in the study of literature, various types of writing and analysis of language. While the core curriculum focuses on a broad base of literature and linguistics courses, you will be able to customize the major to suit your interests by pursuing an emphasis in general studies or secondary education. 

General Studies Emphasis: Courses include literary criticism, linguistics, advanced writing and a wide breadth of literature core courses and electives. The emphasis is designed for students interested in pursuing graduate studies, law school or other professional careers.
Secondary Education Emphasis: Courses prepare students to teach at the middle and high school levels with literature, academic writing, critical analysis and methods topics. If you choose the secondary education emphasis, you will also pursue a supplemental major in secondary education. Upon completion, you will hold a Bachelor of Arts in English and will meet the requirements to obtain a teaching license in the State of Illinois.

Program Overview
To earn an undergraduate degree in English, you will complete at least 120 semester hours total in general education and English courses.
The Bachelor of Arts in English includes:
•    20 hours of required courses and a senior capstone
•    20 to 22 hours of emphasis courses

Careers
The English program at AU prepares students for advanced graduate studies in a variety of fields, including language and literature, law, education, journalism, communication and public relations. Students also are prepared to enter the workforce as teachers, writers, editors, researchers and other communication-related professions.