Latin American and Latino/a Studies (Minor)
Why minor in Latin American and Latino/a Studies?
Students who minor in Latin American and Latino/a Studies are interested in exploring the Latin American experience and broadening their knowledge of Latin American history. The field explores the culture, politics, and socioeconomics of the Latino/a experience in the U.S. and around the world.
Why minor in Latin American and Latino/a Studies at AU?
At Aurora University, the Latin American and Latino/a studies minor explores sociology, Spanish, history, political science, and literature.
As a Latin American and Latino/a Studies minor, you will engage in meaningful discussions surrounding the ways business, health care, public safety, international security, and educational organizations can maximize their interactions with this community. You will also discover new ways to build bridges among diverse groups in the U.S. and across Latin America.
A minor in Latin American and Latino/a studies can help you stand out from other candidates in your job search, giving you an additional skill set by preparing you to work with Latino/a communities in a wide range of fields, including health care, manufacturing, human resources, business, social work, public safety, public health, customer service, sales and marketing, medicine, and the law.
It was the first time I learned about our Latin roots and the way that it affects our cultural identity. It has helped me in my work as a nurse developing plans of care and recovery for Latino/a patients. Joceline Molina '19
Curriculum Highlights
Community-based research
Latin American history
Latino/a cultural studies
Latino/a theatre
Latino/a writers
Politics and policy in the Latin community
Spanish
Campus Opportunities
Gamma Phi Omega International Sorority
Lambda Theta Alpha Sorority
Latin American Student Organization (LASO)
Phi Iota Alpha Fraternity
I was able to obtain a short-term internship that placed me at a company where I learned first-hand how a human resources department addresses the diverse needs of Latino/a employees. Lisett Garcia '19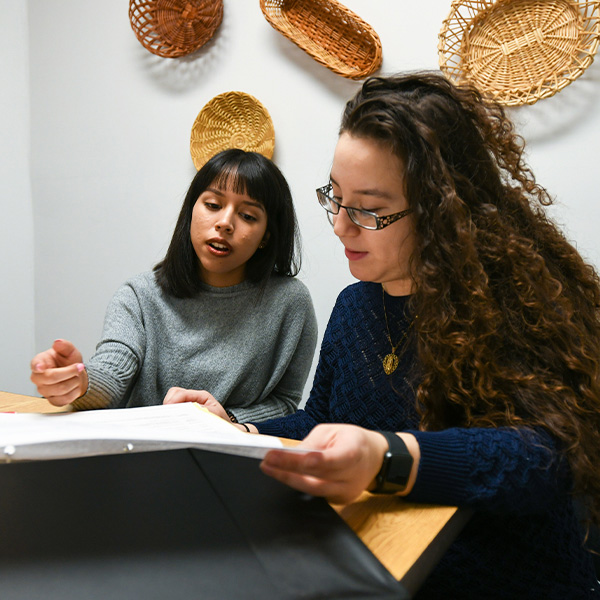 Experiential learning
Students have the opportunity to expand on what they are learning through field trips and travel experiences. AU also facilitates internships with organizations that connect with and serve Latino/a communities.