Secondary Education (supplemental major)
Why study Secondary Education?
The Secondary Education program prepares future teachers to help middle school and high school students reach their full potential. If you have a passion for science, mathematics, English, or history, as well as a talent for relating to adolescents and teenagers, and you believe in the power of education to transform lives, choosing a supplemental major in Secondary Education can provide you with a rewarding career.
Why Study Secondary Education at AU?
A supplemental major in Secondary Education from Aurora University will provide you with a strong academic core plus experiences in professional learning communities. With this foundation, you'll be well-prepared to make a positive difference in the lives of your students.
Students seeking professional preparation in Secondary Education will complete a Secondary Education licensure program in addition to their content major. A student seeking Illinois State Board of Education licensure at the secondary level (grades 9–12) must satisfy state requirements in the primary major, supplemental major, and in general education. With a primary content major in one of the following subjects, the supplemental major in Secondary Education leads to licensure as a teacher of grades 9–12 in:
Biology
Chemistry
English
History/Social Studies
Mathematics
The Aurora University Teacher Education Program prides itself on collaborative partnerships with area schools. Through these partnerships, you will have the opportunity to experience real-world classroom settings throughout your licensure experience. You will see great teaching in action through interviews, observation, and work with high-quality teachers.
As the secondary preparation program continues, you will work closely with students, studying developmental stages and instructing students in a variety of group settings. Your comprehensive training will also be enhanced through group work with classmates and mentoring by experienced teachers and professors.
You'll find our graduates making a difference in our communities as middle and high school teachers. This program also serves as a great foundation for working in school administration.
All of Aurora University's Education programs prepare you to become licensed as a teacher in the state of Illinois. Students must complete the Teacher Performance Assessment (edTPA) in order to get certified. The edTPA is a planning, instruction, and assessment system required to prepare teachers for the classroom.
Children must be taught how to think, not what to think. Margaret Mead
Endorsements
AU also offers endorsements that can be earned in addition to any education major, making you eligible for additional teaching opportunities. These include:
Early Childhood Education Endorsement
Elementary Education Endorsement
English/Language Arts Middle School Endorsement
Math Middle School Endorsement
Science Middle School Endorsement
Social Science Middle School Endorsement
Spanish Endorsement
Special Education Endorsement
I felt incredibly prepared once I left AU and found my first job. AU set me up to succeed during school, during the job hunt, and for the rest of my career. Tyler Runge '18, History Teacher at Burlington Central High School
$61,820
2021 annual median salary for high school teachers
5%
2021-2031 projected job growth rate
Source: U.S. Bureau of Labor Statistics
Curriculum Highlights
Hands-on experience starting freshmen year
Diverse teaching placements
Embedded interdisciplinary coursework
Content area experts
Local, state, and national field trips
Campus Opportunities
Communities in Schools
Educators Rising
Kappa Delta Pi International Honor Society in Education
Wackerlin Center for Faith and Action
More on AU Education programs
To learn more about all of AU's Education programs, including scholarships, click here.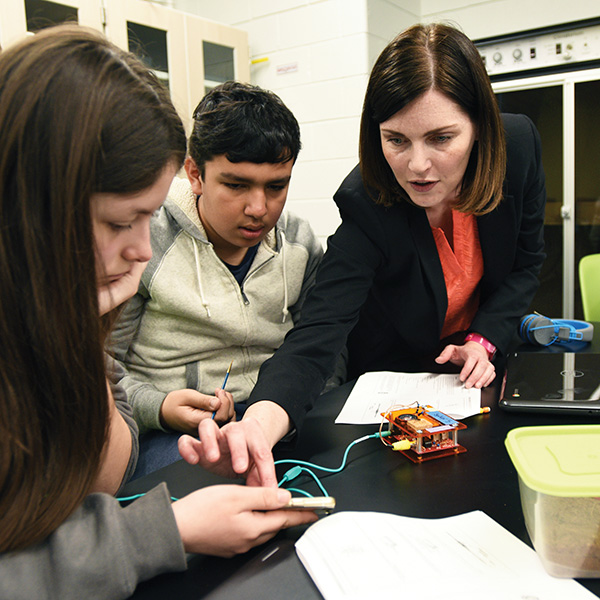 Experiential learning
As a Secondary Education (supplemental major) at Aurora University, you will participate in an enriching student teaching experience. In addition to the required courses, you will complete three field experiences in three separate semesters, specifically two methods practicums, and one full semester of student teaching.
Career possibilities
High school teacher
Middle school teacher
Military base teacher
Regional Office of Education employee
Standardized test industry professional
Textbook creator/salesperson
Youth corrections teacher
Career options with additional education
Curriculum specialist
Department head
Principal/Assistant principal
School counselor
Technology specialist