Education (BA)
Why become a teacher?
You're passionate about changing the lives of children and adolescents. You find joy in helping others discover new things. And you believe in the power of education.
What makes the Aurora University E
ducation programs special?
Thousands of AU Education graduates are successful teachers today. That's because of the unique strength of our programs.
You will work toward one of many career paths when you major in education at Aurora University. They include teaching:
Early childhood special education (with bilingual/ESL)
First through sixth grade (elementary education or elementary education with bilingual/ESL)*
High school English, history, mathematics, or biology (secondary education)
Physical education (for kindergarten through 12th grade)
Special education
And you can add a minor so you can also teach:
Bilingual/English as a second language students
Coaching and youth sports
Health in middle schools
STEM (to deepen your ability to teach science, technology, engineering and mathematics)
*The full-time BA in Elementary Education degree is offered at the main campus. Additionally, a part-time BA in Elementary Education with Bilingual/ESL adult degree completion program is offered at the Woodstock Center. For more information on the Woodstock Center program, complete the inquiry form.
How children of different ages learn and grow
How to build a curriculum
How to lead a classroom
Students interested in teaching high school pursue a major in Biology, English, History, or Mathematics alongside a supplemental major in secondary education.
All Education students have the opportunity to take coursework toward endorsements in ESL/Bilingual education and Special Education.
The curriculum for physical education majors will include a built in endorsement in health education (grades 6-12).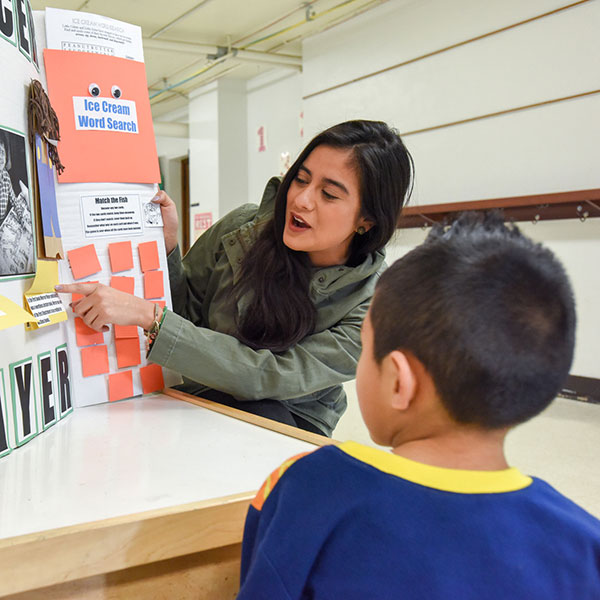 Experiential learning
As an undergraduate Education major at Aurora University, you will participate in an enriching student teaching experience. This important part of your journey puts you in charge of a real classroom in a local school while you are still a student at AU.