Physical Education K-12 Teaching Licensure (BA)
Why study Physical Education?
Physical Education graduates teach students to lead healthy, active lifestyles, inspiring them to embrace health and fitness. They serve as role models and committed educators to help students reach their goals.
Why study Physical Education at AU?
Throughout the Physical Education program at Aurora University, you will work alongside expert faculty to acquire the critical thinking, communication, problem solving, creative planning, and leadership skills you need to be an effective teacher. You will also take courses that address particular elements of teaching Physical Education and Health Education, such as fitness, assessment, dance, motor development, and nutrition.
One of the unique strengths of our program is our positive partnerships with area schools. In these partner schools, including the John C. Dunham STEM Partnership School at Aurora University located right on AU's campus, you will have the opportunity to experience real-world classroom settings. The art and science of teaching will be brought to life for you through interviews, observations, and work with high-quality teachers. Importantly, all of our Physical Education students have the opportunity to present at state education conferences.
With a Physical Education major, not only will you be prepared to teach K–12 Physical Education in Illinois, you will also earn an endorsement in Middle School and/or Secondary Health Education. You will find our graduates in public and private schools throughout the Fox Valley and beyond, teaching Physical Education, health education, and coaching a wide range of athletic teams.
All of Aurora University's Education programs prepare you to become licensed as a teacher in the state of Illinois. Students must complete the Teacher Performance Assessment (edTPA) in order to become certified. The edTPA is a planning, instruction, and assessment system required to prepare teachers for the classroom.
Endorsements
AU also offers endorsements that can be earned in addition to any education major, making you eligible for additional teaching opportunities. These include:
Early Childhood Education Endorsement
Elementary Education Endorsement
English/Language Arts Middle School Endorsement
Math Middle School Endorsement
Science Middle School Endorsement
Social Science Middle School Endorsement
Spanish Endorsement
Special Education Endorsement
Intelligence and skill can only function at the peak of their capacity when the body is healthy and strong. John F. Kennedy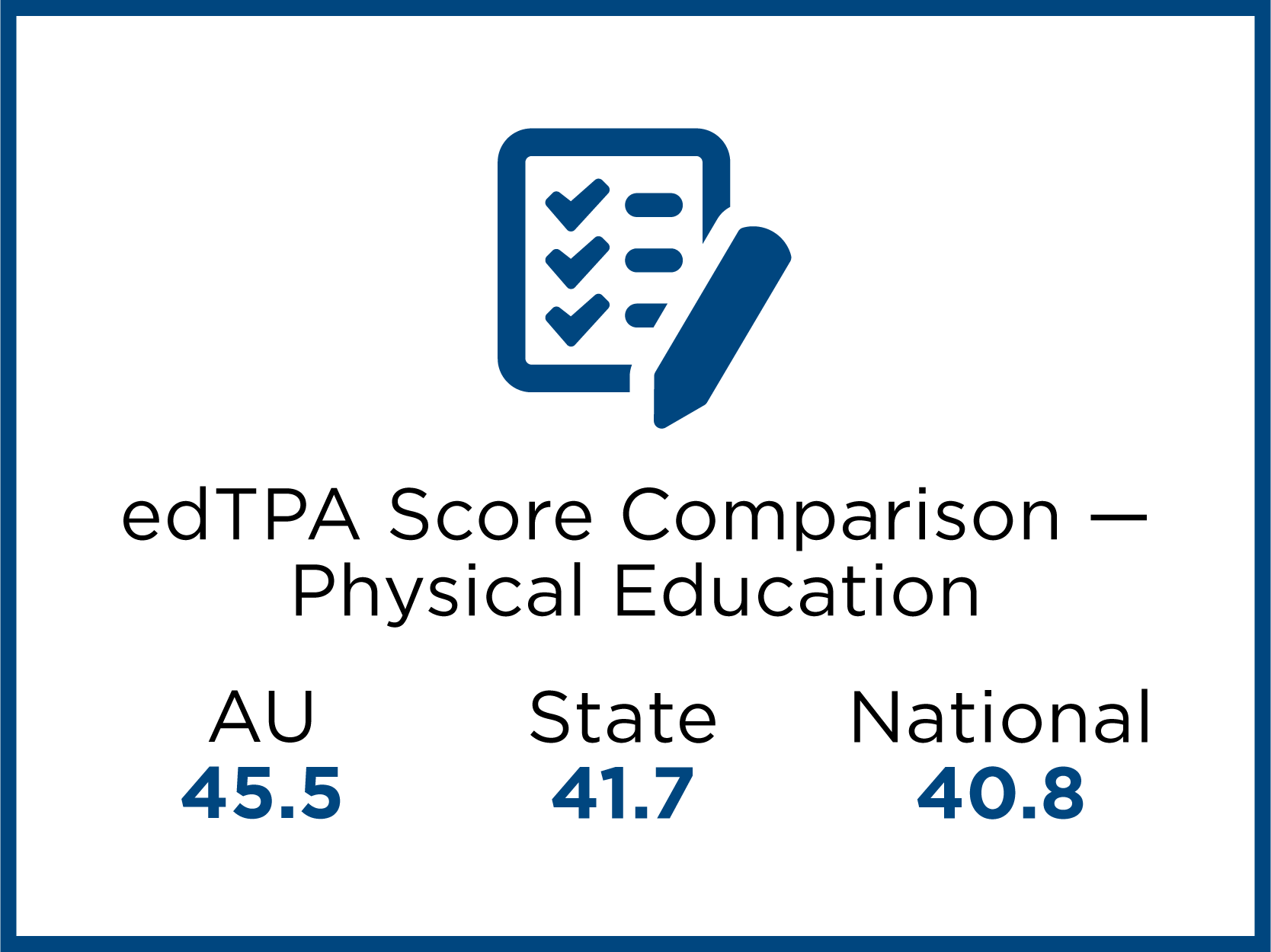 $61,660
2019 annual median salary for high school teachers
4%
2018-2028 PROJECTED JOB GROWTH RATE
Source: U.S. Bureau of Labor Statistics
Curriculum Highlights
Exercise physiology
Kinesiology
Olympic weightlifting
Sport nutrition
Strength training
Student Organizations and Volunteer Opportunities
Aurora University Human Performance Club
Aurora University Human Rights Organization
Aurora University Students' Association
Educators Rising
Fellowship of Christian Athletes
Fitness, Physical Education, and Coaching
Future Educators at Aurora University
Kappa Delta Pi International Honor Society in Education
Leadership Education and Development program
Wackerlin Center for Faith and Action
Experiential learning
Through various field experiences at the elementary, middle, and high school-levels, as well as a culminating student-teaching experience, you will be immersed in all aspects of the classroom environment. You will work alongside dedicated professionals to see what it takes to develop a productive and challenging learning environment in Physical Education.
Career possibilities
Elementary physical education teacher
Middle school/junior high school physical education teacher
High school physical education teacher
Fitness instructor or coach
High school health teacher
Middle school health teacher
Military base teacher
Regional Office of Education employee
Standardized test industry professional
Textbook creator/salesperson
Youth corrections teacher
Career options with additional education
Athletic director/Assistant athletic director
Curriculum specialist
Department head
Principal/Assistant principal
School counselor
Technology specialist