Special Education (BA, Minor)
Why Study Special Education?
The field of Special Education needs additional educators throughout the nation. The Special Education program seeks to prepare future teachers to use a variety of theoretical and evidence-based practices to help students with disabilities to reach their full potential. Licensure requires teachers to build a knowledge base to identify and intervene with students who exhibit a wide range of disabilities, including autism, intellectual disabilities, learning disabilities, physical disabilities, and emotional disturbance.
Why Study Special Education at AU?
The AU Special Education program is focused on serving others. Our faculty and students have a passion for working with individuals with disabilities and taking part in their growth and development. You will find many of our AU graduates working as Special Education teachers in elementary schools, middle schools, high schools, and private schools.
During your first two years of the major, you will work to complete your general education requirements and begin taking introductory education courses. After you have a solid academic foundation, you will be immersed into the professional side of Special Education, focusing on required Special Education courses your junior and senior years.
Special Education Minor
The minor in Special Education will enable regular education teachers to enter the workforce with additional knowledge for the inclusive classroom. The program will also allow undergraduates the potential to achieve advanced standing for a graduate degree (Master of Arts in Special Education), which would carry a Learning Behavior Specialist 1 (LBS1) licensure, complementary to their elementary or secondary classroom licensure achieved with the BA/BS.
Endorsements
AU also offers endorsements that can be earned in addition to any education major, making you eligible for additional teaching opportunities. These include:
Early Childhood Education Endorsement
Elementary Education Endorsement
English/Language Arts Middle School Endorsement
Math Middle School Endorsement
Science Middle School Endorsement
Social Science Middle School Endorsement
Spanish Endorsement
Special Education Endorsement
Children with special needs paint the world in beautiful colors each day. Anonymous

The AU Special Education program provided me the opportunity to grow and succeed as a student while preparing me to become not only a future educator, but an advocate for the students I will one day teach. Alexa Henderson, '20
$61,030
2019 annual median salary for special education teachers
3%
2018-2028 PROJECTED JOB GROWTH RATE
Source: U.S. Bureau of Labor Statistics
Curriculum Highlights
Disability categories and Special Education law
Assessment, instructional planning, and curriculum development
Classroom and behavior management
Individualized Education Programs (IEP) development and case management
Assistive technology
Inclusive education
Interactive classes with hands-on field experiences
Student Organizations and Volunteer Opportunities
Aurora University Human Rights Organization
Communities In Schools
Educators Rising
Kappa Delta Pi International Honor Society in Education
Wackerlin Center for Faith and Action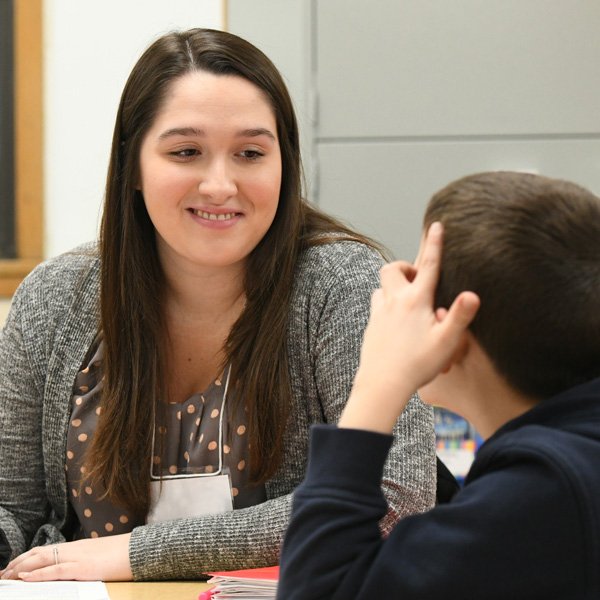 Experiential learning
As a teaching candidate, you will work closely with students of various ages, studying the developmental stages and instructing in a variety of field experiences. Collaboration with classmates and mentoring by experienced teachers and professors add to the comprehensive training. The field experiences culminate in a semester-long student teaching experience in Special Education, where candidates teach in both elementary and secondary school settings.
Career possibilities
Behavior specialist
Disability case manager
Home-bound teacher
Hospital and treatment center teacher
Juvenile detention center teacher
Remedial skills instructor (GED preparation)
Special education advocate
Special education teacher
Vocational rehabilitation professional
Career options with additional education
Educational therapist
Education-training administrator
Guidance counselor
Librarian
School psychologist
Speech pathologist
Professor
Vocational rehabilitation counselor