Elementary Education (BA)
Why study Elementary Education?
Elementary Education prepares students to work with children to help them grow and learn. To become an Elementary Education teacher, you need to be proficient in a variety of subject areas, including language arts, mathematics, science, social studies, the arts, health, and physical education. Elementary Education is an ideal career path for people who are interested in developing young minds and who want to have a positive impact on the social and intellectual development of children.
Why study Elementary Education at AU?
At Aurora University, our Elementary Education program is designed to develop teachers who strive for excellence in teaching. We believe in our students and their capacity to make a positive influence in the world.
Thousands of AU Elementary Education graduates are successful teachers today. AU's approach to teacher education combines a strong academic core with experiences in professional learning communities. AU collaborates with schools in the Fox Valley region so that students have the opportunity early in their academic journey to take part in classrooms, observing and working alongside experienced teachers and interacting with students. The art and science of teaching is brought to life for AU students through interviews, observations, and work with professional teachers. This approach builds confidence in students so they are well-prepared when it comes time to student teach.
Accreditation
Aurora University's Elementary Education program is accredited by the Illinois State Board of Education and prepares students to become licensed teachers in the state of Illinois. As part of the program, students complete the Teacher Performance Assessment (edTPA), a state certification requirement that prepares teachers for the classroom.
Endorsements
An endorsement on a teaching license means you have additional qualifications to teach specific grade levels or subject areas. AU offers endorsements to all education majors, making students eligible for additional teaching opportunities. These include:
Early Childhood Education Endorsement
Elementary Education Endorsement
English/Language Arts Middle School Endorsement
Math Middle School Endorsement
Science Middle School Endorsement
Social Science Middle School Endorsement
Spanish Endorsement
Special Education Endorsement
Education is the most powerful weapon you can use to change the world. Nelson Mandela
Spartan Story: Jason Morales '21 was inspired to become an education major after a teacher changed his life by helping him learn English. He wants to have the same impact on other children's lives.
$61,350
2021 annual median salary for kindergarten and elementary school teachers
4%
2021-2031 projected job growth rate
Source: U.S. Bureau of Labor Statistics
Curriculum Highlights
Planning, delivering, and assessing student learning
Applying child development concepts to planning and delivering instruction
Campus Opportunities
Communities in Schools
Educators Rising
Kappa Delta Pi International Honor Society in Education
Wackerlin Center for Faith and Action
More on AU Education programs
To learn more about all of AU's Education programs, including scholarships, click here.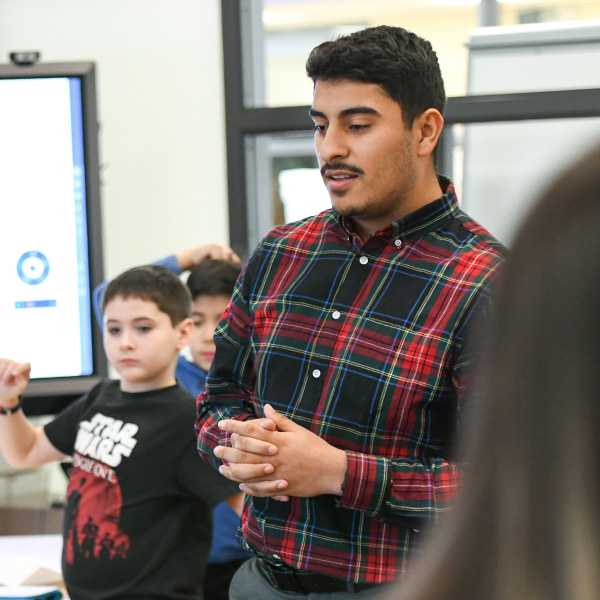 Experiential learning
As an Elementary Education major at Aurora University, you will participate in an enriching student teaching experience. This important part of your journey puts you in charge of a real classroom in a local school while you are still a student at AU.
Career possibilities
Child life specialist
Educational materials salesperson
Elementary school teacher
Grant writer
Human resource specialist
Nonformal educator (museums, zoos, nature centers)
Resource teacher
Career options with additional education
College/university instructor
Curriculum specialist
Guidance counselor
Librarian
School administrator
School psychologist
Secondary school teacher
Special education administrator
Speech pathologist
Vocational rehabilitation counselor