Theatre and Musical Theatre (BA)
Why study Theatre or Musical Theatre?
Does the stage call to you? Do you want to develop your skills in the spotlight or behind the scenes? If so, a major in Theatre or Musical Theatre is for you. Theatre studies allow you to develop a core understanding and practical application of the performing arts—including acting, vocal performance, musicianship, technical theatre, and theatrical design. With your degree, you can pursue a career in such fields as theatre, choreography, theatrical design, dance, teaching, film, and television as well as apply your skills and proficiencies to careers outside of the arts.
Why study Theatre or Musical Theatre at AU?
At Aurora University, we are here to help turn your passion into purpose. It is our belief that exceptional theatre artists develop through a combination of intensive training and a deep understanding of the world in which they live. At AU, Theatre and Musical Theatre majors are designed to provide both professional-level theatrical training and a true liberal arts education. We give students a place to explore and cultivate their various interests as they grow into the unique theatre artists they are meant to become. There is no "one size fits all" in the AU Theatre program. We guide our students to find their path through personal mentoring with our faculty of Theatre professionals.
In the Theatre major, your studies will include an in-depth analysis of the genres of theatre, literature, and technique. From Shakespeare to modern theatre to original plays of your own, you'll explore literary influences, theatre technology, techniques, and exercises. You'll also study performance history and notable theories on performance. In the Musical Theatre major, we will provide you with an immersive, interdisciplinary approach to instruction that is designed not only to perfect your singing, dancing, and acting skills but also to deepen your understanding of Musical Theatre and its place in society.
You will have the opportunity to be involved in high-caliber productions and work directly with professional directors, designers, artists, and musicians. Through AU's student-centered curriculum, you will learn to analyze performances perceptively and to evaluate them critically. Our faculty are professional theatre artists who will work collaboratively with you to refine your presentation skills for entry into the world of performing arts or graduate study.
Our small class sizes allow us to nurture you, your unique talents, and your goals. We give students a place to explore and cultivate their various interests as they grow into the unique artists they want to become.
You can also expand your career opportunities with a double major in Business Administration, Communication, History, or Marketing. Even with a second major, you'll still be able to graduate in four years.
AU's theatre program has allowed me to work with a variety of guest artists from Chicago and helped me grow in my field through one-on-one work with my professors. Megan Conrad '21
Curriculum Highlights
Acting
Dance styles
Design for the stage
Directing
History of theatre
Improvisation
Musicianship
Performance
Play analysis
Stagecraft
Voice and movement
Campus Opportunities
Black box studio productions —Includes fully produced class productions and student-produced and student-directed productions
Choir
Fall opera workshop
Fall play
Spring musical
Elysian Literary Magazine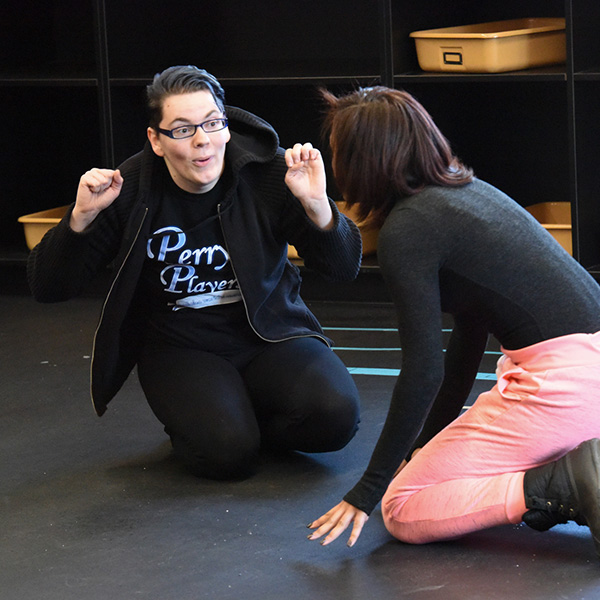 Experiential learning
You will have opportunities to hone your craft and put your studies into practice through participation in department or student productions each year, take advantage of partnerships with local award-winning professional theatres within minutes of the AU campus, and even secure an internship in the field. Whether small, regional theatres in the suburbs or big-city shows in Chicago, your attendance at a variety of live concerts and theatre productions will substantially enrich your classroom learning experience. You will be able to glean insights from real-world observations and apply them to your own performances in AU's state-of-the-art theatre facilities.
Career possibilities
Actor
Artistic director
Arts administrator
Casting professional
Children's theatre/young performer coordinator
Choreographer
Community affairs officer
Director
Dramaturge
Movement coach
Playwright
Special events coordinator
Stage manager
Talent agent
Theatre designer
Theatre educator
Theatre technician
Ticket sales coordinator
Vocal coach
Voiceover artist
Where our students intern and graduates work
Metropolis Performing Arts Centre

Northlight Theatre 

Paramount Theatre  

The Walt Disney Company

Trinity Repertory Company