Communication (BA)
Why study Communication?
Communication is a highly versatile degree that is anchored in the timeless skills of speaking and writing. Communication is vital to every professional field. The ability to communicate effectively is among the top skills employers seek when hiring college graduates.
Why study Communication at AU?
The Aurora University Communication major combines theory and practice. In the classroom, you will learn about the latest technologies in communication. Then you will put those skills to work, creating projects in your field of interest and graduating from AU with an impressive portfolio of work.
You will take classes in professional writing, public speaking, media literacy, and audience research. Working closely with faculty to discover your passion, you will write and produce your own stories for print, podcasts, and video. You will also develop research skills that allow you to critically examine the role media plays in culture and society.
To further focus your studies, you have the opportunity to choose from one of three specializations:
Journalism and Professional Writing
Multimedia Production
Public Relations and Event Planning
AU's program is designed to prepare students for careers in a wide variety of professional fields in the private, government, and non-profit sectors. Communication graduates work in human resources, public relations, education, media, marketing, journalism, business, politics, and many other fields.
You can expand your career opportunities with a double major in Business Administration, Graphic Design, Marketing, or Political Science and Public Policy. Even with a second major, you will still be able to graduate in four years. You will be able to also complete your BA in Communication through AU Online.
I was able to prepare an evaluation plan for a community development center as part of my internship. It was a great learning experience. Rachel Rush '20, Communication and Psychology double major
$66,240
2022 annual median salary for media/communication jobs
4%
2022-2032 projected job growth rate
Source: U.S. Bureau of Labor Statistics
Curriculum Highlights
Audience analysis and research
Brand building
Business communication
Content marketing
Digital content writing
Events and program management
Integrated marketing communication
Media and society
Multimedia production
Public relations strategy
Campus Opportunities
American Marketing Association Collegiate Chapter
Aurora University Students' Association (AUSA)
Elysian Literary Magazine
Lambda Pi Eta (Communications Honor Society)
Spartan Media
At my internship I worked with my supervisor writing press releases and learning about crisis communication. Seeing first-hand the full template for a crisis communication plan and what is involved was a great experience. Neraida Barajas '20, MS in Digital Marketing and Design '21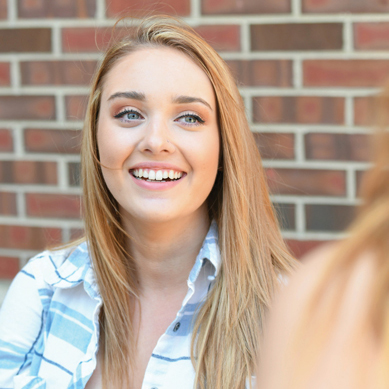 Experiential learning
Hands-on work is central to every aspect of the Communication program. You will acquire work experience through a communication internship in a structured employment environment. The experience is designed to integrate and reinforce skills and concepts learned in the classroom. You will graduate with first-hand knowledge of the latest technologies for a number of career paths.
Career possibilities
Advertising
Business administration
Community affairs
Corporate communication
Digital content
Editing
Event planning
Human resources
Journalism
Marketing
Media production
Politics and public administration
Public relations
Technical writing
Video production
Writing
Where our graduates work
American Airlines
American Cancer Society
Chicago Bears
iHeartMedia
Pandora
Verizon
Warner Bros. Entertainment