Music (BA, Minor)
Why study Music?
Music is a calling. If you love to perform and study music, you can flourish in this major. The field is multifaceted and includes numerous aspects of theory and practice.
Why study Music at AU?
Our Music majors pursue excellence in either voice or keyboard, where both piano and organ are offered. Performance, both as a soloist and as part of an ensemble, is at the core of the Music major. Musicians focus on their own development in private instruction, while also discovering the specific needs of performing in a group through University Chorale, Chamber Choir, Accompanying, AU Opera, Musical Theater, and variety of chamber music options.
You can major or minor in this field of study.
Private instruction
Vibrant Ensembles or Active Ensembles
Music history
Music Theory and Aural Skills
Conducting
Pedagogy in your area
Plus, electives to allow you to explore diction for singers, repertoire courses, how to present yourself in the music world, and private instruction in conducting.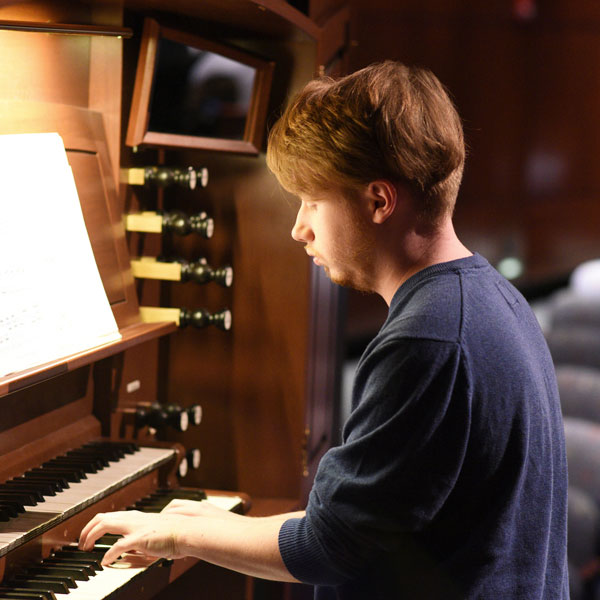 Experiential learning
Music majors perform throughout the academic year as soloists, members of ensembles, as singer-actors, and sometimes even as conductors. Each year the choirs sing in a collaborative concert with full orchestra. The senior solo recital is the capstone of the music major.
Career opportunities
Performer
Conductor
Music journalist
Artist manager
Collaborative pianist
Worship music leader
Stage manager
Private Teacher
An education for a lifetime
Studying music and performance teaches you skills you need for any successful career, even if that career outside of music. By meeting the challenge of musical performance and knowledge, you will gain detailed knowledge and skills coupled with a liberal arts perspective that help you discover what matters and lead a more fulfilling life.