Pathways Collegiate Program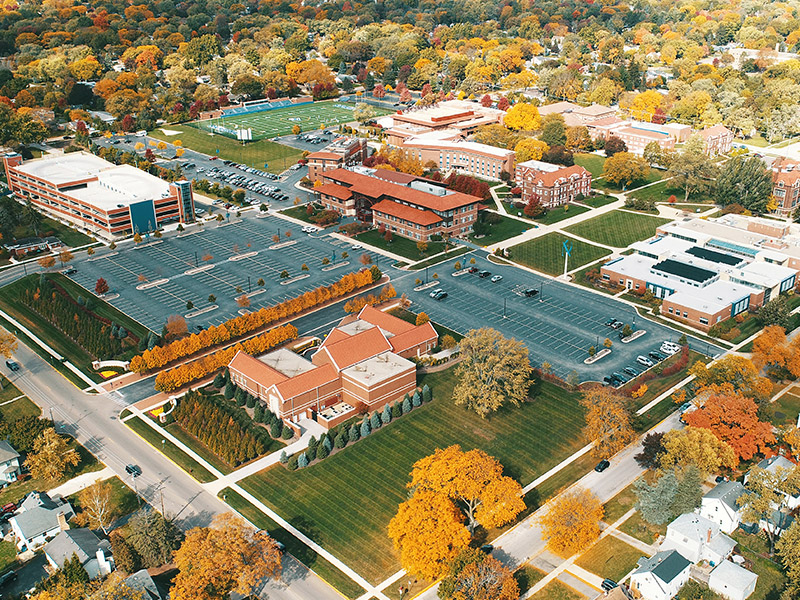 Discover Your Pathway to a College Degree and Beyond
The Pathways Collegiate Program is designed to help autistic students garner the support and guidance needed to adjust to campus life, earn their university degree, and make a successful transition to the workplace.
This innovative program is designed with a broad array of services to help students on the autism spectrum succeed while they are attending Aurora University — both in their academic studies and social life.
AU provides an immersive support system for our students in the Pathways Collegiate Program to meet their current needs as well as encourage success and growth. In this individualized program, students will have support as they get accustomed to college life and take part in a two-year career exploration experience.
AU welcomed the inaugural class of college freshmen and transfer students into the Pathways Collegiate Program this fall. Applications are now being accepted for the 2023-2024 academic year. Get the process started here.
As a Pathways student, you receive a wide range of support services
You will be required to live on campus.
You will arrive on campus before the start of the academic year and move into your residence hall early.
You will be paired with a peer mentor.
You will participate in a weekly 90-minute seminar on the skills necessary to succeed in college.
You will have structured study sessions each week for three hours.
While you can take part in as many social activities as you choose, you will be required to participate in at least one weekly social or recreational activity each month and at least two monthly outings each semester.
You may continue to live on campus if you choose, or you may look for alternate housing.
You will take part in a two-year Career Exploration Experience.
You will take part in a bi-weekly two-hour seminar focusing on career skills, seeking employment, and transitioning to post-college life.
You will have one hour of structured study session time each week.
While you can take part in as many social activities as you choose, you will be required to participate in at least one weekly social or recreational activity each month and at least one monthly outings each semester.
Getting started
In order to become eligible to take part in the Pathways Collegiate Program, autistic students must first meet the AU admission requirements on their own merit. To get the application process started, please fill out the Pathways Collegiate Program inquiry form, and a Pathways staff member will contact you. Please note that acceptance into Aurora University does not guarantee acceptance into the Pathways Program.
Students and families are also encouraged to reach out to AU Pathways staff with any questions about the Pathways Collegiate Program before beginning the application process. We are available to schedule informational meetings by phone or online video platform. Please email pathways@aurora.edu for more information.
Who should apply?
Application requirements are as follows:
Minimum ACT score of 19 or SAT score of 1010. Test scores will be considered holistically along with GPA and other documentation provided.
Before applying to Pathways, the official test score report must be sent to pathways@aurora.edu.
Applicants who have yet to take the ACT or SAT, may take the test through AU.
Official acceptance letter from Aurora University (if you have not yet applied to AU, please visit aurora.edu/apply).
Ability to perform the following pre-college life skills:

Order and take medication independently.
Get up independently and attend class.
Independently manage cash and/or a debit card.
Adhere to basic residence hall room cleanliness.
Independently perform hygiene routines.
Independently wash clothes on a regular basis.
Independently manage sleep schedule.
Fees
$3,000 per semester
Explore more Pathways programs
Applicants are encouraged to explore the Pathways Summer Camp and Pathways College Connections programs as high school students or transfer students to become more familiar with college life and the AU campus.