Pathways Pre-College Programs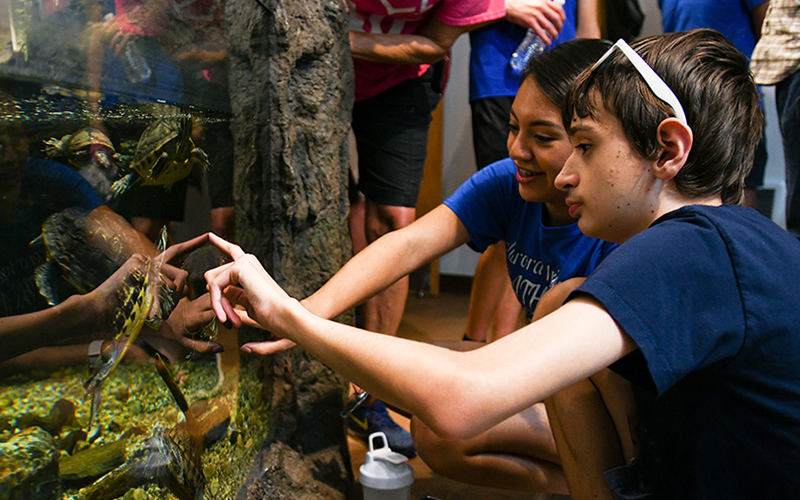 The Pathways program helps high school students on the autism spectrum who have a long-term interest in seeking a college degree to take their first steps toward the college experience.
One of the key components of the Pathways program is getting students familiar with new environments and experiences gradually over time. The journey begins when students are in high school, with summer camps and continuing enrichment programs that provide a preview of college life. Students have opportunities for continued exposure to campus life and for conversations with Pathways staff. Should students choose to pursue college life, they will feel less stress, and the transition will be more comfortable, thanks to these early experiences.
Pathways Summer Camps
The Pathways Summer Camp is designed for high school rising juniors and seniors and students under the age of 21 on the autism spectrum who have a long-term interest in a degree-seeking college experience. The goal of the summer camps is to build a bridge for autistic students as they transition from high school to college.
Students will discover what it's like to take a college course by participating in interactive classroom experiences. They will also take part in social and recreational activities and outings, and they will learn to develop the executive functioning skills needed to succeed in college.
Planning for next summer's camp has just begun. The camp will take place from July 9-16, 2023 and be offered as a residential camp only. More information will be available soon!
Pathways College Connections
The Pathways College Connections program is designed as a way for high school and transfer students to build connections with the Aurora University community and to get familiar with college life. Activities are held monthly both on the main campus in Aurora and at local community sites.
Students can choose to participate in a variety of activities each month, including athletic events, art exhibits, musical and theatre productions, social get-togethers, and dinners.
The program runs from September through April. Applications are accepted year-round, and students can start the program at any time.
For more details, download the Pathways College Connections brochure.