New course gives students a close-up look into healthcare careers
August 21, 2022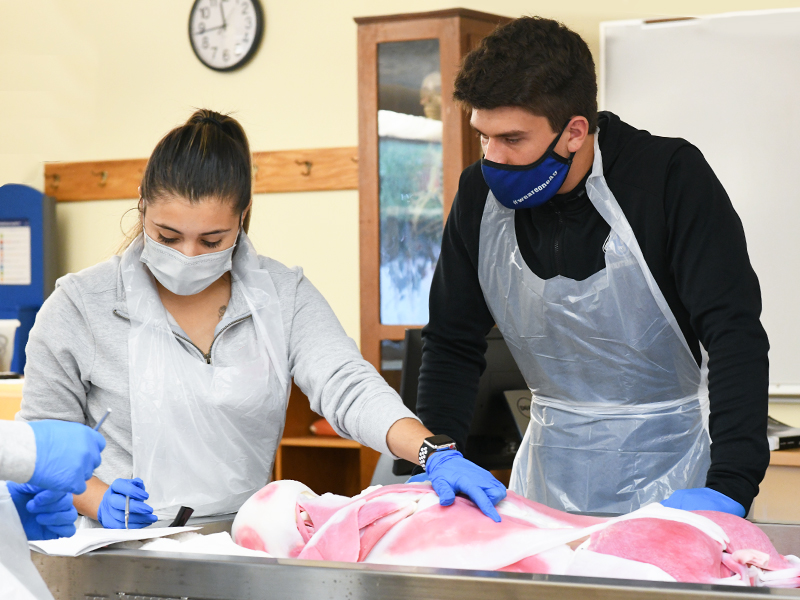 Aurora University is offering a new course that gives students a firsthand look at the wide span of careers available in the fast-growing fields of health science and healthcare.
The Introduction to Healthcare course explores more than 30 professional roles available to students interested in health and medical fields, including audiologists, athletic trainers, biomedical ethicists, healthcare administrators, insurance claims adjustors, medical lab technicians, nutritionists, physical therapists, physician assistants, public health officials, and radiology technologists—to name a few.
The course not only introduces students to the major developments in healthcare today, but it also helps students discover their aptitude for health sciences. Through classwork and team projects, students will determine the type of healthcare jobs that are the best fit for them and discover how much education is required to achieve their goals.
In this interactive class, students focus on discerning their strengths and their motivations for going into the healthcare field. They learn the language of healthcare and what it takes to succeed as a healthcare practitioner.
Talking to working professionals in the field
Professionals from different healthcare fields come to the class on a weekly basis to speak to students about the day-to-day realities of working in their chosen fields. They share their own career journey and experiences, answer questions, and provide advice.
"Most students enter college with limited knowledge of the diversity of jobs available in healthcare," said Ruby Kaur, assistant professor of health science. "Not everyone is going to become a doctor or a nurse. Students leave this course with a much more multidimensional view of the healthcare industry and all the job possibilities within it."
AU offered the Introduction to Healthcare course for the first time in fall 2021, and the enrollment for the upcoming fall 2022 semester has more than doubled. In response to high demand, the university has added Introduction to Healthcare to the spring semester course offerings and to AU Online's Healthcare Administration degree.
The healthcare field is the largest source of jobs in the U.S., making up 18 percent of the U.S. economy. It is projected to add more jobs than any other group of occupations as the aging U.S. population fuels greater demand for healthcare services, according to the U.S. Bureau of Labor Statistics.
"It is a great time to join the healthcare profession," said Sarah Radtke, dean of the College of Health and Sciences. "The field is growing much faster than other professions. And there are so many different healthcare jobs available."
The College of Health and Sciences at AU offers an array of undergraduate and graduate programs in the health fields, including athletic training, biology, chemistry, exercise science, health science, healthcare administration, human-animal studies, and 10 pre-health profession tracks.
Ready to start preparing for your career in healthcare?
Fill out this form to learn about Aurora University.
Loading...