Athletic Training (MS)
Why study athletic training at Aurora University?
Our athletic training program is known across the country for our high student pass rates on the medical board exam.
All athletic training education programs must transition to a master's degree. If you already have a bachelor's degree, you can enter the program. Or if you're just beginning college, we offer a "3+2" program. That means that in five years, you'll earn both a bachelor's degree in Exercise Science and a master's degree in Athletic Training. Whichever path is right for you, you'll be prepared for a successful and rewarding career.
New undergraduate students are currently able to enter the "3+2" track. Direct admission to the master's program will begin in the 2020-2021 academic year.
Aurora University is currently accredited by the Commission on Accreditation of Athletic Training Education (CAATE), 6850 Austin Center Blvd., Suite 100, Austin, TX 78731-3101.
Program quick facts
Program length: 2 years (60 semester hours)
Average class size: 16 students
Tuition: View current rates ("3+2" students will pay undergraduate tuition in their fourth year)
Priority Application Deadline: February 14, 2020
Applications received by February 14, 2020 will receive
priority
consideration for Fall 2020. Applications may continue to be accepted after the
priority
deadline
for rolling admission.
Anatomy
Human performance
Nutrition
Therapeutic intervention
National accreditation through the Commission on Accreditation of Athletic Training Education (CAATE)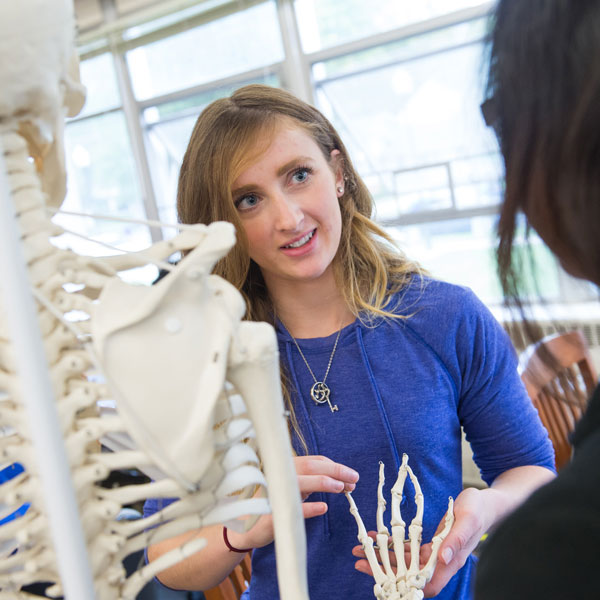 Experiential learning opportunities
Each semester, half of your time will be in the classroom and the other half will be in a real-world experience. You will participate in more than 1,200 hours of hands-on clinical experiences, including rotations at Aurora University, local high schools, junior colleges, physician offices, and physical therapy clinics. You will gain experience with a wide variety of sports, including baseball, basketball, cross country, football, hockey, lacrosse, tennis, track and field, soccer, softball, volleyball and general patient populations.
Career opportunities
Athletic Trainer
Exercise Specialist
Fitness Consultant
Rehabilitation Tech
Strength and Conditioning Coach
Get hired by the best
ATI Physical Therapy
Chicago Cubs
Northwestern Medicine