Athletic Training (MS)
Why study Athletic Training?
Athletic Training is a multi-faceted field that combines a love for and interest in sports medicine, biology, physiology, medicine, and the science of exercise. With a master's degree and your certification in hand, you will be able to work with athletes and other physically active individuals in treating, diagnosing, and preventing sports injuries, as well as promoting their overall health. Combine this education with a strong sense of compassion and empathy for others, attention to detail, and excellent interpersonal skills, and you'll be on your way to a rewarding career in this field.
Why study Athletic Training at AU?
Studying at AU is student-centered, student-focused, and career-focused, with hands-on work experience and small class sizes that allow you to really explore all options in Athletic Training. There is even a course just to help students prepare for the medical board exam.
All Athletic Training education programs must transition to a master's degree. If you already have a bachelor's degree, you can continue your studies in AU's Master of Science in Athletic Training program. AU also offers an accelerated track to a graduate degree with our "3+2" program that allows students to earn both a Bachelor of Science in Exercise Science and a Master of Science in Athletic Training in just five years.
The Athletic Training program follows a two-year, 60-semester-hour curriculum. You will have the opportunity to work closely with your professors and with other students in an intimate and personalized learning environment.
New undergraduate students are currently able to enter the "3+2" track. Admission to the master's program will begin in the 2020-2021 academic year.
Athletic trainers are licensed or otherwise regulated in 49 states and the District of Columbia; efforts continue to secure regulation in California, according to the National Athletic Trainers Association.


Accreditation
The master's degree in Athletic Training is accredited by the Commission on Accreditation of Athletic Training Education, 6850 Austin Center Blvd., Suite 100, Austin, Texas 78731-3184, 512-733-9700.
More than 70% of athletic trainers have a master's degree or higher.
National Athletic Trainers' Association
In Our Own Words: Professor and Chair of Athletic Training Sarah Radtke on why AU students have such a high pass rate on medical boards
We've had a lot of success with students passing their medical boards on their first try. We implemented a course to help them prepare for their medical boards. And we give students first-hand experiences at athletic departments, physical therapy clinics and physicians' offices.
$50,280
2020 annual median salary for exercise physiologists
11%
2019-2029 projected job growth rate
Source: U.S. Bureau of Labor Statistics, National Athletic Trainers' Association
Athletic trainers come to the same diagnosis as physicians 92% of the time.
National Institutes of Health
Curriculum Highlights
Taping and bracing
Injury diagnosis
Emergency medical response
Therapeutic intervention
Applied manual therapy
Student Organizations
AU Human Performance
AU Science Organization
Healthcare Professionals of the Future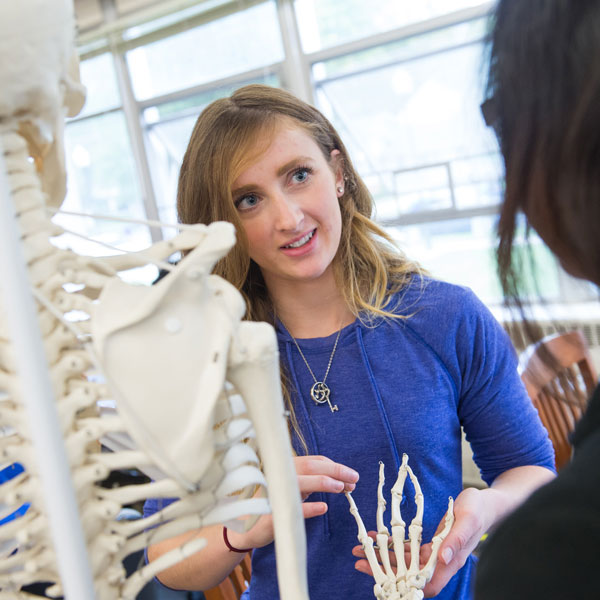 Experiential learning
Obtaining a Master of Science in Athletic Training will give you solid, hands-on learning, as half of your time will be spent in the classroom and the other half will be spent in a real-world work environment. Students participate in more than 1,200 hours of clinical learning, including rotations at AU, local high schools, junior colleges, physicians' offices, and physical therapy clinics. You will gain experience with a variety of sports, including baseball, basketball, cross country, football, hockey, lacrosse, tennis, track and field, soccer, softball, and volleyball. You will also work with general patient populations.
Clinical sites
Advocate Medical Group
ATI Physical Therapy
Aurora University
Benet Academy
Downers Grove South High School
Fox Valley Immediate Care
Judson University
Marmion Academy
Metea Valley High School
Northwestern Medicine
Plainfield Central High School
South Elgin High School
Wheaton College
Where our graduates work
ATI Physical Therapy
Athletico Physical Therapy
Chicago Cubs
Dreyer Medical Clinic
Hinsdale Orthopedics
Orthopedic Rehab Specialists
OSF Orthopedics
Northwestern University
Schaumburg Fliers
University of Florida