Athletic Training (MS)
Why earn a master's degree in Athletic Training?
Athletic Training is a multi-faceted field that combines a love for and interest in sports medicine, biology, physiology, medicine, and the science of exercise. With a master's degree and your certification in hand, you will be able to work with athletes and other physically active individuals in treating, diagnosing, and preventing sports injuries, as well as promoting their overall health. Combine this education with a strong sense of compassion and empathy for others, attention to detail, and excellent interpersonal skills, and you'll be on your way to a rewarding career in this field.
Why earn a master's degree in Athletic Training at AU?
Our state-of-the-art athletic training lab sets the scene for a comprehensive education that teaches you not only the necessary skills to be an athletic trainer, but advanced methods and techniques that will really set you apart from graduates of other programs when you transition to practice.
Our program is designed to progress your knowledge throughout the curriculum. We place an emphasis on evidence-based practice and inter-professional education that keeps you on the cutting edge of current practice. The certified professionals that comprise the AU faculty ensure that all of our students are ready to practice as soon as they graduate by carefully monitoring progress and going above and beyond to help you achieve a full understanding of athletic training concepts.
The MSAT program provides you with exposure to a variety of learning environments and experiences, including:
Traditional classroom work with an emphasis on new and emerging techniques
Laboratory time to practice learned skills taught by the athletic training faculty
Simulation laboratory to enhance your learning by providing realistic skill practice in a safe environment
Advanced certifications in therapeutic interventions (tool-assisted massage certification, etc.)
Clinical experiences in a variety of settings that integrate classroom and lab work into practice (college, high school, outpatient clinic, physician's office, occupational health, professional sports, etc.)
New undergraduate students are currently able to enter the "3+2" track.
Athletic trainers are licensed or otherwise regulated in 49 states and the District of Columbia; efforts continue to secure regulation in California, according to the National Athletic Trainers Association.


Accreditation
The Athletic Training program is accredited by the Commission on Accreditation of Athletic Training Education, 6850 Austin Center Blvd., Suite 100, Austin, Texas 78731-3184, 512-733-9700.
More than 70% of athletic trainers have a master's degree or higher.
National Athletic Trainers' Association
In Our Own Words: Dean of the College of Health and Sciences Sarah Radtke on how AU prepares students to pass their medical boards
We have implemented a course to help students prepare for their medical boards and have had a lot of success with students passing their medical boards on the first try. We give students first-hand experiences working with athletes at colleges and universities, physical therapy clinics, and physicians' offices.
$53,840
2022 annual median salary for athletic trainers
14%
2022-2032 projected job growth rate
Source: U.S. Bureau of Labor Statistics, National Athletic Trainers' Association
Athletic trainers come to the same diagnosis as physicians 92% of the time.
National Institutes of Health
Curriculum Highlights
Taping and bracing
Injury diagnosis
Emergency medical response
Therapeutic intervention
Applied manual therapy
Student Organizations
AU Human Performance
AU Science Organization
Healthcare Professionals of the Future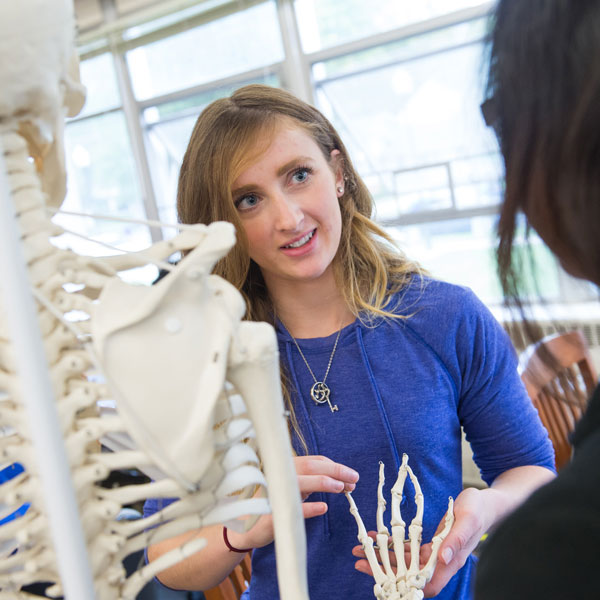 Experiential learning
The 8-week clinical immersive modules within our five semesters give you the best possible opportunity to fully experience the day-to-day routines and practice of a certified athletic trainer in a variety of settings. Our clinical site opportunities span the entirety of the Chicagoland area and beyond. With the separation of clinical and classroom responsibilities, you are able to stay closer to home while still getting a great experience learning from the dedicated professionals that serve as our clinical preceptors.
Clinical sites
Advocate Medical Group
Chicago Red Stars
De La Salle Institute
Harper College
Hinsdale Central High School
Hinsdale Orthopedics
Lake Forest College
Lurie Children's Hospital
Marmion Academy
Mundelein High School
Neuqua Valley High School
Northwestern Medicine
OrthoIllinois
Stanford University
University of Chicago
Waubonsee Community College
Windy City Bulls
Where our graduates work
ATI Physical Therapy
Athletico Physical Therapy
Chicago Cubs
Hinsdale Orthopedics
Orthopedic Rehab Specialists
OSF Orthopedics
Northwestern University
Schaumburg Fliers
University of Florida