Retention policies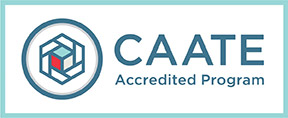 Aurora University is currently accredited by the Commission on Accreditation of Athletic Training Education (CAATE), 6850 Austin Center Blvd., Suite 100, Austin, TX 78731-3101.
Graduate Academic Standards (Aurora University Regulation and Policy Catalog pgs. 48-49).
"Under general university standards, all graduate students must achieve a minimum cumulative grade point average (GPA) of at least 3.0 on a 4.0 scale to remain in good standing. Those with a cumulative GPA of less than 3.0 are placed on academic warning. Following a second semester (not necessarily consecutive) where the cumulative GPA remains below 3.0, or if at any time more than two grades below "B" are earned while enrolled in a graduate program, a student may be dismissed from the university by action of the Academic Conduct and Integrity Committee. The committee may also impose conditions on a student's continued enrollment. If dismissed for poor scholarship, a student may not be readmitted to the university until the beginning of the semester that is at least one full semester later, and after petitioning for readmission to the Academic Conduct and Integrity Committee 30 days prior to the requested return."
"Individual programs may have additional or more stringent academic standards for retention and/or graduation of students in the program. These standards are available to students through the office of each respective program."
Master of Science in Athletic Training Retention Standards:
In addition to University Graduate Academic Standards students must maintain the following program specific requirements to progress in the Master of Science in Athletic Training Degree Program:
Students must earn a minimum grade of B in all athletic training courses.
Any student receiving a grade of C must retake that course and achieve a grade of B or above but can continue to matriculate through the program.
Students earning a D or F will be prohibited from registering for any succeeding courses and must retake the course to eliminate this deficiency before matriculating through the program.
Students who fail to maintain both the university and program academic standards will meet with the Athletic Training Program Director to discuss a remediation plan.