Admission Requirements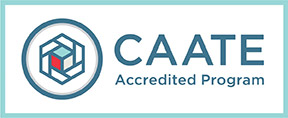 Aurora University is currently accredited by the Commission on Accreditation of Athletic Training Education (CAATE), 6850 Austin Center Blvd., Suite 100, Austin, TX 78731-3101.
Master of Science in Athletic Training - 5 (3+2) years option Dual Degree Program in Exercise Science and Athletic Training
Aurora University offers students the opportunity to earn a Bachelor of Science in Exercise Science and a Master of Science in Athletic Training in five years. Students majoring in Exercise Science – Athletic Training Emphasis will apply to the master's degree program during their junior year (third year). If admitted, they will begin their master's degree coursework during their fourth year while concurrently completing their Bachelor of Science Degree in Exercise Science.
For the 3+2 Dual Degree Program, students will be accepted into the program following the spring semester of their third year. Aurora University maintains the right to admit only the most highly qualified students from those who have met the admission requirements. Students are encouraged to review Aurora University's Policy for Students with Disabilities found in the university catalog. Admission requirements and technical standards for athletic training students are found in the Athletic Training Program Policies and Procedures Handbook and on the program website.
Master of Science in Athletic Training – 2-year option
Aurora University also offers students the opportunity to earn a Master's Degree in Athletic Training in two years if the candidate has a bachelor's degree in a related field and has completed the following pre-requisite course topics:
Anatomy and Physiology 
Psychology

First Aid/CPR (Certification must be valid at the time of enrollment in the program)

Kinesiology, Functional Anatomy, or Biomechanics
Statistics
Physics
Chemistry
Once admitted, students will complete all of the necessary athletic training coursework in 2 years and will then become eligible to sit for the Board of Certification (BOC) examination.
Admission Requirements (3+2 Program and 2-year program):
Minimum undergraduate cumulative GPA of 3.0 (for the 3+2 program, your GPA must meet this requirement at the time you apply)
Complete all pre-requisite course requirements

2-year program applicants must also submit official, sealed transcripts from all prior colleges and universities
Upon admission to the program, all students will also be required to complete and/or submit:
Proof of current Immunizations or waiver
Technical Standards Form completed
Criminal Background Check
Drug Screen
TB Test – within six months of entrance
All students (3+2 and 2-year program) must satisfy university graduate degree requirements including academic standards, to continue in and graduate from the degree program. Please review those policies in the Graduate Regulations and Policies Catalog for details.
Athletic Training Specific Fees
CastleBranch Administrative Fee $5 (First Year)
Criminal Background Check - $52 (First Year)
Drug Test $40 (First Year)
TB Test approximately $20 per year
ATRACK $45 per year