Healthcare Administration (BS)
Why study Healthcare Administration?
Are you concerned for the well-being and health of others? Are you interested in roles within the healthcare industry beyond medical professions? If you answered yes to these questions, then majoring in Healthcare Administration could be for you. Healthcare administrators work behind the scenes in healthcare facilities in a variety of roles, including maintaining daily operations, processing insurance claims, training employees, and educating the general public. The job outlook in healthcare administration is soaring as the Baby Boomer generation ages and the demand for healthcare services increases.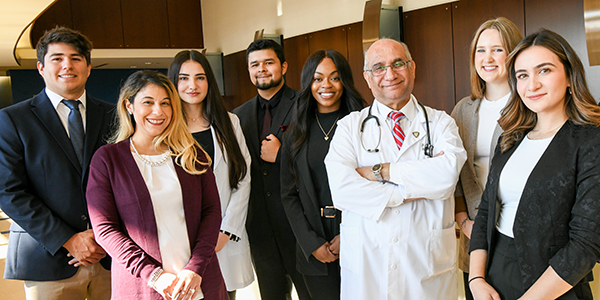 Doctors and nurses aren't the only professionals driving American healthcare. Look beyond the operating room, and you'll find a slew of healthcare jobs that keep the $4.1 trillion industry in motion.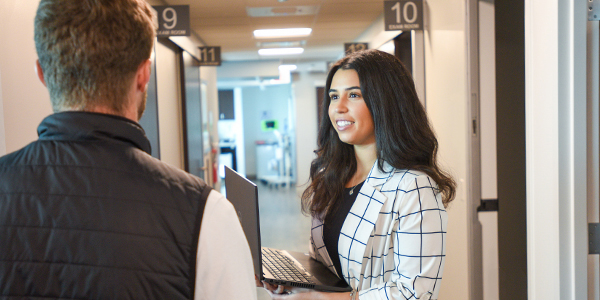 If you are interested in healthcare — in understanding how the body works and learning about ways to help people who are sick or injured — there are many career paths to consider beyond becoming a doctor.
Why study Healthcare Administration at AU?
The Bachelor of Science in Healthcare Administration prepares students for a meaningful and fulfilling career in a variety of healthcare-related settings.
The Healthcare Administration program at AU incorporates a blend of academics and real-world experiences, preparing you for professional success. You will take courses in business, health science, and healthcare administration to develop the knowledge and skillset necessary to enter the workforce upon graduation.
As a Healthcare Administrator major, you will acquire the skills needed to plan, direct, and coordinate medical and health services. You will learn about maintaining and securing patient records, keeping up to date on healthcare laws, and communicating with physicians and other members of medical staff.
The program will prepare you to work in a variety of settings, including hospitals, private practice, governmental agencies, insurance companies, rehabilitation centers, surgical centers, long-term care facilities, and nonprofit organizations.
You will also have the opportunity to expand your career opportunities by double-majoring in Business Administration or Health Science. And even with a second major, you'll still be able to graduate in four years. You can also complete your BS in Healthcare Administration through AU Online.
The Bachelor of Science in Healthcare Administration curriculum aligns with the Commission on Accreditation of Healthcare Management Education. The CAHME is the accrediting body for graduate programs in healthcare management in the U.S. and Canada.
$104,830
2022 annual median salary for medical and health services managers
28%
2022-2032 projected job growth rate
Source: U.S. Bureau of Labor Statistics
Curriculum Highlights
Healthcare ethics
Healthcare policy and law
Healthcare systems and informatics
Managing and leading healthcare organizations
Medical terminology
Research methods and biostatistics
Campus Opportunities
Aurora University HOSA - Future Health Professionals
Aurora University Science Organization
Mu Sigma Pi: Mind. Body. Spirit.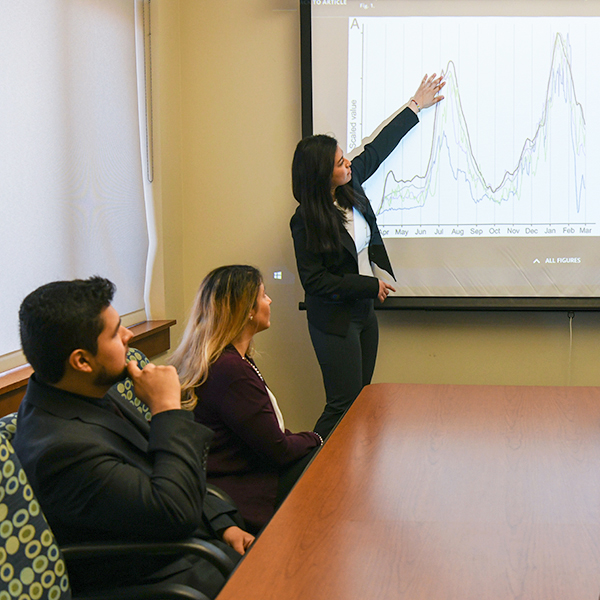 Experiential learning
All Healthcare Administration majors have the opportunity to complete an internship that provides hands-on experience in a healthcare organization. You will learn the systems, processes, and policies that govern the organization, as well as the behaviors and attributes necessary to succeed in your chosen field. These internships build connections to help you begin your career immediately after graduation.
Career possibilities
Home healthcare manager/entrepreneur
Hospital administrator
Long-term care/Assisted living administrator
Nursing home administrator
Medical facility director
Medical group administrator
Medical practice administrator
Medical supplies director/entrepreneur
Pharmaceutical medical science liaison
Internship sites
Advocate Medical System
Legacy/Avantara Healthcare
NorthShore – Edward-Elmhurst Health
Northwestern Medicine
Rush Copley Medical Center
Rush University