Exercise Science (BS)
Why study Exercise Science?
If you are passionate about helping people live healthy lives through the use of fitness and exercise programs, then Exercise Science is the career for you. Exercise Science gives you the most well-rounded understanding of the human body, and is a foundation for rewarding careers in both fitness and health care. Graduates of Exercise Science programs can pursue a wide variety of professions, many of which require further schooling. Majoring in Exercise Science will allow you to have a significant and long-lasting impact on the health and well-being of others in their daily lives.
Exercise Science jobs are on the rise, as hospitals emphasize fitness and preventive care.
Bureau of Labor Statistics Occupational Outlook
Why study Exercise Science at AU?
Our Exercise Science program is unique in that it blends a state-of-the-art exercise science lab with the university's Strength and Conditioning department. You will apply what you learn in the lab and in the classroom right away by helping AU's student-athletes attain maximum performance. You will also complete an internship to gain experience and knowledge outside of the classroom.
AU's Exercise Program is created so that students focus on one of three areas: athletic training, fitness and wellness promotion, or sports performance. Each concentration leads to a separate career path.
The combination of applied coursework and hands-on training prepare you for a wide range of careers in fitness program administration. You will also be prepared to sit for the Certified Exercise Physiologist Exam and become a Certified Strength and Conditioning Specialist through the National Strength and Conditioning Association, required for employment by most agencies in the fitness industry.
AU graduates work as certified personal trainers, certified strength and conditioning specialists, dieticians, exercise physiologists, wellness and health promotion coordinators, certified cancer exercise trainers, and fitness consultants.


Should I pursue an advanced degree?
An Exercise Science major is also a great launching pad for graduate studies in fields including applied exercise science, athletic training, physical therapy, biomechanics, cardiac rehabilitation, kinesiology, and occupational therapy.
You can earn a Master of Science in Exercise Science by enrolling in AU's online program.
If you are interested in becoming a certified athletic trainer, you can earn a Bachelor of Science in Exercise Science and a Master of Science in Athletic Training in AU's accelerated "3+2" dual degree program. In this path, you will major in Exercise Science with an athletic training emphasis and apply to be an advanced standing student in your junior year. This will allow you to earn a bachelor's degree in Exercise Science and a master's degree in Athletic Training in just five years compared to a traditional six-year process. If admitted, you will begin your Master of Science in Athletic Training coursework during senior year while concurrently completing your Bachelor of Science in Exercise Science degree.
If you want to become a physical therapist, the Exercise Science major also has a pre-Physical Therapy track that will prepare you to pursue an advanced degree program at another university. To get a job as a physical therapist, you must earn a Doctor of Physical Therapy degree, and Exercise Science is by far the No. 1 major accepted into Doctor of Physical Therapy programs.
You also can expand your career opportunities by double-majoring in Business Administration or Sport Management.  And, even with a second major, you'll still be able to graduate in four years.


Recognition


The Exercise Science program is an Education Recognition Program by the National Strength and Conditioning Association, 1885 Bob Johnson Drive, Colorado Springs, Colorado 80906, 719-632-6722.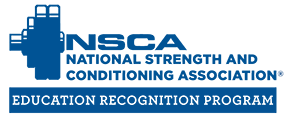 Spartan Story: Luke Picek '20 explains how AU's exercise science program gives him the ideal combination of classroom work and hands-on experience.

$51,350
2022 annual median salary for exercise physiologists
10%
2022-2032 projected job growth rate
Source: U.S. Bureau of Labor Statistics
Curriculum Highlights
Anatomy and physiology 
Exercise physiology  
Sport nutrition  
Strength training and conditioning
Campus Opportunities
AU Human Performance
AU Science Organization
Aurora University HOSA - Future Health Professionals
Exercise Science is by far the No. 1 major accepted into Doctor of Physical Therapy degree programs.
American Physical Therapy Association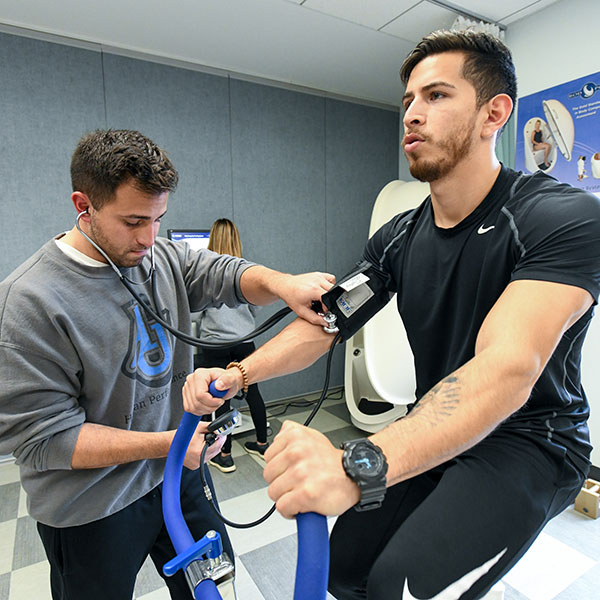 Experiential learning
Exercise Science requires you to develop both technical skills and people skills. Your education will focus on real-world, hands-on learning with diverse populations. Internship opportunities are available at cardiac rehabilitation clinics, hospital-based health and wellness centers, university and collegiate strength and conditioning facilities, active older-adult living communities, corporate fitness centers, health care organizations, and physical therapy clinics. AU is one of only 61 U.S. colleges and universities that promote physical activity and make it a priority for the student body as part of the American College of Sports Medicine's Exercise is Medicine program.
Internship sites
Acceleration Sports Performance
Advocate Good Samaritan Hospital
Athletico Physical Therapy
ATI Physical Therapy
Elite Sports Performance
IMG Academy
Loyola University Chicago
Northwestern Medicine
University of California, Los Angeles
University of Iowa
Where our graduates work
Loyola University
Michigan State
North Carolina State
Northwestern University
San Diego Giants
Texas A&M University
University of Las Vegas