Museum Studies (Minor)
Why minor in Museum Studies?
Museums are one of America's most popular attractions and sources of learning. About 850 million people visit a museum each year, more than the number of people attending professional sporting events. Museums are community anchors. They not only tell the stories of our culture and history, but also play an important role in society by partnering with schools, supporting conservation efforts, and providing educational and social service programs for the public.
Why minor in Museum Studies at AU?
Aurora University's minor in Museum Studies provides students from a wide range of majors a working knowledge and historic foundation of the role of museums. The Museum Studies minor pairs well with majors in History, English, Spanish, Education, Graphic Design, and more.
The courses are designed to train students for entry-level jobs in museums and serve as a stepping stone for graduate school where advanced studies can lead to careers as archivists, conservators, and curators.
All students in the Museum Studies program at AU take the Museum Exhibitions course, where they learn about exhibit design and have the opportunity to curate their own exhibit as a class. Students also learn about collections care, collections management, and museum education practices.
AU has its own teaching museum on campus called the Schingoethe Center. The museum is a Smithsonian Affiliate, which allows the center to borrow works from the Smithsonian collection and invite scholars to give talks at the AU campus.
$52,140
2020 annual median salary for archivists, curators, and museum workers
19%
2020-2030 projected job growth rate
Source: U.S. Bureau of Labor Statistics
Curriculum Highlights
American history
Art history
Cultural anthropology
Design
Museum education
Museum exhibitions
Museum methods

Campus Opportunities
As a Museum Studies minor, you have the opportunity to work at the Schingoethe Center. Every year the Schingoethe Center hires Museum Studies minors to assist with customer service, social media, installation preparation, education initiatives, and caring for the collection.
In Our Own Words: Schingoethe Center Director Natasha Ritsma on what to expect as a Museum Studies student
Aurora University's on-campus museum is a creative extension of the classroom. As a teaching museum, the Schingoethe Center engages students in interdisciplinary thinking and provides opportunities for first-hand experience in collections care and exhibiting.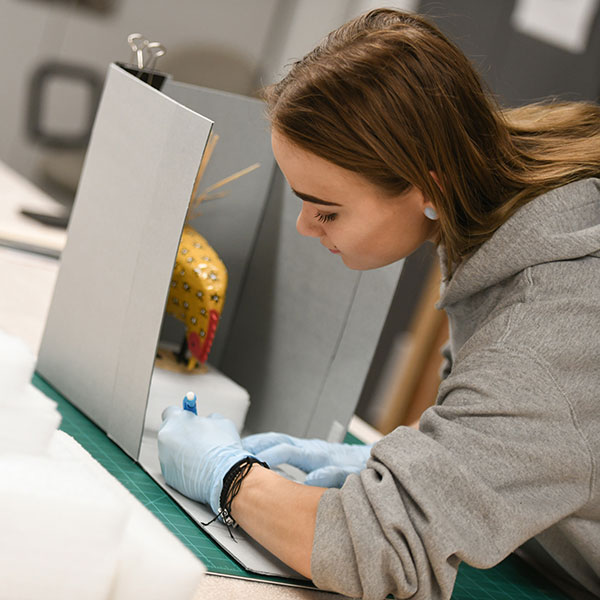 Experiential learning
The Museum Studies program offers extensive opportunities for hands-on learning through practical application and internships at AU's Schingoethe Center. In addition, all Museum Studies minors are placed in internships related to their interests at museums and collections in the Fox River Valley area and in Chicago.
Career possibilities
Collections manager/registrar
Graphic designer
Museum access coordinator
Museum educator
Museum interpreter
Museum technician
Nonprofit manager
Preparator
Social media specialist
Career possibilities with an advanced degree:
Archivist
Conservator
Curator
Where our graduates work
Batavia Depot Museum, Illinois
Grand Army of the Republic, Illinois
Joliet Area Historical Museum, Illinois
Lake County Forest Preserve, Illinois
Meadows Museum of Art, Texas
Metropolitan State University of Denver, Colorado
Park Districts
School Districts
SciTech Hands On Museum, Illinois
Spencer Museum of Art, Kansas
Southampton Historical Museum, New York
United Leukodystrophy Foundation, Illinois