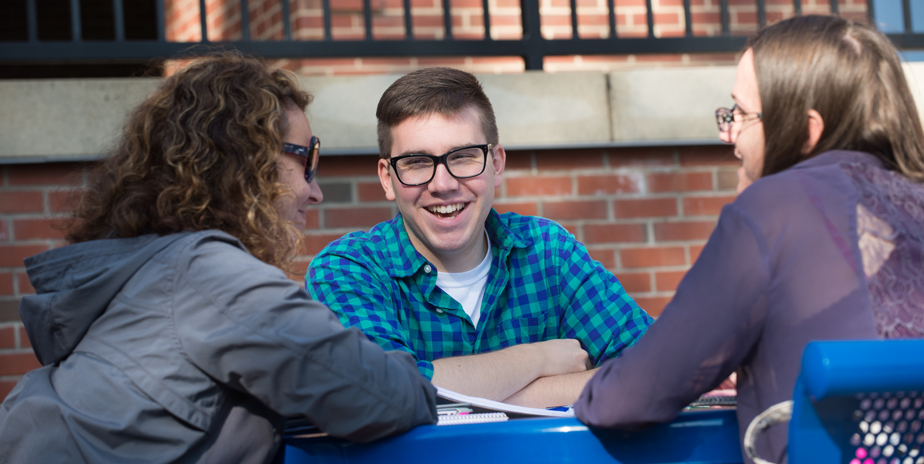 The Disability Resource Office (DRO) is designated to ensure access to education at Aurora University for all students with disabilities as mandated by the American with Disabilities Act and Section 504 of the Rehabilitation Act of 1973. The DRO is responsible for the development and coordination of the accommodations which may include modifications to policies, practices and procedures to offer equal access. Students seeking environmental and/or academic adaptations must contact the disability office to begin the collaboration process to meet the common goal of access. Students seeking adaptations can expect timely, courteous support, coordination with campus offices as well as an evaluation process that respects the individuality and uniqueness of every person.
Upon admission to the university, students should contact the Disability Resource Office. Each request for accommodation will be assessed individually, based on relevant circumstances and factors. It is the responsibility of the individual seeking an accommodation to identify the disability and to provide documentation of the disability at his/her own expense in accordance with our documentation requirements.
Complete an Accommodation Request form. For housing accommodations, please complete a Housing Accommodation Request also.

Obtain the necessary documentation from the appropriate practitioner and submit to the Disability Resource Office.

Confidential fax: 630-844-3688
Via email: jhall@aurora.edu

USPS:
Aurora University - Disability Resource Office
347 S. Gladstone, Aurora, IL 60506

The student should complete & submit the request for accommodations forms.

The Disability Office will contact students to schedule an appointment for the accommodations request meeting. An appointment will be scheduled after information requested in Step 2 and Step 3 is received.

Attend the required accommodations request meeting to determine reasonable adaptations and accommodation to ensure "access" to learning environment. Additional documentation may be requested at this step, and/or discussion with faculty or administration may be warranted. This required meeting will include a review of the student's course schedule, outlining use of services, communication expectations with faculty, how to use testing services and other campus resources.

After accommodations are approved, a letter is sent from the Disability Resource Office to the student's instructors. Students are required to talk with their instructors about the letter and clarify accommodation expectations for each class.

Students must renew their accommodations each semester. The Disability Coordinator will email students with a list of questions regarding their accommodations. Students simply need to respond to the email or speak with the Coordinator in person to renew. New documentation does not need to be submitted unless the student needs support for a newly requested accommodation.