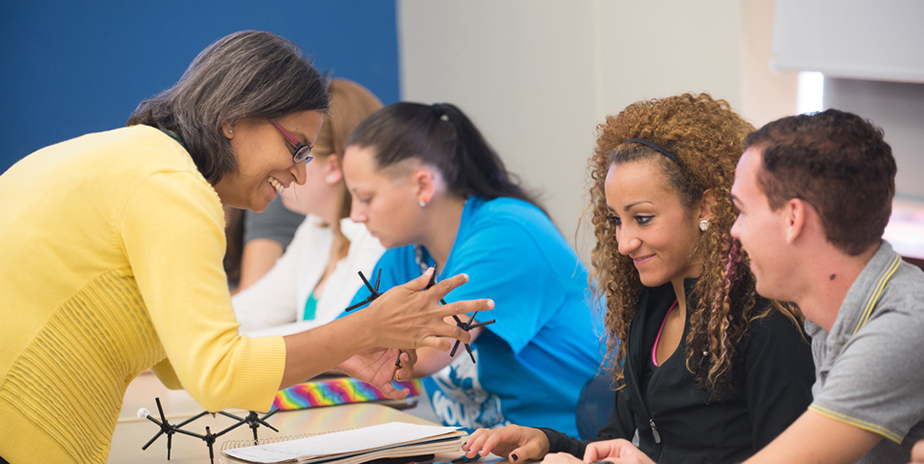 Students
Q: I had accommodations in high school. Will I continue to have the same accommodations?
A: It is possible to have some or similar accommodations, but it is not automatic. In high school accommodations were provided under the legislative act called IDEA (Individuals with Disabilities Education Act). Accommodations were provided to support the student to be as successful as possible. In higher education disability accommodations are provided under the Americans with Disability Act (ADA). The goal of this legislation is to provide equal access to education. Accommodations are to compensate for limiting functions of a disability. This allows the student with a disability to compete equally among his/her classmates.
Q: Where is this Disability Resource Office located and what are the hours of operation?
A: The Disability Resource Office is located in the Academic Support Center on the second floor of the Phillips Library in Room 209. Fall and Spring Semester the office is open Monday through Friday from 8am – 5pm whereas Summer hours are 8am – 4:30pm.
Q: Should I disclose information about my disability on my Aurora University application?
A: It is a student's choice; however, Aurora University (AU) does not consider a student's disability during the application process. If a student is concerned about services, they should talk with the Disability Resources Office about potential services. Once a student has been admitted to AU, they should register with the DRO to request accommodations.
Q: What are some of the accommodations offered at Aurora University?
A: Every student is unique so accommodations are determined on a case-by-case basis after appropriate documentation is submitted and the barriers and needs identified. AU is committed to ensuring access to learning and some examples are: Sign-language interpreters, alternative format textbooks, audio recording lectures, use of assistive technology, and a distraction reduced testing environment to name a few.
Q: Why do I need to provide documentation?
A: The ADA states "validate the need for services based on an individual's current level of functioning in the educational setting." Current documentation allows us to better understand the barriers that may exist in collegiate setting. Proper documentation is needed to develop an accommodation plan for the student moving forward.
Q: Confidentiality – Who has access to the documents we provide?
A: Documentation submitted to the Disability Resource Office (DRO) is confidential information and does not become part of a student's permanent record. The Disability Staff maintain Disability documentation is normally maintained by DRO for five years after the last recorded date of enrollment and then it is confidentially destroyed.
Q: How do I tell my instructors about my accommodation?
A: Once approved for accommodations, the Disability Resource Office will send an email letter to your course instructors with the approved accommodations. Each letter is valid for one semester.
Q: Do I need to meet in person with the Disability Resource Office staff before every semester?
A: No, not unless you are requested, but you must connect with the staff via email to confirm your ongoing desire and need for accommodations.
Q: My professor refuses to give me one my accommodations; what can I do?
A: Talk with your instructor (preferably face-to-face) to clarify your needs and their understanding of the accommodation to make sure there is no misunderstanding. If you cannot resolve the situation, contact the Disability Resource Office.
Faculty
Q: How will I know if a student needs accommodations?
A: A student with approved accommodations will receive a letter from the Disabilities Resource Office (DRO) identifying the specific accommodations for which he/she is eligible for the semester. The DRO will send this letter to faculty also. Students are encouraged to make appointments with their instructors to discuss accommodation needs at the beginning of each semester and clarify the expectations for implementation.
Q: Is it essential to provide the requested accommodations?
A: Yes, we have a legal responsibility to provide reasonable and appropriate accommodations for qualified students with disabilities and it is prudent to consider accommodating the student in the manner requested. However, there may be elements of the course work that make the accommodation difficult to fulfill, so contacting the Disability Resource Office to discuss alternatives is appropriate.
NOTE: The laws that protect the civil rights of individuals with disabilities also protect the standards of the attending institutions. Having a disability does not preclude a student from meeting the essential or fundamental course requirements or from following the established policies and procedures.
Q: Do I have to provide the accommodations listed in a letter if they do not fit with my philosophy?
A: Yes. Federal law requires the university to provide "reasonable" accommodations for students with disabilities; however, instructors may work with the DRO to provide alternative accommodations that satisfy the student's need and the law. Providing accommodations is a shared obligation of Aurora University faculty and staff.
Q: What accommodations are appropriate?
A: The Disability Resource Office grants "reasonable" accommodations to students with disabilities after reviewing documentation provided by medical or mental health practitioners and an interview with the student identifying the barriers to one or more life skill that exist.
Q: Is disability information confidential? Can I talk to students about their disabilities?
A: Disability information is confidential and faculty should not have a conversation with a student with a disability in front of others. The DRO will discuss specific accommodations with faculty, not the disability. Many students wish for this information to remain private and we do not want them to feel obligated to share their confidential diagnosis as they are not required to do so and are protected by law.
Q: What should faculty/staff do if they suspect a student has a disability?
A: Do NOT ask a student if s/he has a disability. Approach him/her as any other student having difficulty in a class. Inquire about what might be affecting the student's progress in the class. A student with a disability will likely disclose at this time, if the difficulties are disability related. Refer the student to The Disability Resource Office if he/she discloses a disability, or indicates s/he suspects a disability.
Q: Do I need to facilitate the testing accommodations?
A: Instructors are welcome to implement testing accommodations in the classroom or in their office if they are able to mitigate the environmental factors; however, it is not required. With an advanced reservation, the Academic Support Center's testing services can assist with test accommodations including extended time, a test reader, test scribe or a distraction-reduced environment. Every test requires the instructor to complete and authorize a testing request form to submit with the exam. Testing instructions and the required form are available on the Disability Resource Office website: aurora.edu/dro. For more information, call (630) 844-6871.
Q: The student is asking to turn in their assignments late, what do I do?
A: All students are expected to submit assignments in on time. It is not a routine accommodation to allow students to be exempt from due dates or other essential components of their courses but in some instances, arrangements for extensions are reasonable due to their condition.
Q: Can I provide accommodations to a student who does not present a letter?
A: If a student asks for an accommodation but does not have written document verifying eligibility, the instructor should immediately refer the student to Disability Resource Office. Similarly, if a student asks you for a specific accommodation that is not on their letter, you are not obligated to provide it and should refer the student to the DRO. The DRO is the office designated by the University to verify a qualified disability and ensure accommodation. This provides legal protection for you, the faculty member, and the University. To provide an accommodation without the accommodation letter would be to allow that student a right to which s/he may not be entitled and an advantage over other students in the class.
Academic Accommodations
Q: A student in my class has peer note taker accommodations. What is my responsibility?
A: The Disability Resource Office will contact other students in the same class section to ask for assistance. Student note takers become student-employees for that semester and earn a stipend at the end of the term. The note taker is responsible to share their typed notes within one day of the class meeting. From time-to-time when it is difficult to identify a note-taker, the DRO will ask the instructor to make a class announcement to help facilitate recruitment.
Q: A student has a Sign Language Interpreter in my class. What is my responsibility?
A: A sign language interpreter is a trained professional hired by the University to facilitate communication in the classroom for a student who is deaf/hard of hearing. Each class will have two interpreters that alternate signing for the student. The interpreter is present only for facilitating communication and when possible should be given access to your class Moodle shell for preparation purposes. Please do not ask the interpreter to perform additional tasks other than interpreting. The accommodation letter will indicate the accommodation for a sign language interpreter.
Q: What is an FM (Frequency Modulation) system, and how will it affect class lectures?
A: The FM system is equipment used in the classroom to amplify the lecture for a hard of hearing student. The professor wears a microphone lanyard which allows the student to directly hear the professor's voice. A wireless signal is transmitted to the student's headphones or hearing aid, through a receiver. The system blocks distracting sounds, however, it has no impact on the general class lecture.
Q: What are my responsibilities to students who request alternative formats for textbooks and other class materials?
A: Instructors should provide names of textbooks and other reading materials, as soon as possible to maximize the time available for the DRO to work with the qualified student to obtain the alternative format. In some cases, it can take weeks to obtain the alternative format or convert the textbook into alternative formats (i.e., Braille, enlarged print, audio text) to ensure that qualified students will have access to required course materials at the start of the semester.
Q: What accommodations are required if a student discloses after-the-fact (i.e. failing an exam)?
A: The Aurora University Disability Resource Office does not accommodate retroactively, so no accommodations are necessary. If the student is asking for accommodations, refer them to the DRO.
Q: Where can I get more information about services for students with disabilities?
A: Visit our website at aurora.edu/dro or contact the Disability Resource Coordinator at (630) 844-4225.