About the Wackerlin Center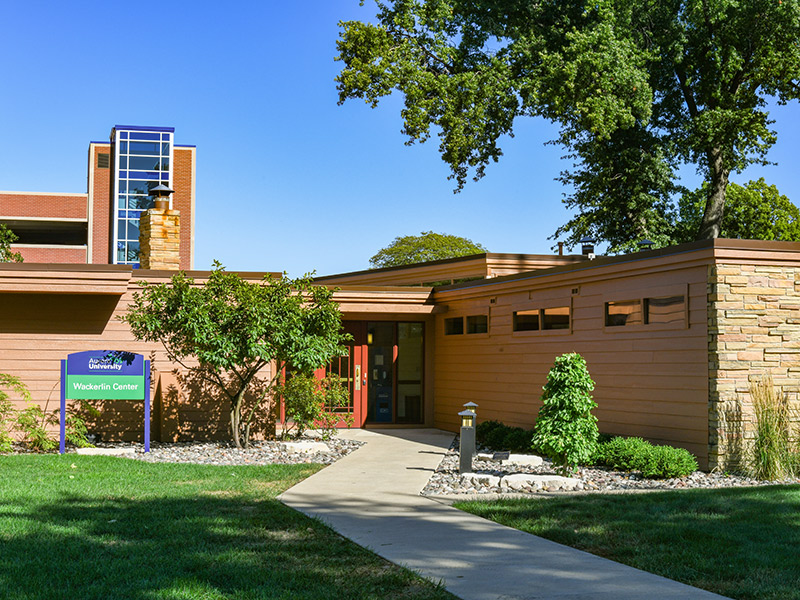 Mission
The mission of the Wackerlin Center is to offer students and employees spaces and experiences that promote belonging and flourishing, solidarity and service, and reflection and purpose. We are a space, resource, and advocate that advances diversity, equity, and inclusion. We work to ensure that each individual at AU feels an authentic sense of connection and empowerment through our programming, events, training, and mentorship. As local and global citizens, students receive encouragement to engage the world through acts of solidarity and service. Through community projects and hands-on learning, we prepare students to be community leaders who stand with the socially vulnerable. The Wackerlin Center complements the efforts of other AU departments to better support a student's vocational journey and meet their holistic needs.
History
Founded in 2001 with a generous gift from a 1918 Aurora College alumna and lifelong AU benefactor, Helena Zentmyer Wackerlin, the center builds on the university's faith-based roots while reflecting today's diverse student body. The Wackerlin Center moved into its current location in 2011 and was dedicated to the life and legacy of Helena, whose lifelong commitment to AU's Christian heritage represents a living testimony to the university motto of "Character and Scholarship." 
Since 2011, the Wackerlin Center has taken advantage of the building's unique design and natural setting to create a retreat-like space where members of the AU community can contemplate and discuss issues of faith, responsibility, and leadership. In 2017, through a gift from the Class of 1967, a beautiful labyrinth was built at the Wackerlin Center to complement and support the center's focus on vocational exploration, understanding one's personal journey, and discovering what matters. Libby's Place, the on-campus food pantry for students, is also housed inside the center.