Engage in Experiences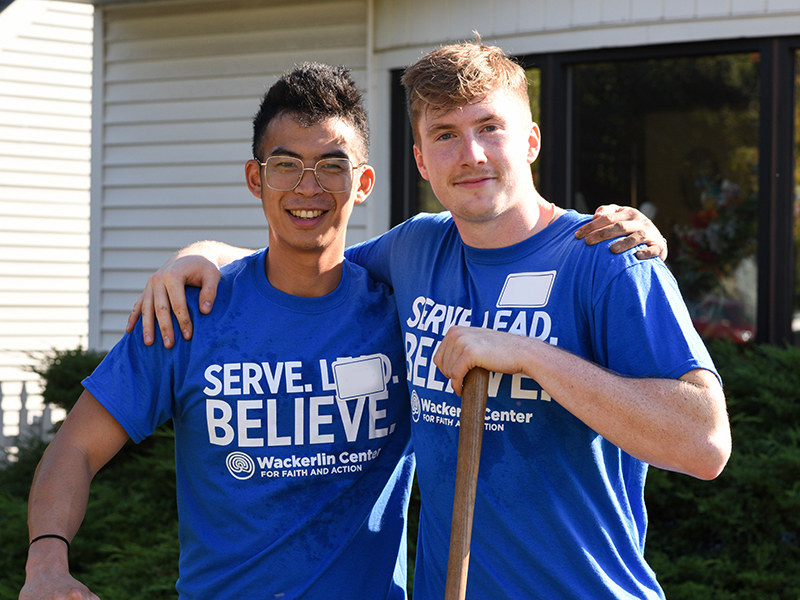 At the Wackerlin Center, we encourage students to engage with the world as local and global citizens through acts of service and solidarity. As part of our commitment to help students develop into leaders, we offer the following initiatives, programs, and volunteer experiences.
Volunteer Experiences
The Wackerlin Center partners with several local agencies to provide opportunities for students to give back to the surrounding AU community. Students and student groups interested in volunteering can fill out our interest form to be matched with possible experiences.
Monthly Events
The Wackerlin Center offers a variety of events and programming throughout the academic year, including Cultural Exchange, which is a monthly diversity discussion series focused on identity and culture. View our monthly events calendar.
Morning of Service
Each semester, the Wackerlin Center offers an opportunity for students, faculty, and staff to complete service projects throughout our surrounding communities. 
Social Impact Trips
Students can serve with peers and staff during spring break through social impact trips. These week-long trips encourage students to learn about a social issue affecting a vulnerable population, animal life, or the environment through hands-on service.
Revive Retreat
The Wackerlin Center hosts a retreat during winter break where students can participate in communal meals, guided reflections, morning trail walks, stretching and meditation, and quiet rest to begin the new year refreshed. Applications are being accepted for the 2024 Revive Retreat, taking place on January 4-5, 2024, at the Q Center in St. Charles, Illinois. Learn more and apply.
Safe Zone Training
The Wackerlin Center is a safe space where resources are provided to support and strengthen alliances with AU's LGBTQ+ community members. AU's Safe Zone Training Program is designed to provide resources to explore topics of gender and sexuality, increase awareness of the experiences of LGBTQ+ identities, and promote inclusive practices that foster a campus climate in which all are welcomed, included, and empowered to thrive. We offer two types of training:
S

afe

 

Zone

 

1.0

 

is a

 basic introduction to key issues, statistics,

 and

 vocabular

y related to the experiences of the LGBTQ+ community.

Safe

 

Zone

 2.0 takes a deeper dive into the complexity of

 

the information presented in 1.0 and offers

 

interactive

 activities that will allow

 

trainees

 to think more critically about issues as well as their roles in advocacy and/or allyship. Upon completing 2.0, participants will be recognized as

 

official

 

AU

 

allies

 and

 

presented with an AU

 

Safe

 

Zone

 

sticker to post in their workspace. 
All students, faculty, and staff may participate in Safe Zone Trainings. To schedule a training, email aurorasafezone@aurora.edu.
Spiritual and Religious Pluralism
We recognize that faith, religion, and spirituality have a significant role in how our students understand the world and find their purpose. We are committed to making space for reflection, meditation, and prayer at the Wackerlin Center and the Chaplain's Office. If you would like to speak to a religious advisor of your faith tradition, please contact Justin West at juwest@aurora.edu.If you would like to inquire about Lowry Chapel, AU's campus chapel, or prayer rooms at the Wackerlin Center, please contact Mark Woolfington, university chaplain, at mwoolfington@aurora.edu.
Questions?
For more information, contact Justin West, executive director of the Wackerlin Center for Faith and Action/chief diversity officer, at 630-844-5142 or juwest@aurora.edu.