Smithsonian American Women's History Initiative Series
These talks spotlight some of the Smithsonian scholars featured in the publication Smithsonian American Women: Remarkable Stories of Strength, Ingenuity and Vision from the National Collection. All talks support the Smithsonian American Women's History Initiative, designed to
create, disseminate, and amplify the historical record of the accomplishments of American women.
All talks were recorded and the recordings are available here.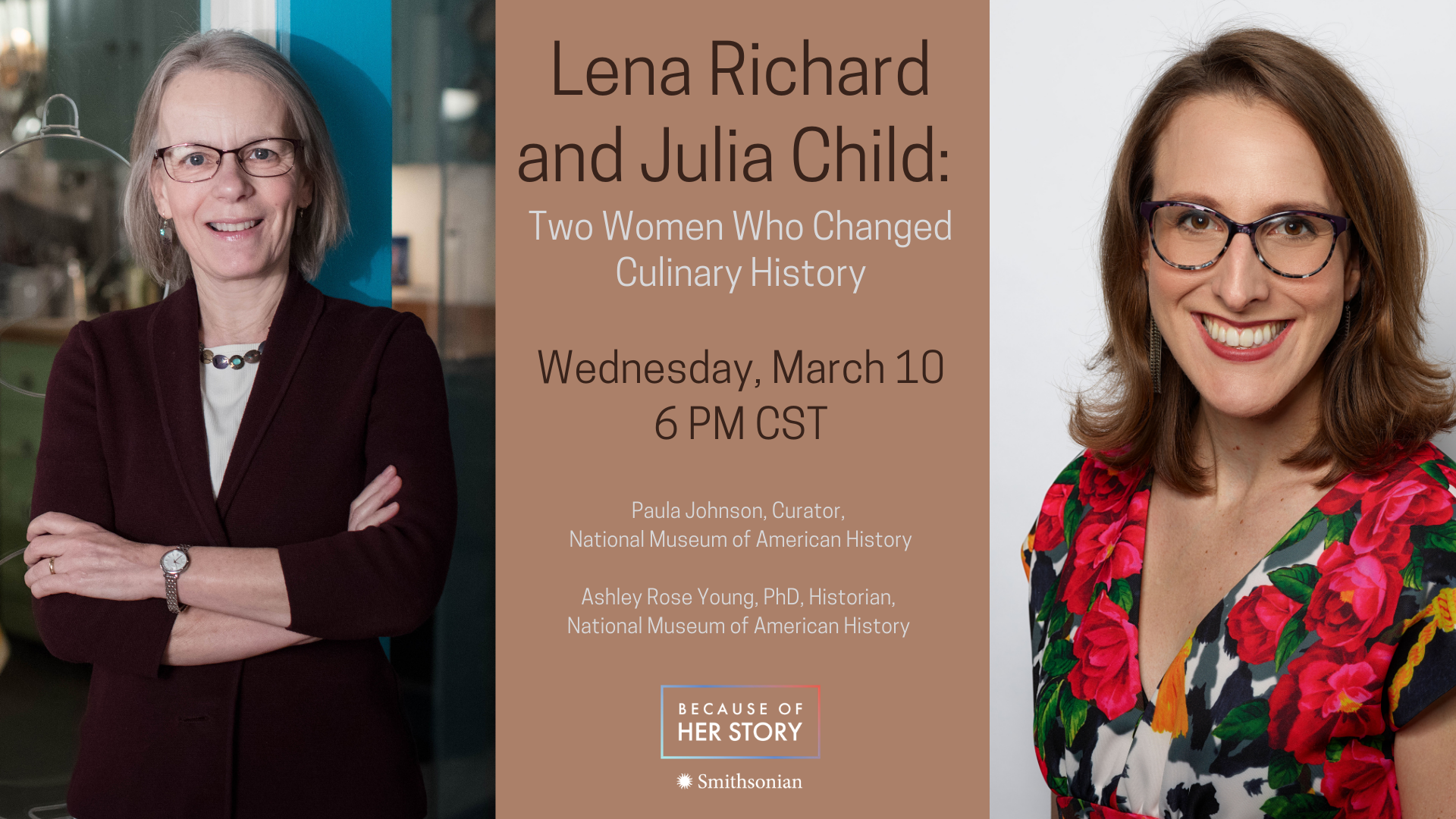 Through their cookbooks, teaching, and television programs, these extraordinary women inspired generations of people to take cooking seriously. They challenged perceptions and stereotypes of women in their respective eras and made lasting contributions to culinary history. Their stories, reflective of their very different backgrounds, reveal insights about women, race, food, and culture in 20th-century America. 
Paula J. Johnson is a curator and public historian in the Division of Work and Industry at the Smithsonian's National Museum of American History.  She is responsible for the food technology and marine resources collections and directs the Smithsonian's Food History Project. Johnson was one of the curators who collected Julia Child's home kitchen in 2001, and led the team that created the current exhibition, FOOD: Transforming the American Table. She has shaped and contributed to many public programs on food history and has served as a curator for several museum exhibitions. She holds degrees in English (BA) and Folklore/Anthropology (MA), and has published books and articles on the fisheries of the Chesapeake Bay, traditional watercraft, maritime communities, and food and museums.
Dr. Ashley Rose Young is the Historian of the American Food History Project at the Smithsonian's National Museum of American History. She is the host and historian of "Cooking Up History," the museum's cooking demonstration series. She also co-curated the museum's main food history exhibition, FOOD: Transforming the American Table along with Paula Johnson and other food history team members. She is currently working on two books: an academic manuscript about New Orleans' street food culture and an historically-informed cookbook about Chef Lena Richard. Young earned a Ph.D. in History from Duke University, an M.A. in History from Duke University, a B.A. in History from Yale University, and was also a visiting scholar at Oxford University.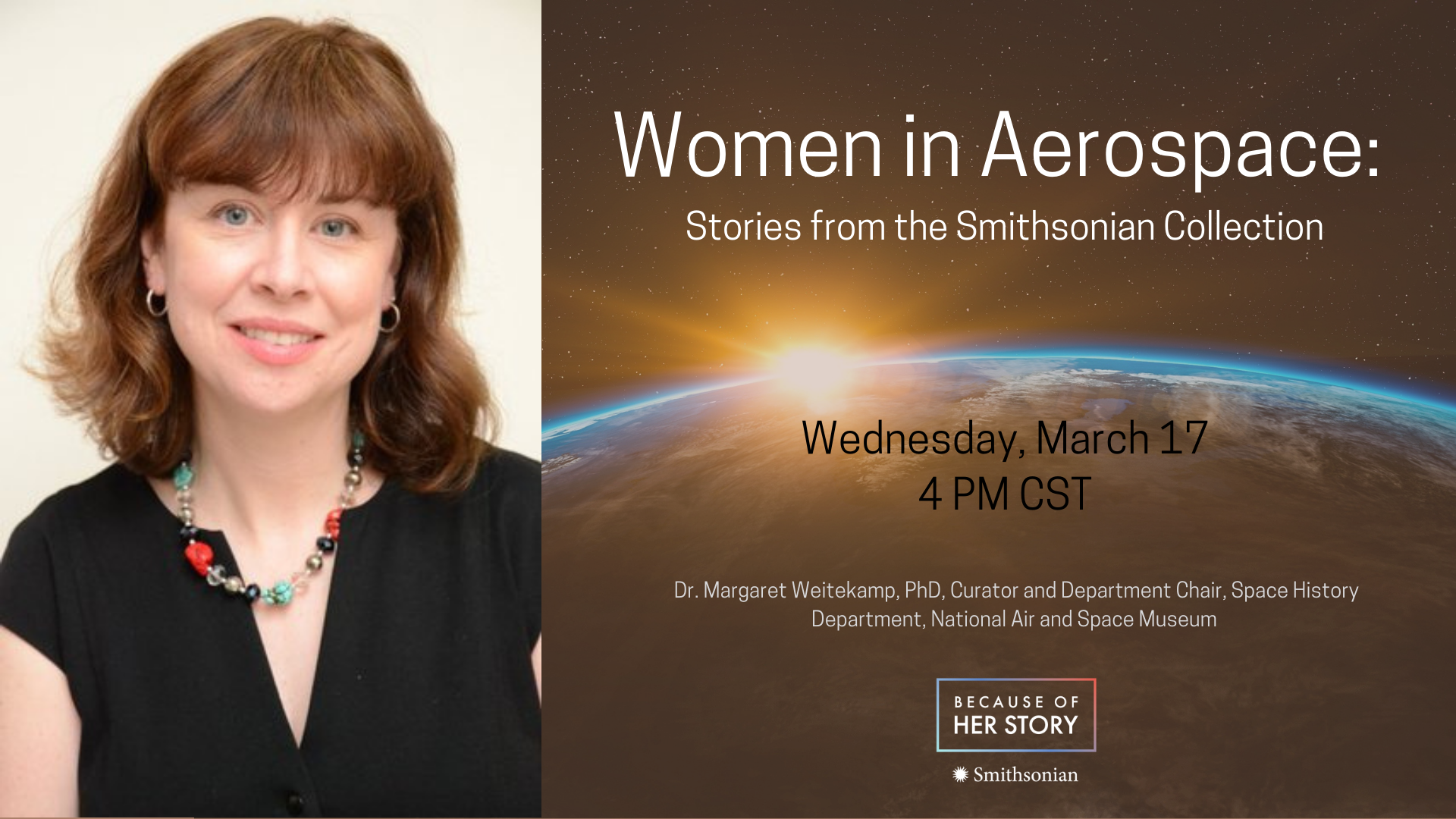 Dr. Margaret Weitekamp has researched and written on how a groundswell of support helped create a Lego set representing women's contributions to aerospace. Join us for a discussion of how women have worked from the very beginning of aviation to innovate, and how museums have documented their stories. 
In addition to serving as the department chair, Dr. Margaret A. Weitekamp curates the Museum's social and cultural history of spaceflight collection, more than 5,000 artifacts that include space memorabilia and space science fiction objects. These everyday mementos of the space age—which include toys and games, medals and awards, buttons and pins, as well as comics and trading cards—complete the story about spaceflight told by the Museum's collection of space hardware and technologies.
Weitekamp earned a BA from the University of Pittsburgh and an MA and PhD in history from Cornell University. During her graduate work, she was a Mellon fellow in the humanities and spent a year in residence at the NASA Headquarters History Office in Washington, D.C. as the American Historical Association / NASA Aerospace History Fellow. Before joining the Smithsonian, Weitekamp taught in the Women's Studies Program at Hobart and William Smith Colleges in Geneva, New York.
She is the author of numerous scholar articles as well as Right Stuff, Wrong Sex: America's First Women in Space Program, which won the Eugene M. Emme Award for Astronautical Literature from the American Astronautical Society. In addition, she wrote an award-winning children's picture book Pluto's Secret: An Icy World's Tale of Discovery (Abrams Books for Young Readers, 2013), in collaboration with David DeVorkin and illustrated by Diane Kidd. With Anne Collins Goodyear, she co-edited the ninth volume in the Artefacts series on the material culture of science and technology, Analyzing Art and Aesthetics (Smithsonian Institution Scholarly Press, 2013). She is currently completing a new book project, a social and cultural history of space memorabilia.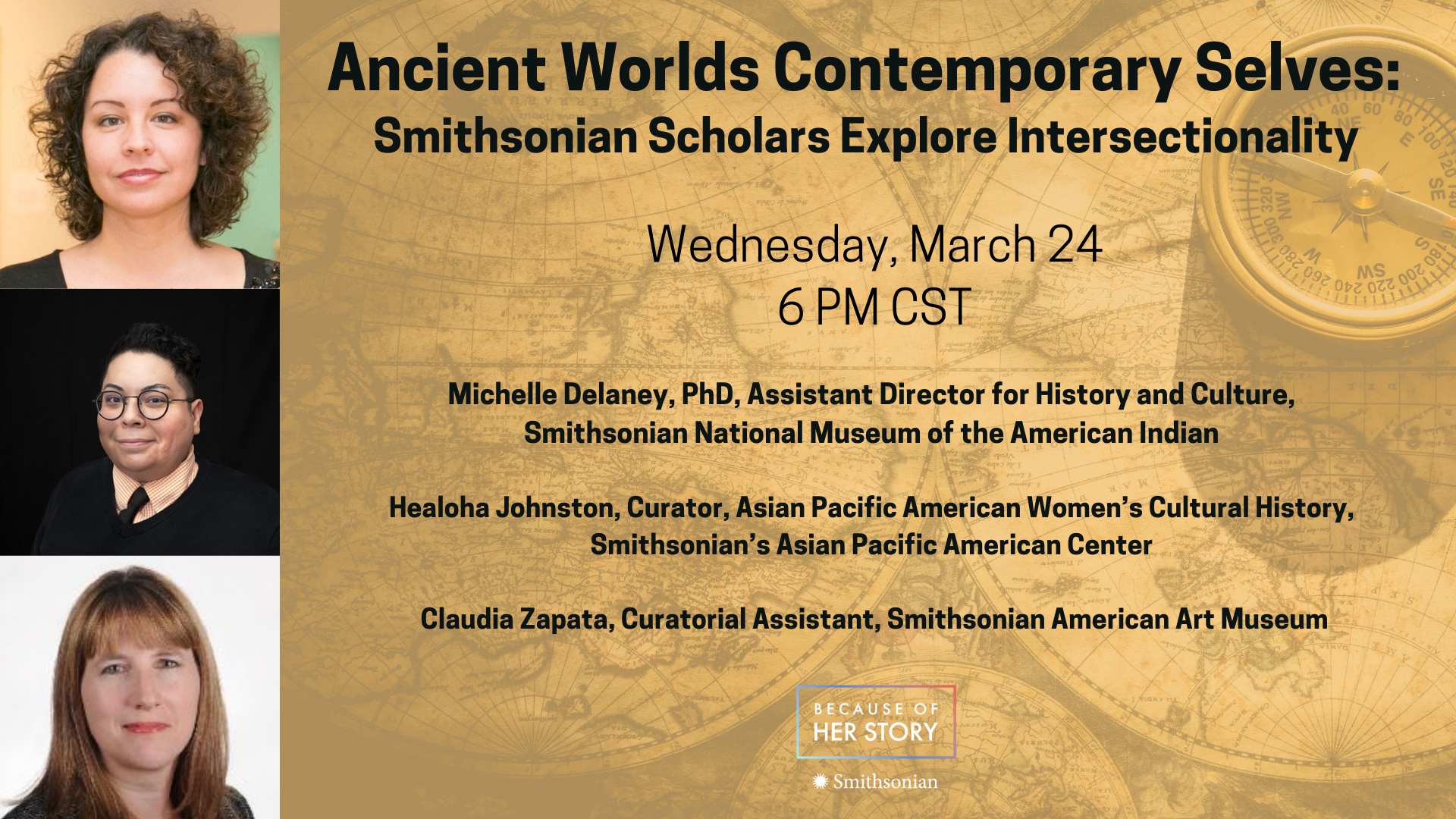 In this discussion, scholars from the National Museum of the American Indian, Asian Pacific American Center and Smithsonian American Art Museum explore how artists integrate the ancient world within their contemporary artistic practice. In so doing, their works update and create new meanings, allowing them to pass on complex and layered cultural interpretations to future generations. 
Michelle Anne Delaney is the Assistant Director for History and Culture at the National Museum of the American Indian, managing the Museum's research and scholarship team, and leading the intellectual program development for exhibitions, educational programming, publications, and digital scholarship. She also directs strategic internal pan-Smithsonian projects, and external collaborations and university partnerships. Previously Delaney was Senior Program Officer for History and Culture, Office of the Provost, Consortia director for the Smithsonian Grand Challenges Consortium for Understanding the American Experience, and curator of photography in the Photographic History Collection, National Museum of American History. Delaney is chair of the editorial committee for the 2019 publication Smithsonian American Women. An author and editor of several history of photography books, Delaney has also curated 25 Smithsonian exhibitions and related web projects. She is a current Board member for the Buffalo Bill Center of the West, and received her History PhD. from the University of Strathclyde, Glasgow, Scotland, in 2018. 
Healoha Johnston lives in Kaiwiki, Hawai'i and is a Curator of Asian Pacific American Women's Cultural History at the Smithsonian Institution. Her research interests include exploring connections between historic visual culture and contemporary art with a particular focus on the socio-political underpinnings that inform those relationships. As an art historian, Johnston has curatorial experience working in contemporary art galleries, arts and cultures non-profit organizations, NOAA's Pacific National Monument program, and the
Honolulu Museum of Art before joining the Smithsonian Asian Pacific American Center.
Claudia E. Zapata is a curatorial assistant of Latinx art at the Smithsonian American Art Museum, and is a doctoral candidate at Southern Methodist University. They received their BA and MA in art history from the University of Texas at Austin, specializing in Classic Maya art. Their research interests include curatorial methodologies of identity-based exhibitions, Chicanx and Latinx art, digital humanities, BIPOC zines, and designer toys. Zapata has curated exhibitions at Mexic-Arte Museum in Austin and other Texas institutions. They have published articles in Panhandle-Plains Historical Review, JOLLAS, Aztlán, Hemisphere, and El Mundo Zurdo 7.
Moderated by: 
Tricia Edwards, Deputy Director, Smithsonian Affiliations