Cybersecurity (BS)
Why major in Cybersecurity?
Cybersecurity is all about defending computer systems from digital attacks and protecting the integrity and privacy of data. Demand for cybersecurity experts is growing as technology becomes ingrained in every facet of our lives. In today's technological society, virtually every business and organization relies on cybersecurity experts to safeguard their electronic information and protect their computers, networks, systems, and programs from theft or damage. As the remote workforce expands in a post COVID-19 world, the potential for unprotected cyber threats has increased, making cybersecurity as essential as access to the Internet itself.
Why major in Cybersecurity at AU?
Aurora University's Bachelor of Science in Cybersecurity program appeals to students who are interested in computer systems and want to expand their skills and understanding of technology threats. As a Cybersecurity major, you will combine technical skills with business knowledge to gain an in-depth understanding of information security operations and responses. Your classes will provide you with a strong emphasis on Cybersecurity management and governance. Courses will present perspectives from users, managers, policymakers, and hackers to ensure an overall understanding of the different facets of Cybersecurity.
Industry leaders and employers serve as part of our faculty and advise to ensure the program is covering emerging areas that are relevant to your career path. As an AU Cybersecurity major, you will learn to identify potential threats and develop the technical skills needed to protect electronic information in a wide array of industries from finance to healthcare.
Expand your career opportunities with a double major in Business Administration, Computer Science, Criminal Justice, Health Science, Political Science and Public Policy, or Psychology. Even with a second major, you'll still be able to graduate in four years.
The BS in Cybersecurity degree is offered at the main campus. Additionally, a transfer program is offered online.
Every business needs to care about cybersecurity to participate in the digital age. Businesses need people that can help them protect their data and machines and their customer's data from cyber threats. David Lash, Assistant Professor of Computer Science
$99,730
2019 annual median salary for information security analysts
31%
2019-2029 PROJECTED JOB GROWTH RATE
Source: U.S. Bureau of Labor Statistics
There are only two types of companies: those that have been hacked, and those that will be. Robert Mueller, former FBI Director
Curriculum Highlights
Computer programming
Communicating, problem solving, and leadership
Cybersecurity governance
Risk management and organizational resilience
Campus Opportunities
Aurora Criminal Justice Association
Computer Science Club
Student worker in computer labs, information technology services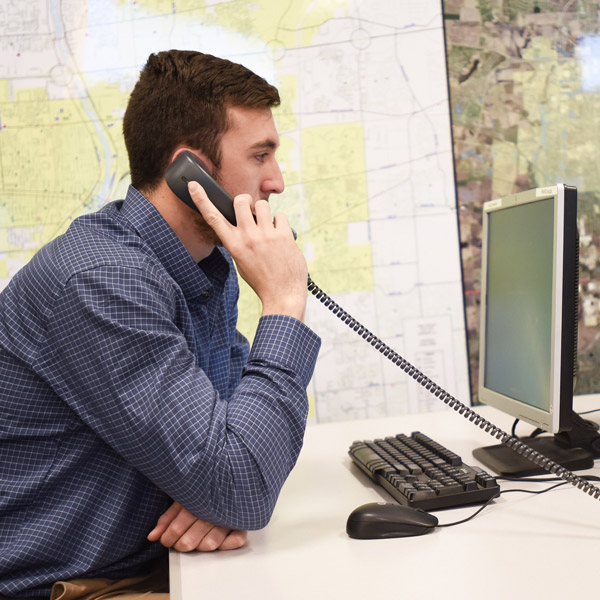 Experiential learning
As an AU Cybersecurity major, you will have the opportunity to complete an internship and gain hands-on experience in the field. Your classes will include an intensive portfolio of work and a capstone project that will showcase your skills and help you to secure a job after graduation.
Career possibilities
Computer forensics analyst
Computer support specialists
Computer systems manager
Data compliance officers
Information security analyst
Information technology manager
Information technology security officer
Public policy maker
Security analyst engineer
Security consultant
Security software developer
Web developer
Career possibilities with advanced degree
Chief information security officer
Cybercrime investigator
Cybersecurity director
Network security engineer
Risk manager
Security architect