First-generation AU student visits the White House
November 14, 2023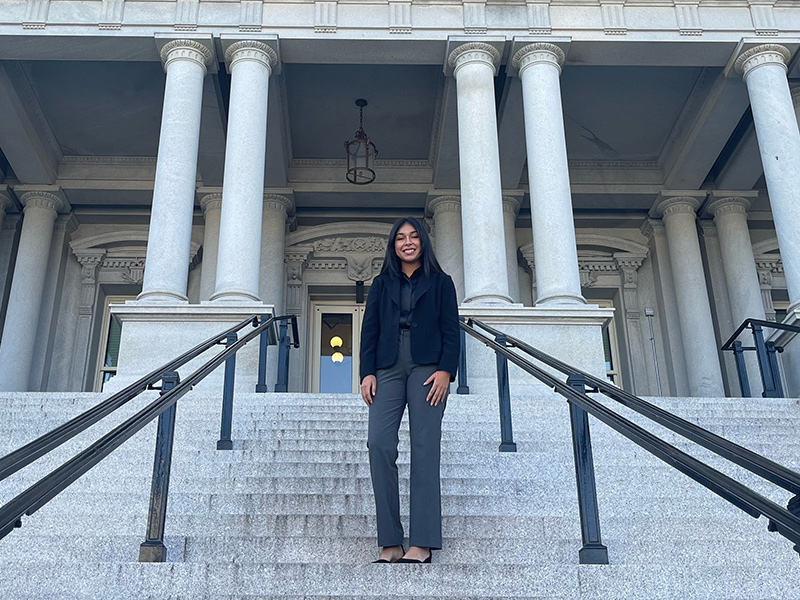 Sophomore Ximena Bermudez took her first trip to Washington, D.C. as a proud representative of Aurora University's first-generation college students. And she came back home "more motivated than ever" to pursue her education and give back to the community.
The 19-year-old Bermudez was one of about 100 students from around the nation who spent an afternoon at the White House meeting some of the administration's top education officials, a roster that included Viviann Anguiano, the White House Domestic Policy Council's director for education, and Under Secretary James Kvaal of the U.S. Department of Education.
"They told us to dream big," Bermudez said. "I was inspired and moved by the stories of the panelists, people with leadership positions at the White House who are paving the way for my generation and generations after mine. Hearing about their experiences makes it clear that college and careers are possible for everyone today."
President Joe Biden's administration hosted its inaugural First-Generation College Student Day in Washington last week to highlight the importance of educational equity in higher education, discuss the resources available to the first-generation student community, and recognize the contributions of first-generation college graduates to the U.S.
"Students who are the first generation in their family to attend college often have an additional hurdle to overcome," said Mark Petersen, associate professor of political science and public policy at AU. "There are few people to turn to learn about applying to college, forging careers, networking, and pursuing advanced degrees. At AU, we provide additional support beyond the classroom to help first-generation students discover their path to a career."
Sense of Belonging
That personal connection is one reason Bermudez chose to attend AU after looking at more than a dozen colleges. She also liked that AU is designated as a Hispanic Serving Institution.
"I chose AU for the sense of belonging it gave me the first time I visited the school," she said.
Bermudez' parents came from Mexico and settled in Elgin, where Bermudez attended Larkin High School. She enrolled in gifted classes, played violin in the school orchestra, and graduated fifth in her class.
"When I was young, school was always the goal," said Bermudez. "My parents wanted me to get a college education. They were always there to cheer me on in school at whatever I was doing."
As an AU student, Bermudez is double majoring in Political Science and Public Policy and Sociology, with a double minor in Spanish and Latin American and Latino/a Studies. She is also maintaining a 4.0 GPA while working part time at Whole Foods and is on track to graduate in just three years.
She is a member of the Pre-Law Club and serves as chair of the DEI committee. She lives at home in Streamwood with her family and commutes nearly an hour each way to get to the AU campus every day. She plans to attend law school after graduation. With the help of AU's Pre-Law program, she has already begun networking with law professors at Northern Illinois University
"Ximena's success is a direct result of her hard work and the sacrifices she makes to put her studies first," said Eva Serrano, associate professor of foreign languages at AU and coordinator of Latin American and Latino/a Studies. "What is impressive is that she is showing an evolving leadership ability."
Serrano—who was a first-generation college graduate herself when she attended Loyola University Chicago—nominated Bermudez for the event and accompanied her on the trip to Washington.
As for the future, the trip to the nation's capital bolstered Bermudez's passion to earn her law degree and help immigrants navigate the tangle of rules and regulations of U.S. immigration law.
"I am more motivated than ever to continue working towards my career and personal goals as well as committed to giving back to my community," she said. "I want to make a difference."
Click here to read about AU's new Future Promise Fund, which was created to provide the resources needed for first-generation students to achieve their educational dreams.