Mathematics (BS, Minor)
Why study Mathematics?
Mathematics is challenging, rewarding, and fun. It is both logical and creative. The influence of mathematics is all around us. Computers, cars, cell phones, medicines, robotics, buildings, spaceships, the stock market, and even the route your local delivery truck takes to drop off your package are all products of mathematics. If you are as intrigued with questions as you are with discovering answers, a math degree could be for you.
In the 21st century, mathematics and statistics are not just tools for mathematicians, physical scientists, and engineers, but are also crucial to the fields of business, economics, social sciences, medicine, and many other fields. The application of mathematics is a critical element in modern civilization.
Why study Mathematics at AU?
At Aurora University, analytical thinking, problem-solving, and high-level reasoning are at the heart of the Mathematics major. The program taps your natural curiosity to explore and develops your ability to think critically and set goals. At AU, our experienced mathematics faculty prepare students to shape the future of science, technology, and education.
We pride ourselves on working individually with students to achieve their goals, including participating in undergraduate research projects. Caring faculty guide students in acquiring skills that foster understanding of mathematical concepts and practices, identifying problems, using constructive reasoning to make viable arguments, and applying mathematics to real-life.
Our intensive curriculum and capstone experiences allow students to successfully complete one of the two following tracks:
Mathematics Major. This track is designed for students interested in entering careers in business and industry that require strong analytical and problem-solving skills. It also is designed for students who want to pursue graduate degrees in mathematics or other disciplines. For students who want to focus on a particular area of mathematics, the following three areas of emphasis are available:
Statistics
Pure mathematics
Applied mathematics
Mathematics Major with Secondary Education Licensure. This track is for students seeking teacher certification in mathematics at the pre-college level. Students who plan to teach must complete the supplemental Secondary Education major. This degree provides students with a strong background in analytical and problem-solving skills, which will allow them to be successful teachers in the classroom.
The mathematics curriculum is designed to provide students with flexibility to integrate their mathematical studies with other programs. You can expand your career and graduate program opportunities by double majoring in Biology, Computer Science, Criminal Justice, or Education. Even with a second major, you will still be able to graduate in four years. You can also minor in Mathematics to supplement another major.
Mathematics is the most beautiful and most powerful creation of the human spirit. Stefan Banach, Polish mathematician
Studying mathematics at AU will benefit you in many ways.
You will understand the world.
Mathematics impacts real world problems — as well as the solutions to those problems. A mathematics degree helps you contribute to the future advancements of many industries.


You will become a problem solver.
Mathematics is all about problem solving. Not only will you learn how to solve complex mathematical equations, but you will develop problem-solving abilities that will be of value in numerous careers and situations.


You will develop transferable skills.
The skills you learn will benefit you throughout your life. Some of the transferable skills that a mathematics degree can give you include data analysis, organization, critical thinking, time management, communication, and decision making. You will also develop the ability to manipulate precise and intricate ideas, construct logical arguments, and expose illogical arguments.


You will be prepared for graduate or professional school.


A mathematics degree is essential for students who intend to pursue a graduate degree in mathematics, applied mathematics, statistics, or computer science.
Admissions committees for graduate studies in astronomy, physics, engineering, economics, or finance often prefer students with undergraduate mathematics degrees.
Mathematics graduates can use their degree as the first step toward professional degrees in law and medicine, especially when it is paired with coursework or a double major in the area of interest.
$98,680
2021 annual median salary for math occupations
29%
2021-2031 projected job growth rate
Source: U.S. Bureau of Labor Statistics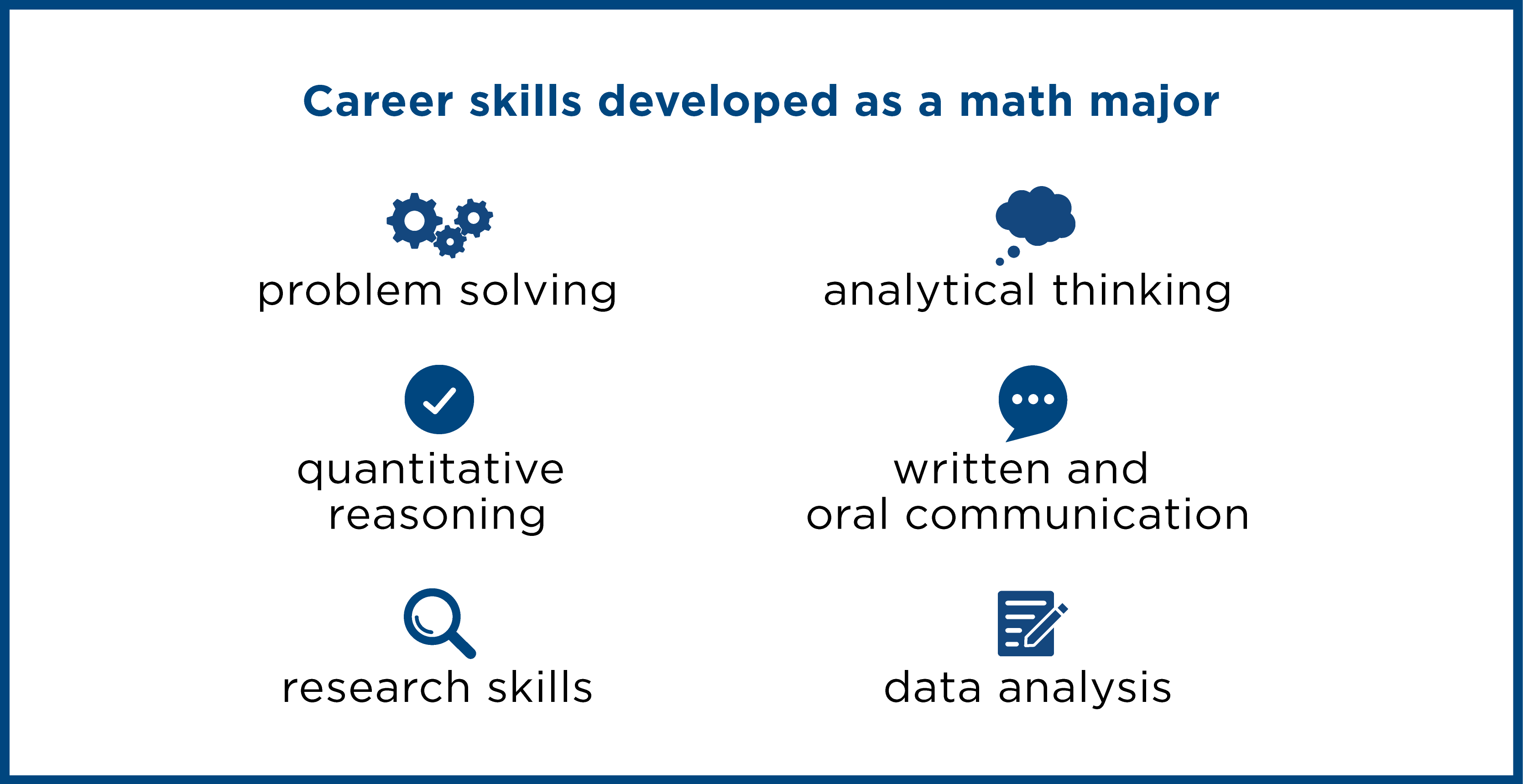 Curriculum Highlights
Applied mathematics
Pure mathematics
Data science and statistics
Immersive placement program in local schools for prospective teachers
Intensive one-on-one mentoring with faculty
Senior capstone experience
Undergraduate research opportunities
Campus Opportunities
Aurora University Finance Association (AUFA)
Educators Rising
Kappa Mu Epsilon (Mathematics Honor Society)
Peer Tutoring
Career possibilities with advanced or professional degree
Astronomer
Biometrician
Computer scientist
Data Scientist
Engineer
Math professor
Meteorologist
Physicist
Risk analyst
Statistician
Survey researcher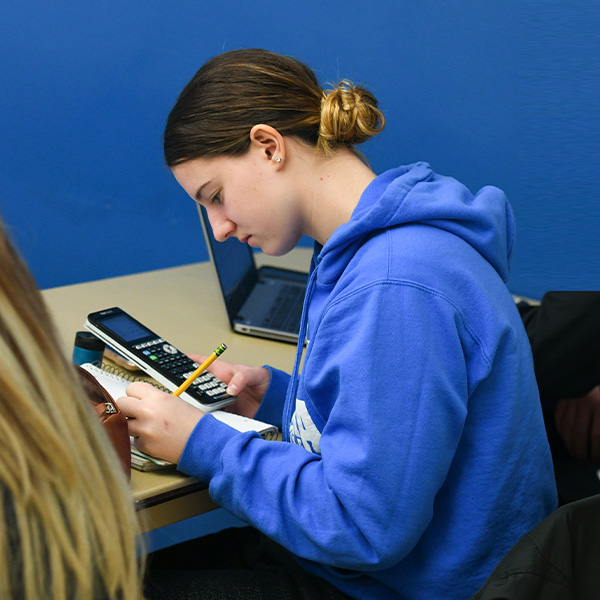 Experiential learning
You will have the opportunity to participate in on campus and off campus experiences. You will develop the ability to communicate and expand mathematical ideas through capstone coursework, undergraduate research, and internship opportunities. These experiences broaden your horizon, and prepare you to either enter a career in a wide range of industries or move on to graduate study.
Where our graduates work
Alcatel-Lucent
Allstate
Calumet College of St. Joseph
Middle and high schools:

Batavia High School
East Aurora School District
Lord Botetourt High School
Sandwich High School
West Aurora School District
Yorkville High School

Nokia
Office Depot
Oracle
Pensa
PepsiCo
Spiceworks
State Farm
Virginia Western Community College
Walgreen Co.
 
Advanced degree programs
AU graduates pursue advanced degrees at these graduate schools:
Arizona State University
Aurora University
Appalachian State University
Northern Illinois University
University of Texas at Austin