Actuarial Science (BS)
Why major in Actuarial Science?
Actuarial Science is the study of risk and probability. Actuaries manage risk for businesses, drawing on a passion for mathematics, analytics, statistics, and human behavior. As problem-solvers, they analyze the financial costs of risk and uncertainty and help organizations plan for the future. A bachelor's degree in Actuarial Science will prepare you to enter the workforce in a career at insurance companies, consulting firms, government agencies, accounting firms, industrial corporations, banks, or financial services companies.
Why major in Actuarial Science at AU?
At Aurora University, our experienced faculty will teach you the latest in Actuarial Science. At AU, your studies will include an emphasis on mathematics and business, in which you will hone your research, analysis, and critical-thinking skills. This knowledge will prepare you for the entry-level exams you will need to start a successful career.
Actuaries need a bachelor's degree and must pass a series of exams to become certified professionals. AU professors know what it takes to study hard and pass the exams, so they will guide you through the entire process of applying and studying for them. You'll also be encouraged to pursue an internship that will put your education to work and prepare you for a fulfilling career.
Expand your career opportunities with a double major in Accounting, Business Administration, Computer Science, Finance, or Mathematics. Even with a second major, you'll still be able to graduate in four years.
An accountant is someone who attempts to value the present. An actuary is someone who attempts to value the future. Society of Actuaries
Spartan Story: Myrna Garcia '20 liked math and business. After talking to a professor, she discovered that actuarial science was the perfect blend of the two.
$113,990
2022 annual median salary for actuaries
23%
2022-2032 projected job growth rate
Source: U.S. Bureau of Labor Statistics

Curriculum Highlights
Accounting
Calculus
Corporate finance
Computer science
Data analytics
Data structures
Economics
Financial mathematics
Mathematical statistics
Probability
Campus Opportunities
Aurora University Finance Association
Kappa Mu Epsilon Honorary Organization
Mathematical Sciences Association
Student Accounting Society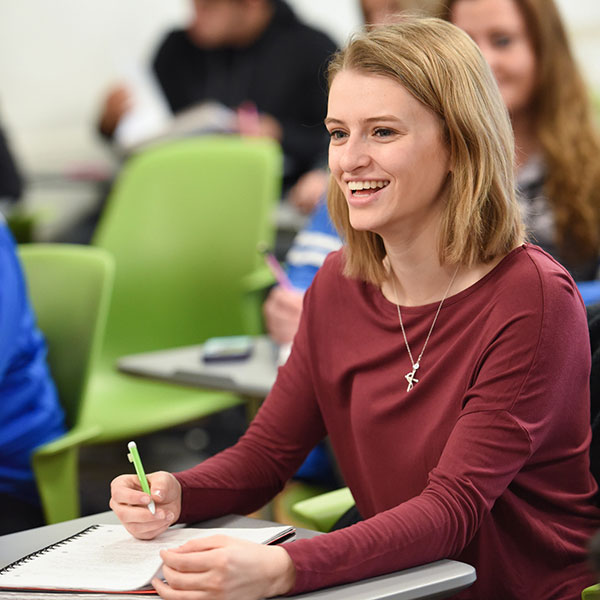 Experiential learning
The Actuarial Science program requires a series of statistics projects. You will gather and analyze data from sources and interpret their importance. You will also complete a capstone project on a topic of your choice.
Career possibilities
Actuarial analyst
Actuarial associate
Actuarial technician
Budget analyst
Business analyst
Claims adjustor
Data analyst
FBI/CIA analyst
Financial analyst
Insurance underwriter
Market researcher
Pension analyst
Research analyst
Where our graduates work
Allstate
Amazon.com
Chicago Board of Trade
Cisco
State Farm Insurance