Joshua Hunter '24 shares reflections going into his final year at AU
August 22, 2023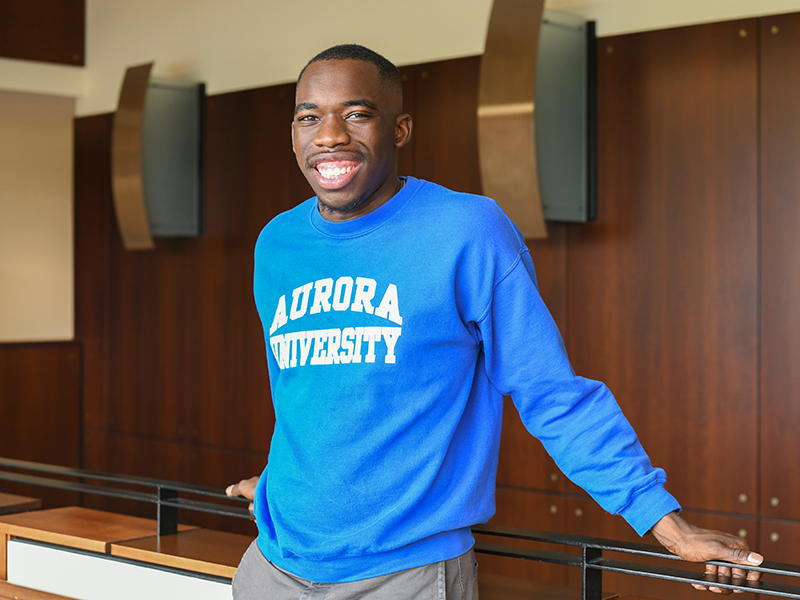 After hearing about the sense of community a coworker experienced as a student at Aurora University, Joshua Hunter '24 decided to explore AU as an option for college. He learned that he could stay close to home, benefit from smaller class sizes, and develop relationships with his professors. As he enters his senior year as a Criminal Justice and Political Science and Public Policy double major, Hunter explains how AU helped him on his path to creating a purposeful life and preparing for a fulfilling career.
What are your career aspirations?
After college, I plan on going to law school and becoming a criminal attorney and then I would like to become a politician to continue to help others.
How has AU supported you in achieving your goals?
AU has supported me in achieving my goals by making sure that I have the resources needed to prepare for law school. When I declared my majors, AU didn't have a pre-law track yet, but I was able to align my studies with pre-law undergraduate tracks at other schools.
I have been able to utilize events such as peer networking events and panels to connect with students with similar interests and hear from previous students who are in positions that I want to be in. AU faculty have also been a huge help in helping me achieve my goals by helping me prepare for law school and telling me about events that will help me gain connections prior to law school.
AU has supported me in achieving my goals by making sure that I have the resources needed to prepare for law school. Joshua Hunter '24, criminal justice and political science and public policy double major
Have you completed any internships or extracurricular activities that have helped you solidify your career goals?
I've completed multiple internships that have helped solidify my career goals. I interned for some political campaigns that showed me how campaigns are conducted behind the scenes and taught me about voter outreach. I also secured internships with the Kane and Kendall County State's Attorney Offices with the help of my criminal justice professors, which have shown me the day-to-day life of a prosecutor and how they conduct business.
In June, I attended the Chicago-Kent College of Law PLUS (Pre-Law Undergraduate Scholars) program, which I heard about through AU Pre-Law. The three-week program exposes prospective students to law school classes and the admissions process. The program also provided opportunities to network with law school students, lawyers, and judges. I knew prior to going to this program that I wanted to go to law school but the program helped solidify that desire. It was very useful and informative.
What has been your biggest takeaway from your time at AU so far?
My biggest takeaway from AU has been to be outgoing and to be involved. When I first came to AU, I was nervous to join any clubs or organizations, but now that I have, it's the best thing I've done and I wish I would've done it sooner.
I'm currently a member of AUSA and Encounter, and I've helped Career Services create videos that teach students how to choose professional clothes, tie a tie, and present yourself professionally. I decided to run for AUSA vice president because I've always wanted to help others. I'm going to head the community service committee and host events within AUSA to help the community and keep the Aurora area clean. I'll also be able to serve as a voice for students on campus.
Who or what inspires you?
My parents' faith inspires me. My parents have taught me to have faith in everything that I do. My parents met in the church and I was raised in the church. They taught me to always pray and have faith in any situation. My parents have had hard times, but they never gave up or lost faith.
Since my mom passed, I knew I wanted to do something in her name to keep her legacy going. My mom was always willing to help anyone in any situation. When we owned a beauty supply store, she would give away free items to customers and give discounts to students, stylists, and barbers. I recently decided, with the help of family members, to create a scholarship called the Wanda "Butterfly Effect" Hunter Scholarship. I chose the name butterfly effect because while the scholarship may seem small now, it will hopefully be able to help a cosmetologist further down their career. This scholarship will help current and enrolling students of cosmetology and barber schools get the supplies they need and pay for their tuition. I believe this school shows a true representation of who my mom was and her character.