AU awarded $1.4M in funding to expand STEM education programs
June 02, 2023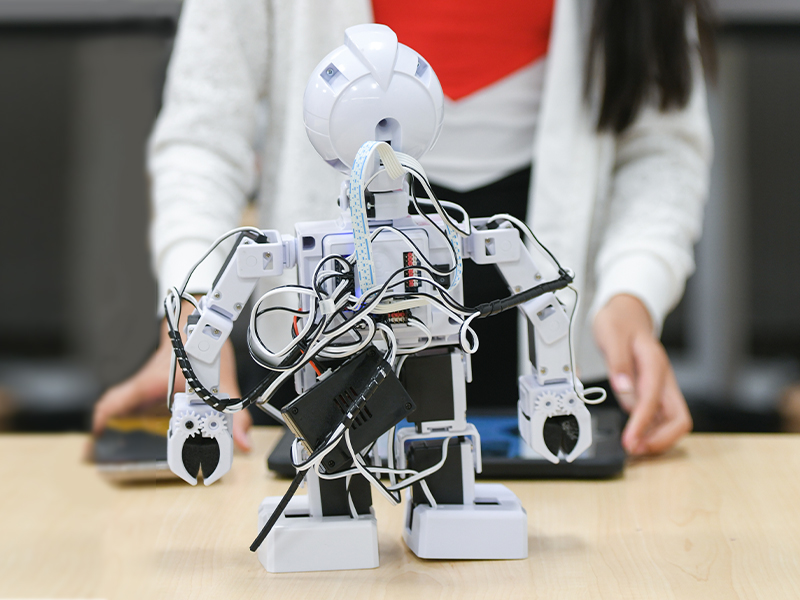 The National Science Foundation has awarded Aurora University $1.4 million in funds to help address the nationwide shortage of high-quality teachers in science, technology, engineering, and math, particularly among groups underrepresented in STEM fields.
"This is our first National Science Foundation multi-year scholarship grant and a big recognition at the federal level of AU's merit and capacity," said Chetna Patel, Smith distinguished chair, chair of biology and physical sciences, and professor of chemistry who served as principal investigator for the project. "The grant will provide opportunities for STEM and education faculty to collaboratively develop innovative teaching practices to better engage, support, and mentor students in STEM from diverse backgrounds."
AU has a long history of educating outstanding teachers and serving diverse student populations. The National Science Foundation Robert Noyce Track 1 Teacher Scholarship and Stipends grant will allow AU to expand its opportunities for low-income and first-generation college students looking to enter STEM fields and bring culturally relevant experiences to the classroom, especially in high-need school districts and schools serving Hispanic populations.
Research shows that matching teachers to student racial demographics can lead to increased student performance, but overall teacher diversity has not kept pace with demographic changes. In Illinois, 27% of public school students in 2021 were Hispanic, yet only 7.9% of their teachers were Hispanic according to the 2020-2021 Illinois Report Card.
Partnering with Local High Schools, Community College
AU will partner with East Aurora School District 131, West Aurora School District 129, and Elgin Community College to increase the number of highly qualified STEM teachers in secondary education through recruitment, preparation, and support.
"Elgin Community College is excited to partner with Aurora University in providing a direct path for students interested in pursuing a STEM secondary education major," said Tracy Vittone, director of transfer services at Elgin Community College. "We have a long history of creating attainable transfer partnerships between our institutions. This particular transfer partnership will provide ECC students access to resources and scholarship opportunities to help them achieve a career in education."
Funds from the grant will be used to provide scholarships for at least 24 undergraduate students, known as Noyce Scholars, over a five-year period beginning in fall 2023. Each Noyce Scholar will receive full tuition for the last two years of their secondary STEM education degree, allowing them to concentrate on succeeding in their upper-level courses, participate in summer programs, prepare for the Illinois Professional Educator Licensure exam, and student teach within high-need school districts.
To become a Noyce Scholar, interested Biology, Chemistry, and Mathematics majors entering their junior year must complete an application process and meet National Science Foundation criteria. Qualified candidates will then complete an interview with Patel and the co-project leads representing AU's STEM and education faculty.
To learn more about the Noyce Scholars program, visit aurora.edu/noyce. Interested students can also click here to start an application.