A marine biologist wades into the preservation of coral reefs
September 05, 2023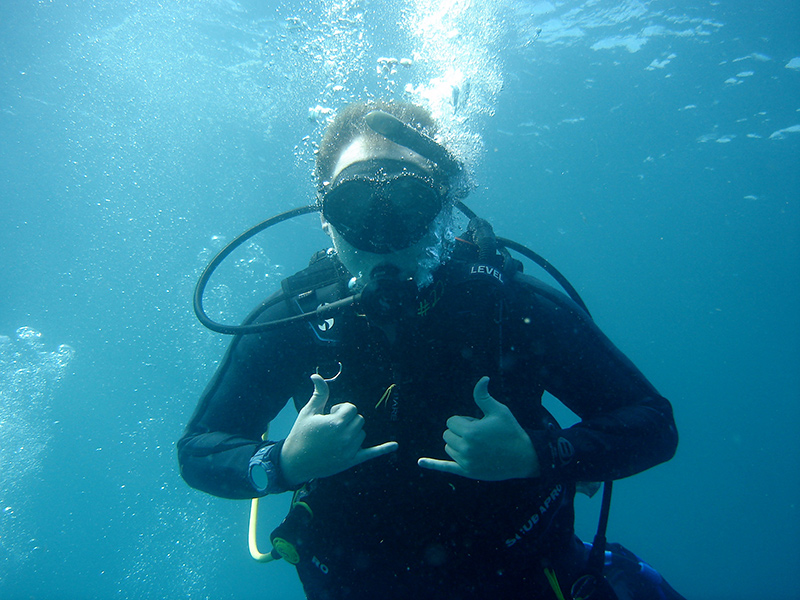 The world is losing its tropical coral reefs, imperiling natural fisheries and the ecology of the oceans, and Zachary Ferris '21 is wading into the middle of the issue.
Ferris was recruited to Aurora University to play lacrosse, but it was a science field trip to the Bahamas that allowed him to discover his real passion.
Initially enrolled as a health science major, Ferris took part in the Marine and Island Ecology course his sophomore year through the Shedd Aquarium as part of the Associated Colleges of the Chicago Area, an AU-founded consortium that offers cooperative courses.
Ferris lived on a research vessel in the Bahamas for 10 days, snorkeling around the region's myriad of cays and examining the coral reefs. Much of what he saw was dead or dying — a casualty of global warming. He was first heartbroken and then resolute.
"It was depressing to see the ocean's essential coral reef communities in such distress," said Ferris, who grew up in Dexter, Michigan. "I immediately immersed myself in the literature to see what people were doing to save coral reefs, and I decided I wanted to contribute to the global effort."
Marine science is now Ferris' passion. Immediately after graduating summa cum laude from AU in 2021 with a double major in biology and chemistry, he got to work as a researcher at the Shedd, studying fish spawning patterns in the Chicago River. He then took a job as a research technician at the Smithsonian Marine Station in Fort Pierce, Florida, constructing coral-reef 3D models to assess the effectiveness of probiotic treatments for stony coral tissue loss disease.
His dedication paid off last year when he won the National Science Foundation's prestigious Graduate Research Fellowship to study at the Florida Institute of Technology, located not far from Cape Canaveral on Florida's east coast, where he has started a five-year program toward a PhD in biological sciences and coral reef ecology. He spends much of his time in the water and is happy as a clam doing it.
"I loved Aurora because the student-teacher ratio was perfect — in one class senior year we had two students and one professor — and my professors took a personal interest in my future," said Ferris. "I don't think I would have gotten that experience at a larger school."
Even though Aurora would seem an inauspicious place to launch a career in the study of coral reef ecology, Ferris developed crucial relationships with his chemistry and biology professors at AU, including Professor Chetna Patel, Associate Professor Kyle McElhoney, and Assistant Professor Bill Martin, who encouraged his ambitions by pointing him toward relevant grants and programs.
After his junior year, for instance, Ferris participated in a National Science Foundation Research Experiences for Undergraduates program through the Scripps Institution of Oceanography in San Diego studying corals in Micronesia. On another off-campus trip, he studied sharks in Biscayne Bay on the southeast coast of Florida with faculty from the University of Miami Rosenstiel School of Marine, Atmospheric, and Earth Science. 
Even though Aurora is hundreds of miles from the ocean, it was during his time at AU that Ferris discovered what mattered to him and how to build his life around it. He learned how society is reliant on coral reefs and how global climate change is threatening their longevity.
"This realization motivated me to shift my academic and career endeavors to furthering our understanding of coral reef responses to climate change — enabling conservation managers to more efficiently preserve them in a rapidly changing world," said Ferris. "It's something that deeply matters to me and to the health of the planet." 
This story is an excerpt from the spring/summer 2023 issue of AU Magazine. Click here to read the full story about six alumni finding purpose and passion.